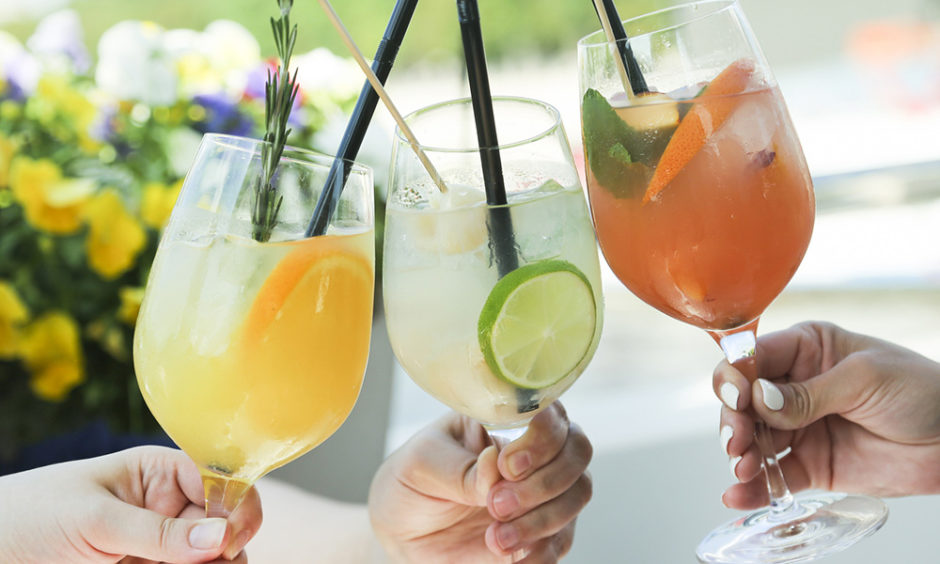 World Gin Day is happening tomorrow (Saturday 8 June) and it is a global celebration of all things gin. The premise is simple – gin lovers from all around the world get together with friends and family to enjoy their favourite tipple. What's not to love!
So, to mark Gin Day, we have rounded up some of the best gin producers from across the north of Scotland for you to enjoy. Cheers!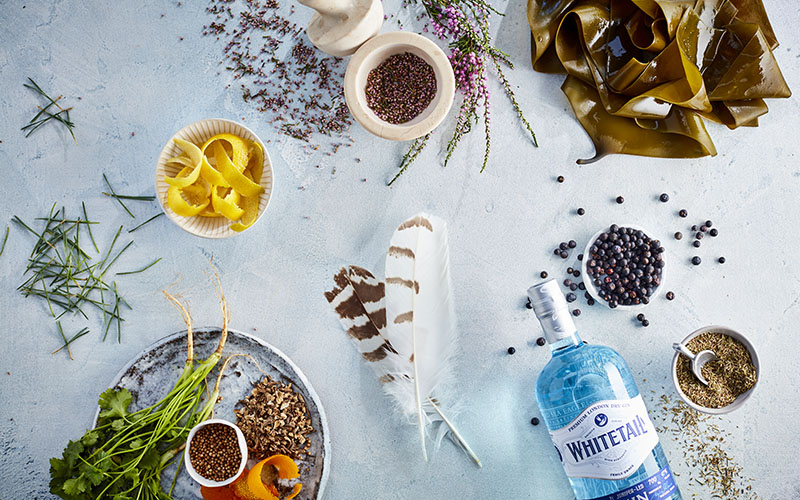 Unique with uncompromised quality, Whitetail Gin, is an award-winning London Dry style gin handcrafted using botanicals from its small family-owned estate on the dramatic Isle of Mull.
Famed it for its engaging story based upon Mull's most famous resident; The White-tailed Eagle (which nest in the forest close-by). Whitetail Gin carries that kick of strength at 47% abv but is unequivocally smooth in its finish with coastal and juniper notes throughout.
This family-owned brand has recently completed their distillery in addition to their already existing shop and cafe at Tiroran on the south-western side of the island. This will be Mull's first new distillery site in over 220 years and the island's first dedicated gin distillery!
How should you serve Whitetail Gin?
Simply add 50ml Whitetail Gin to chilled glass with plenty of ice.
Add Fever-Tree premium Indian Tonic, fresh grapefruit and a sprig of rosemary.
Then simply enjoy with your nearest and dearest in the sunshine!
*For more details visit Whitetail Gin's website here.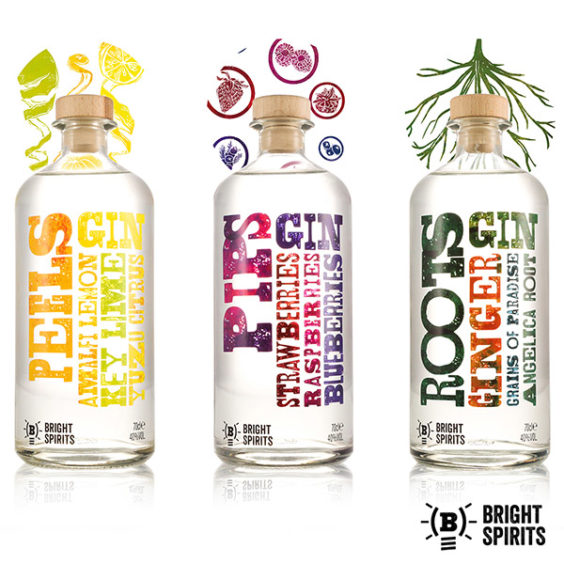 Bright Spirits was conceived while stocking a drink retailer's shelves. Where were the spirits that put flavour first?
From this seed of an idea grew Bright Spirits. Using the expertise and experience they have gained over many years within the spirits industry they created their first range of spirits – honestly crafted and with a focus on flavour – offering an answer to what we saw was missing from the shelf.
Meet Peels, Pips and Roots (pictured above), three unique gins with explosive natural flavours. Made with uncompromising quality, each one exudes its own distinctive characterful tastes. Dive into zesty citrus, warming spice and luscious fruit, flavours all derived solely from natural ingredients used in the distillation process. Bright Spirits add nothing else. No syrups, no colouring, no additives, no short cuts.
At Bright Spirits, they don't advocate a 'perfect serve' for their gin. Instead, they encourage you to just do you, and make Bright Spirits your own, whether it's with tonic or lemonade, garnish or no garnish.
This is gin for bright spirits alike, creating unforgettable drinking experiences through enlightened flavour. It's time to drink different!
*For more information, click here to be taken to Bright Spirits website.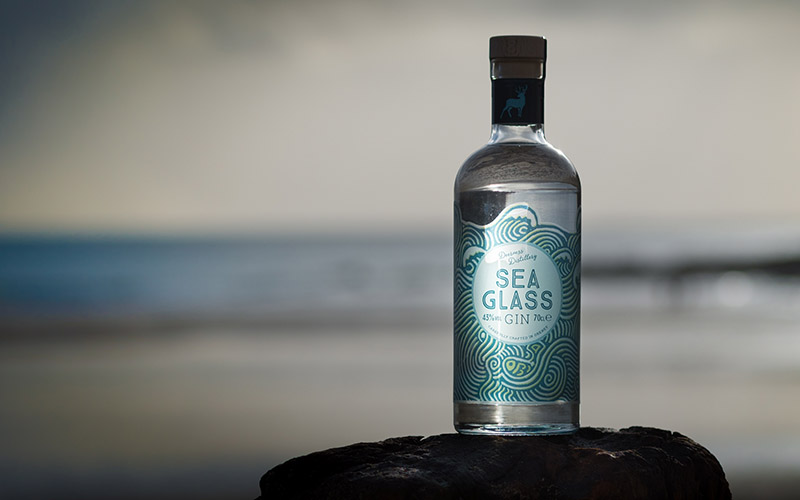 Spontaneous, self-sufficient, and with a little spirit thrown in for good measure, that's Stuart and Adelle Brown, founders of Deerness Distillery – Orkney's first distillery for over 130 years.
It is here that they produce the multi-award winning Sea Glass Gin (pictured above), new Scuttled Gin and the Island's only distilled vodka. From their purpose-built distillery at the side of their home in Deerness, Orkney they launched their products Sea Glass Gin and Into the Wild Vodka – back in May 2017, after a year of construction and product development.
The distillery boasts a beautiful shop as well as tours and tastings of their spirits. Plans are afoot for a café and extending their spirits with a small batch rum and small batch whisky.
Deerness Distillery spirits are a must try if you're looking for an exclusive premium gin or vodka.
*For more information, visit the website by clicking here. 

Badachro Gin is already making a big name for itself around the Scottish Highlands where locals and visitors alike are falling in love with the fresh and unique taste.
Located in the hamlet of Badachro in the Scottish Highlands, Gordon and Vanessa handpick an array of botanicals from the surrounding hills, woodland, fields and shores of the Gairloch and combine them in their beautiful (and rather mature) copper pot still 'Delilah'. Fantastic up-close and personal tours are now available and can be booked online or by phone.
Delilah marries the subtle flavours and scents of these local botanicals with a carefully selected combination of traditional botanicals, herbs and spices to create a delicious, unique and authentic taste of the Highlands. Juniper, wild myrtle, coriander, gorse blossom, lavender, rose-hip petals and elderflower among other delights, combine to create a distinct taste.
Badachro Gin is now enjoyed all over Scotland as well as in Germany and some of London's top restaurants.
*Click here to be taken to the website or visit Badachro Distillery on Facebook here.
To find out more about World Gin Day on Saturday 8 June, visit World Gin Day's official website by clicking here.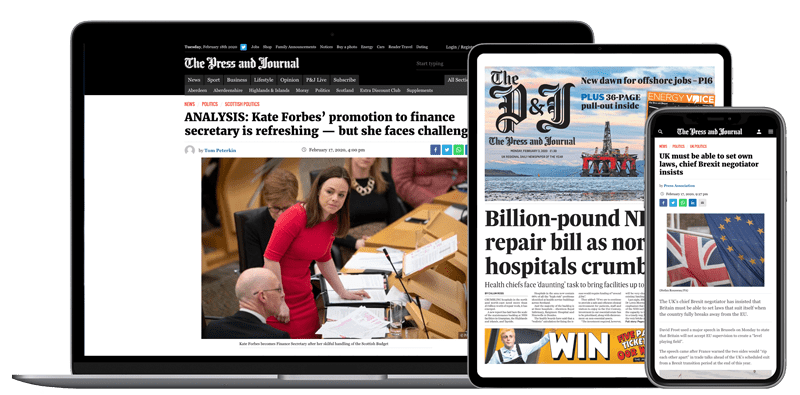 Help support quality local journalism … become a digital subscriber to The Press and Journal
For as little as £5.99 a month you can access all of our content, including Premium articles.
Subscribe