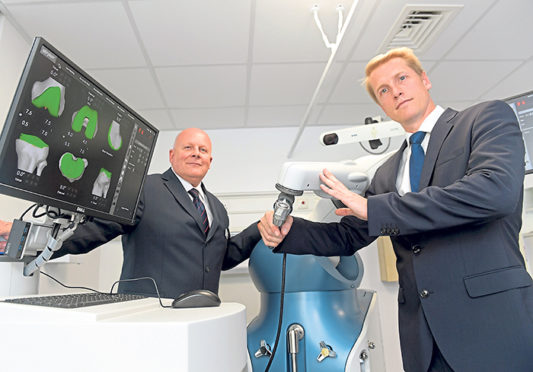 Patients in the North of Scotland who need a knee or hip replacement can now have their operation with the assistance of a robot, thanks to the installation of the Stryker Mako system at BMI Albyn Hospital in Aberdeen.
There are over 700,000 people in Scotland living with some form of arthritis which results in pain, problems with reduced mobility and an impaired quality of life which can eventually lead to the requirement of a hip or knee replacement (Arthritis Research UK).
This robotic-arm will be used by surgeons to offer patients across Scotland an alternative which gets people back on their feet more quickly than traditional methods of joint replacement surgery.
BMI Albyn's investment in this innovative practice is further cementing its reputation as a centre for orthopaedic excellence.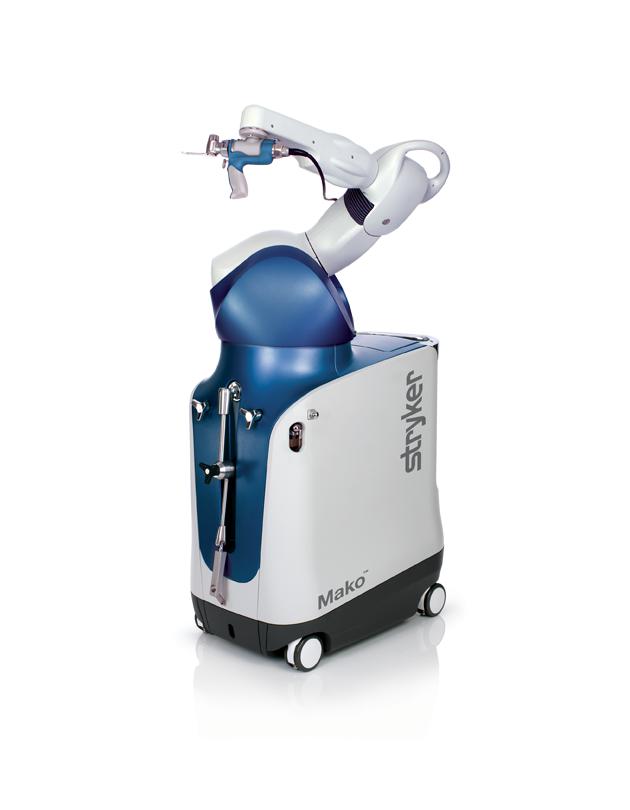 What is the Mako Robotic Arm?
Robotic assisted surgery allows surgeons to perform many types of complex procedures with more precision, flexibility and control than is possible with conventional techniques.
However, when you hear 'robotic-arm assisted technology' it is important to understand that the Stryker Mako robotic-arm doesn't actually perform the surgery.
Surgery is performed by a consultant orthopaedic surgeon, who uses the Mako system to pre plan the surgery. By guiding the robotic arm, the surgeon is able to precisely remove diseased bone and cartilage, and place the implant to within a millimetre of the desired position.
Since 2007, more than 200,000 procedures – including total knee, partial knee and total hip replacements – have been performed around the world using the Mako technology. Now people across the North of Scotland can experience its benefits at Aberdeen's BMI Albyn Hospital.
What benefits does the Mako Robotic system bring?
The Mako system offers a higher level of alignment and positioning of hip or knee implants during surgery, compared to traditional methods. As a result, many Mako patients experience a speedier recovery and reduced post-operative pain, meaning they can make a quicker return to an active lifestyle, whether it be walking the dog, getting back on the golf course or back to work.
These benefits are achieved by utilising a pre-operative CT scan which allows the surgeon to plan each patient's exact requirements before and during surgery.
What is the opinion of the surgeons?
Mr Robert Duthie, MBChB, FRCS (Tr & Orth), Consultant Orthopaedic Surgeon, BMI Albyn:
"The use of the Mako robotic assisted surgery will revolutionise how we undertake hip and knee replacements with significant improvements in patient outcomes. We currently plan conventional surgery around x-rays which can be inaccurate and often during surgery we need to change the size or position of the prosthesis that was originally anticipated. Robotic assisted surgery is based on a pre-operative CT Scan which accurately maps the individual patient's anatomy, and therefore during surgery we know exactly where the patient's bony landmarks are and where the prosthesis should be placed within a millimetre of the desired position".
Mr Steven Hamilton, BSc Med Sci, MB ChB, MRCS, FRCS (Tr & Orth), Consultant Orthopaedic Surgeon, BMI Albyn:
"Robotic-assisted joint replacement surgery is an exciting development in Orthopaedics. As it allows for more accurate implant placement, it has the potential to improve patient outcomes in terms of quicker recovery time, less postoperative pain and improved function. The introduction of the MAKO robotic assisted system to BMI Albyn will be of great advantage to the patients of the North of Scotland."
Mr Martin Mitchell, MBChB, Dip SEM. FRCS (Tr & Orth). Consultant Orthopaedic Surgeon, BMI Albyn Hospital:
"As surgeons we strive to achieve the perfect joint replacement. The Mako robotic arm allows us to achieve this on a much more consistent basis. Mako undoubtedly allows us to perform joint replacements with far more accuracy than was possible with conventional techniques. Patients undergoing Mako assisted joint replacements have been shown to have less pain and better early function post-operatively"
Want to find out more?
BMI Albyn is hosting a hip and knee pain information event on the 12th August 2019 at the DoubleTree by Hilton Hotel, 18.30 – 20.30.
This event will give you a chance to learn more about hip and knee pain, along with robotic assisted joint replacement. There will also be opportunity to have an informal chat with a surgeon and the hospital team as well as meeting a "robot".
This event is free of charge and will have limited spaces so please book online or contact 0808 101 0382 to avoid disappointment.
To find out more information about Stryker Mako hip and knee joint replacements at BMI Albyn, Aberdeen, call 01224 577400. You can also find out more Stryker Mako hip replacements online here, and Stryker Mako knee replacements online here.