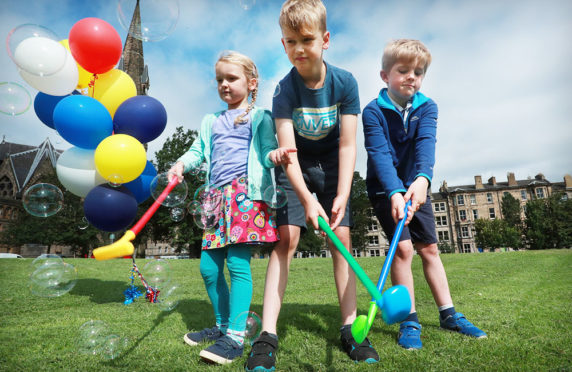 Pushchairs, storytelling and baby change areas are not often things you would associate with a world-class golf tournament but they are very much part of The Solheim Cup, billed to be the "most family-friendly golf event in history".
When it arrives at Gleneagles next month, thousands of families will watch 24 of the world's elite female golfers from Team Europe and Team USA compete on Scottish soil to win The Solheim Cup on September 9th to 15th – while 600 million others tune in across the globe.
Tickets for the practice days on Monday, Tuesday and Wednesday are free for adults and children, while under-16s also gain free entry to the opening ceremony on the Thursday and then the actual competition days on Friday and Saturday and the final on Sunday.
Despite there being five weeks to go until the championship tees off in Perthshire, the event has already given away three times more children's tickets than the organisers' initial target. They are currently expecting in excess of 3,000 children to attend!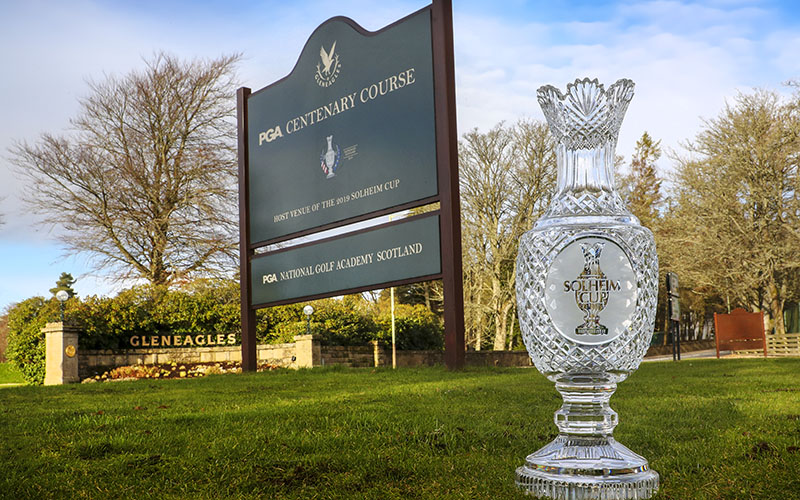 In a further bid to open up the prestigious golf event to younger people, Perth & Kinross Council has also organised for 1,500 school pupils to attend to watch The PING Junior Solheim Cup taking place on the fairways of Gleneagles in the days leading up to The Solheim Cup itself.
Attending this family-focused tournament is unlike any other golf championships, not just because children have free entry, but because young people are welcome to come along, have fun and make noise.
Keen golfer Nicola Doig, events manager at The Solheim Cup, said: "The Solheim Cup differs from other golf tournaments because we are 100% family focused, we are aiming to get young people and women involved in golf, and we have worked hard at getting a more diverse audience attending it.
It was really important to us that children were at the heart of that and could attend free of charge.
"When we were bringing the event to Scotland, we wanted to showcase equality across golf, sport and society and that was one of the main objectives for us having The Solheim Cup. With other golf events we perhaps place more focus on using them as vehicles for tourism promotion and although that is still the case with the Solheim Cup, there is also a greater emphasis on the promotion of equality at the event."
Today, golf is a sport that can be enjoyed by everybody. Nicola and her team of organisers wanted to open up this particular event to families from across Scotland and beyond. One main way of doing this was to make sure there were plenty of activities at Gleneagles to be enjoyed by all ages – in addition to the major championship itself.
The hub of all the family activities will be at the Spectator Village, which is scheduled to sit alongside the first tee and purpose built grandstand. Families can then opt to stay there, enjoy the activities and watch The Solheim Cup being screened on televisions throughout the Village, or follow the progress of Team Europe (captained by Scot Catriona Matthew) as they tee off around the course.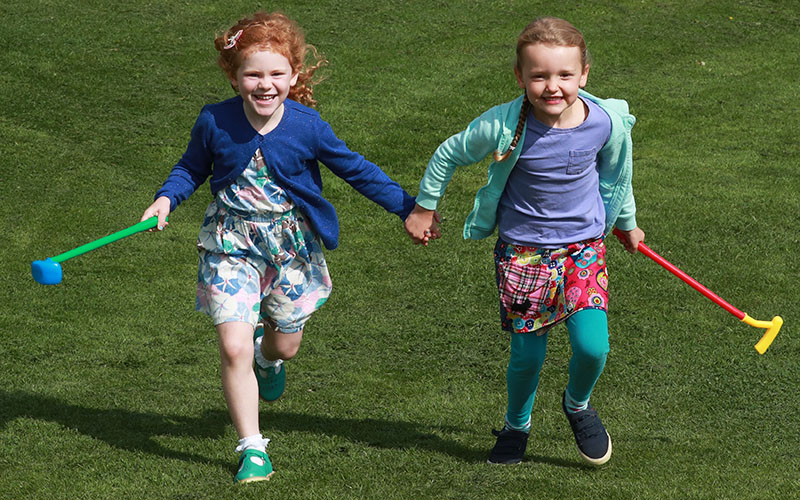 Mother-of-one Nicola insisted: "It's not just about golf; you can get involved in lots of other things too. Families can come to the Spectator Village and have a great day out engaging in lots of activities as well as seeing some world-class golf. We wanted to make sure there was something for children of all ages."
Although she will be working at the week-long event in her role as events manager, Nicola's own family will be in attendance. Her five-year-old son will be going along with his grandparents and soaking up the atmosphere of the family-friendly golf tournament from a young age.
She added: "I have bought my whole family tickets to the opening ceremony purely because it is a family-focused event and my five-year-old will absolutely love it! It is his opportunity to make a lot of noise at a golf event – which you don't often get the chance to do – and enjoy some great entertainment, while the grandparents will be on babysitting duty and my husband will be watching the golf.
"Watching golf is a great way to stay active and you can walk 5-6 miles in a day while watching it or playing it, unlike spectating at a football match where you are seated for 90 minutes. It's also fun for families to get involved in and enjoy together, as well as being a great way to keep children active."
People can request up to six children's tickets along with each paying adult. Adult tickets for The Solheim Cup cost from £25. To book to attend "the most family-friendly golf event in history", visit the website by clicking here.
10 not-to-be-missed attractions at the Spectator Village:
ON-SITE FAMILY PARKING – There will be a number of parking spaces dedicated to families just a five-minute walk from all the activities. If you wish to book a space in the family car park, tickets are priced from £5, and must be booked in advance at by clicking here.
THE GOLF ZONE – Kids can try their hand at driving, putting and chipping by hitting balls in the specially-designed interactive Golf Zone, as well as taking part in a long-putt competition.
FAMILY AREA – This is for younger children and is in the process of being finalised. It will be a place where parents can have a coffee as their children enjoy arts and crafts, storytelling and a play area (this is aimed at babies to under-7s) – after the competition, the contents of this area will be donated to Perth & Kinross Council to pass on to local community groups.
JOHN DEERE TRACTORS – The agricultural giant will be bringing along mini diggers and tractors for children to ride.
CATERING – Unlike some outdoor public events, catering trucks at the Spectator Village will be introducing children's menus so even the fussiest eaters will be satisfied.
OPENING CEREMONY – The Spectator Village will host the main stage for the opening ceremony on the Thursday, where there will be a full day of music, dancing and entertainment for families, headlined by Texas.
QUIET ZONE – For those who wish to escape the crowds, there is an autism-friendly chill out area where new mums can also breastfeed.
CELEBRITY PLAY-OFFS – As part of the launch of The Solheim Cup on the opening day (Thursday), there will be well-known faces and Scottish junior golfers taking part in an exhibition challenge match.
AUTOGRAPH ZONE – Players from both European and American teams will be on hand to meet and inspire young people as well as autograph caps and other golf memorabilia. This is also a great photo opportunity for selfies. Remember to share your photos on social media using The Solheim hashtag: #itallleadstothismoment
MERCHANDISE STALLS – There will be plenty of mementos for purchase in the merchandise tent, which will stock golf-related clothing and products in a wide range of children's sizes too. Some of the exhibition units in the Spectator Village will also be giving away free goodies too!
The Solheim Cup returns to Scotland, The Home of Golf, from September 9th to 15th. The tournament takes place at The Gleneagles championship golf course. Tickets are still available (children are free to attend), to book visit the website by clicking here.