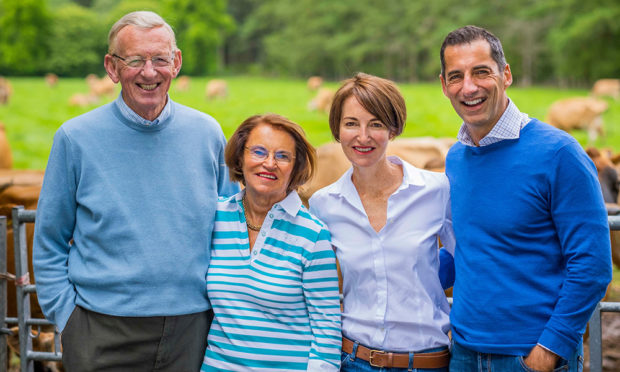 As a 10-year-old boy dangling his legs over the side of his father's pony trap as they went about their morning deliveries, Robert Graham could scarcely have believed his family's business would grow to become one of Scotland's biggest brands.
The passing of nearly 70 years has brought with it significant change, and there have been some difficult decisions made along the way, but at its core and key to its success, Graham's the Family Dairy is simply that – a family dairy.
Working alongside his son Robert, daughter Carol and wife Jean, Robert Snr, now 79 – known respectfully to colleagues as Mr Graham – views his dairy business with the same passion and enthusiasm he did when he would rise in the early hours with his father and set off to milk the cows.
He recalled: "When you were born on the farm, you had to work. I was an only child, so my father and mother had no one to turn to but me.
"I was rearing baby calves from 10 years old. Farming and working with animals was in my DNA; it came naturally to me.
"Back then, the milk that came from a cow was raw, as most was then, not pasteurised. It was put over a cooling machine to chill the milk, then it was put into a churn. It would go on the back of the pony and trap, and then my father would ride down to the village.
"I would jump on the back with my legs hanging over the side."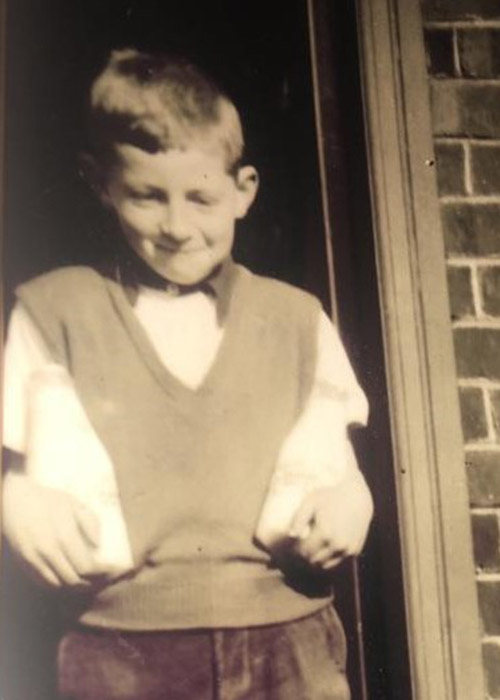 Father and son would make their daily deliveries around Bridge of Allan, where their headquarters remains today, rising at 4am to milk the cows and carrying out their rounds until 9am.
But though working life on the farm was hard, Mr Graham never questioned that it was to be his future.
"I was always going to be a farmer," he said simply. "You came home and had to do work on the tractor and do ploughing and sowing the seeds – you learned to
do everything."
But times changed, and the opening of Stirling University in 1967 brought an influx of people from all over the UK and beyond, and a new demand for pasteurised dairy products.
For the Graham family, this presented both an opportunity and a risk because buying a pasteuriser was a huge investment. It took the sale of a piece of land to raise the sufficient funds.
But it proved to be money well-spent.
The machine put the business ahead of the curve in Scotland and allowed them to reach beyond the immediate area and position themselves perfectly for the arrival of the supermarkets.
"We had to change," explained Mr Graham. "We had to sell the land to do it but buying the pasteuriser was the best decision we ever made. It meant we could go into all the small corner shops and, to this day, it's the backbone of our business.
"We deliver to at least 6,000 shops across Scotland in addition to the supermarkets."
As the demand for pasteurised milk grew, so did the opportunity to expand.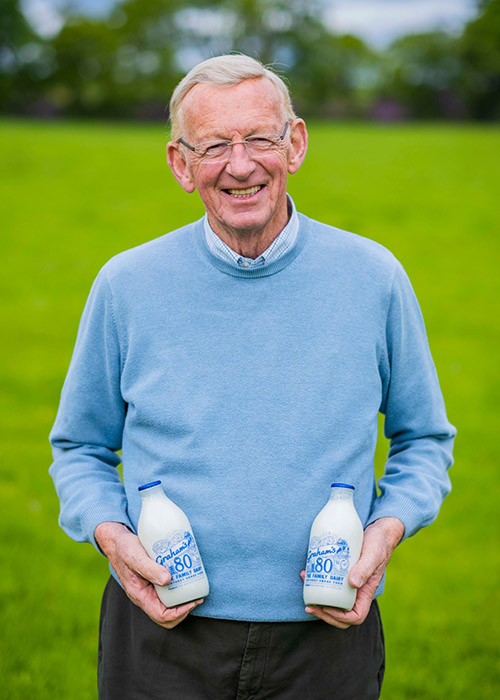 Today, in the north of Scotland alone, Graham's work with seven farming partners – all carefully chosen by Mr Graham himself. The criteria for selection are simple yet critical to the success of the brand, and they lie in the welfare of the animals, the cleanliness of the farm and the clear commitment to the highest standards by their farmers.
Mr Graham said: "Cows have got to be looked after. If you don't care for them properly, they won't respond in terms of the quantity or quality of milk. They have to be well fed and kept clean.
I have selected every farm myself. I go and see them and I look for how much they want to supply us and be involved with the brand. We want them to be proud to supply Graham's.
"When I go to the farms, I drive into the yard and when I open the car door and set my feet down on the ground, I expect my boots to be clean. That's a good rule of thumb – if a farmyard is clean outside it'll be clean inside. It's also important that if one of our tankers goes to a farm in Peterhead or Nairn, the wheels stay clean so that, as it goes to another farm, it's not bringing dirt in with it.
"I look for high standards the moment my feet touch the ground."
A decade ago, Graham's invested in a dairy plant in Nairn where local produce, including milk, cream and yoghurt, is prepared for market. For customers across the north of Scotland, it means they can enjoy the freshest of produce sourced from nearby farms.
And at a time when some dairy firms are closing facilities in the north, Graham's commitment stands firm.
"We're keeping a local presence for a local market," insisted Mr Graham. "It's important to our customers. The products arrive fresh, and are produced in an area of good land and fresh air, and we're delivering a taste local customers love.
"People ask why our milk is different and it's down to the standard of farms where it is produced."
And with demand almost turning full circle, the dairy plant at Nairn now also supplies milk in original glass bottles into stores, and even delivered door-to-door in some areas, with the empties collected and recycled just as they were when Mr Graham was a boy.
He explained:
We've brought glass bottles back in response to customer demand. There's both that nostalgic factor but also we're reducing plastics so we see it as a very positive step."
With his passion for farming undiminished by time, Mr Graham intends to work on in the job he was born to do – his active lifestyle and natural diet helping ensure he remains sprightly and full of energy as he approaches 80 – and he has no intention of slowing down.
"We're creating new products all the time," he said. "We have an organic range, yoghurts, and our Gold range, sourced from Jersey cow milk, which is naturally higher in protein and in calcium. I have Jersey milk every day on my cereal. And we also produce naturally low-fat Quark, cheeses, cottage cheeses and even lower-calorie ice cream, with new product launches on the horizon.
"There are alternatives to dairy out there but it takes a lot of industry and uses a lot of energy to make them and there's a lot of processing too. I think the less processing we can do, then the better things are for us so I like to eat natural, as nature intended."
All-day dairy
The health benefits of nutrient-rich milk and dairy products are many and varied. They're good sources of calcium, vitamin D (much needed in these winter months) and are high in protein. They also provide potassium, magnesium, vitamins A, B12 and riboflavin, as well as being all-natural. And far from just being a breakfast option, dairy can be enjoyed throughout the day as part of a meal, snack or even to rehydrate after a work-out. Here we round up just a few options…
GOLD TOP MILK
The benefits of Jersey products are little-known, but impressive nonetheless. Milk from Jersey cows  is 18% higher in protein and 20% higher in calcium. The increased protein and calcium levels aren't where the benefits end either. Milk contains zinc, iodine and vitamins A, B, D and E – and the levels of vitamins A and D are higher in milk from Jersey and Guernsey cattle than in standard milk.
GOODNESS ICE-CREAM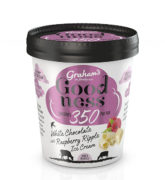 For the sweeter-toothed among us who enjoy a little after-dinner treat, lower-calorie ice cream is a great choice. There's 20g of protein in each tub from the Graham's Goodness range, but only a quarter of the calories of typical ice creams – and it's lower in sugar too, meaning you can indulge without over-indulging.
FAT-FREE, VERSATILE QUARK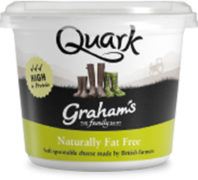 For those looking for a protein-packed, low-fat breakfast, quark is naturally fat-free and low in salt. Its versatility means it can be enjoyed with waffles, pancakes and toast at
breakfast, with a salad at lunch, and even as
a low-fat accompaniment to dessert.
PROTEIN 22
High in protein and fat free, Protein 22 contains 22g of protein per pot, making it the perfect breakfast or pre/post-workout snack.
SKYR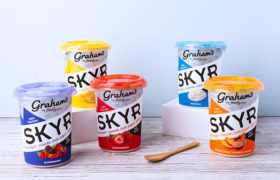 Made with pure Scottish milk, live cultures and carefully sourced fruit, this deliciously thick, protein-packed yoghurt is making its way to your taste buds. It's packed full of calcium, fat free, high in protein and low in sugar.
COTTAGE CHEESE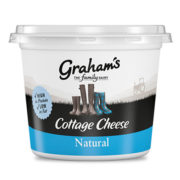 Whether flavoured or enjoyed plain, cottage cheese is a wonderfully nutritious and
low-fat product that can be eaten with breakfast lunch or dinner, or on top of crackers as a healthy snack. Each 165g pot in the Graham's Goodness range contains millions of
gut-loving live bacteria, is high in protein (18g per serving), and lower in sugar and fat, leaving you feeling fuller for longer.
*For more information and great recipe ideas, visit Graham's The Family Dairy's website by clicking here.