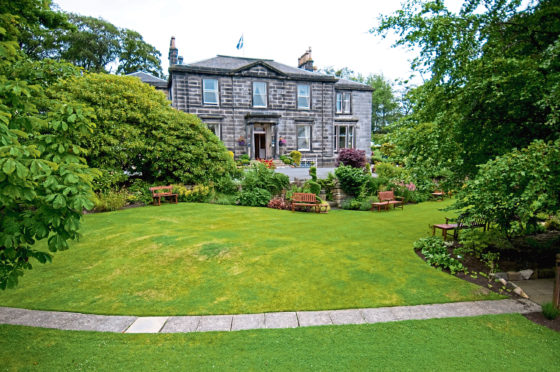 When we arrived in Dunfermline the weather was "gie dreich" so we weren't seeing it at its best.
But as Billy Connolly says: "There's no such thing as bad weather – only the wrong clothes." So winter coats were donned before we set off on foot to seek out the town's famous Abbey Church.
And we found it just a short walk from the town centre.
Here, seven Scottish kings are buried including Robert the Bruce, whose grave lies beneath the pulpit.
Thousands of visitors pay homage at his tomb, but sadly we couldn't as the abbey is closed to visitors during winter, only reopening in April.
Adjacent to it are the ruins of a 16th Century palace, which is now under the care of Historic Environment Scotland.
Our luck was out there too, as it closes mid-afternoon during winter, but we came away with a flavour of its former grandeur.
For a good view of the iconic buildings and gardens, we visited the nearby recently opened Library and Galleries building.
It's a fabulous space, free to visit and home to a museum, art gallery, reading room, shop and mezzanine cafe with big windows that make the most of the views.
One exhibit I particularly enjoyed was a selection of kitchens from the 1920s-90s – funny to see items from your childhood such as a pack of OMO washing powder as a museum piece!
The story of the famous Alhambra Theatre is told here along with tales of musicians with connections to the town such as Barbara Dickson and the rock band Nazareth.
Again, this is a venue in which you could easily spend a couple of hours and not experience all there is to see.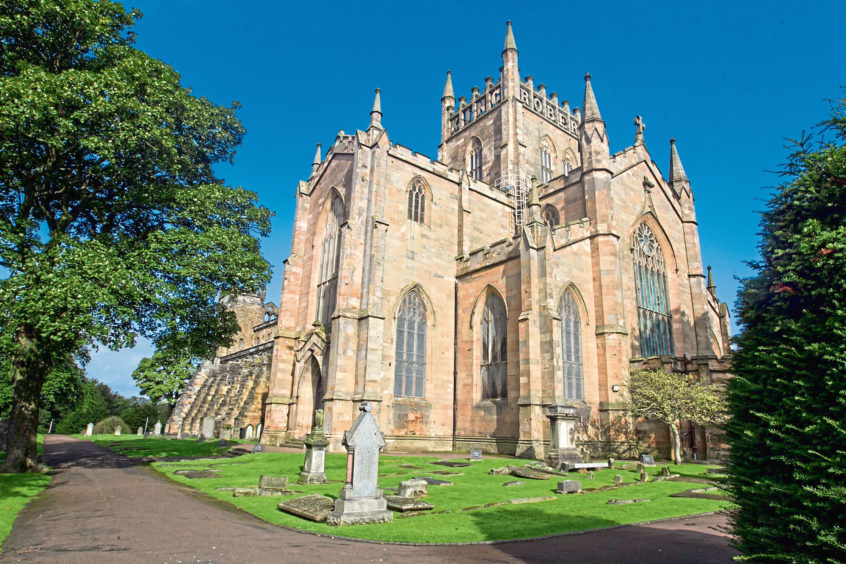 Between showers, we liked what we'd seen of Dunfermline so far and thought the High Street, with its mix of big name stores, independent shops and shopping mall, a good place for those who like to shop till they drop.
This was not for us, though – the thought of a warming dram in our hotel was more appealing…
We were staying at Garvock House Hotel, just a short drive from the town centre.
A former Georgian mansion house, it was beautifully lit to make it elegant and welcoming.
It is run by Pamela and Rui Fernandes – she is Scottish, while Rui is Portuguese.
A very friendly, hands-on couple, they have worked hard here to create a hotel that's luxurious but comfortable, and features thoughtful menus showcasing the best of Fife and Scotland's produce.
Having been warmly welcomed, we were shown to our room, a stylish suite with a massive, comfortable bed, lounge area and big en-suite bathroom.
Pre-dinner we had a drink in the lounge, which was full of locals doing the same – always a good sign.
Both dining rooms have garden views and period features, with nice touches including the real candles and fresh flowers on each table.
Dinner was superb and included mackerel mousse with prawns and a seafood medley on a white crab risotto, followed by a local cheese board.
The wine list, too, makes for pleasant reading as it has many reasonably priced offerings.
Following a peaceful night's sleep and delicious breakfast, we set off again, seeing the town in a new light as the rain had finally cleared.
We headed for Ferrytoll Cross Park and Ride in Inverkeithing. An odd choice you may think, but you can park here for free then walk across the old Forth Road Bridge.
Panoramic views, bracing air and watching ships sail below – just perfect.
At the bridge's centre I spotted a wee padlock painted with the words: "Will U marry me?"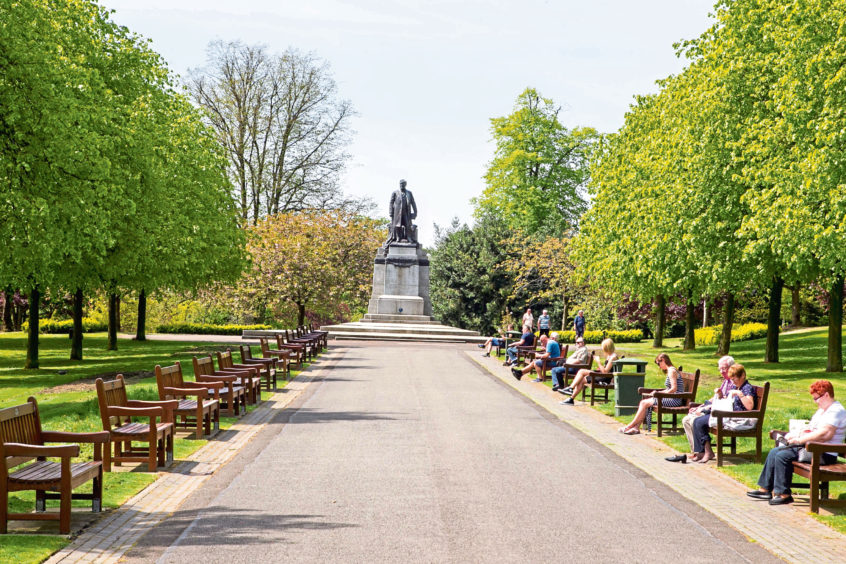 I'd love to know how that story ended…
Back in Dunfermline we visited Pittencrieff Park, a fantastic green space with riverside walks, botanical gardens, kids' playparks and an art deco pavilion.
Lunch was at Dhoom, Fife's first Indian street-food restaurant and cocktail bar, and we were impressed by the quirky design, while the £9.95 taster lunchtime menu was great value.
Dunfermline's most famous son is entrepreneur and philanthropist Andrew Carnegie, and The Andrew Carnegie Birthplace Museum, another place that's free to visit, is where you'll find out all about this fascinating, kind man.
It's a must-visit, and you should allow a couple of hours to fully do it justice.
Another fine dining experience and good breakfast at Garvock House Hotel followed before we reluctantly returned home.
While we managed to do and see a lot in Dunfermline, we really only scraped the surface of what this part of Fife has to offer.
A return visit is on the cards…
THE HOLIDAY
For further details on dining and accommodation options at Garvock House Hotel, call 01383 62106 or visit www.garvock.co.uk