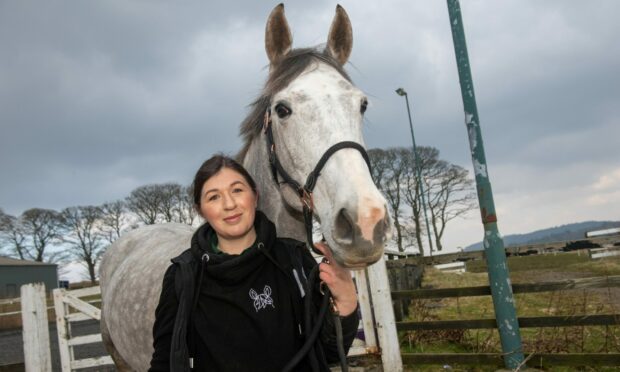 When Vivienne Cruddace gets to work, she keeps a close eye on her client to see how they react.
There's sometimes a yawn, a sure indication that things are going well, and of course the odd bit of flatulence.
But far from worrying about this smelly occupational hazard, Vivienne welcomes the odd windy side effect.
Chief horse bottom scratcher of the north-east, Vivienne's official title is equine sports massage therapist.
The mum of two officially launched her business earlier this year, and now sees horses and ponies of all shapes and sizes.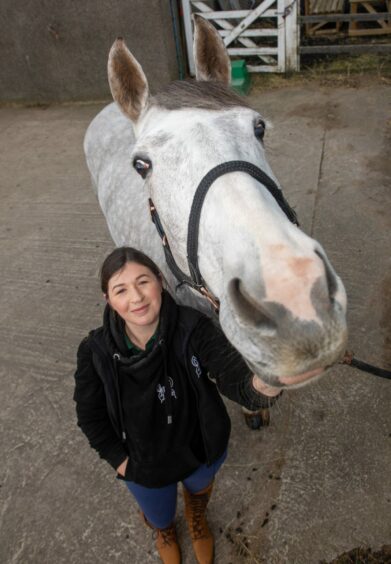 Vivienne believes that her newfound vocation is not so dissimilar to previous jobs, having worked as a bouncer at some of Aberdeen's most popular nightclubs, before becoming immersed in the world of babies and new mums with the National Childbirth Trust (NCT).
When Vivienne, who lives in Peterculter, isn't working her magic in the equine world, she can be found behind a camera due to her other role as a photographer.
Helping people
We caught up with Vivienne and found out why massaging horses is the way to go.
"I think everything I've ever done has been a people-helping role," said Vivienne.
"When I was a bouncer I worked at Babylon, College, The Priory and The Ministry. Even if people didn't particularly want the help on some occasions, that was what I was there to do.
"I say I've gone from bouncer to babies to bodywork.
"I worked in healthcare recruitment, then I volunteered with the NCT before becoming a photographer."
Vivienne believes that like many people, she experienced a "Covid re-evaluation" of her life.
But massaging horses, from the cutest wee pony to a horse measuring 17.2 hands, is surely not for the fainthearted?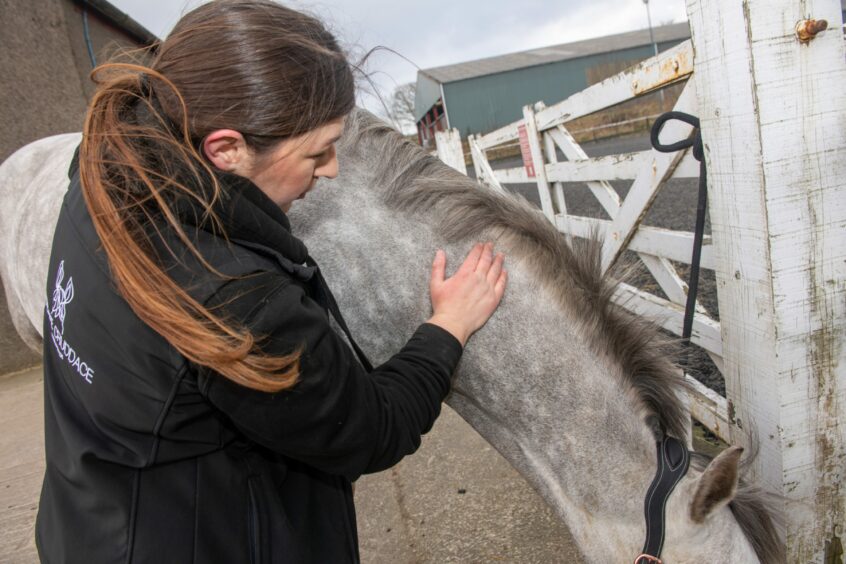 Reigniting a passion
"I was completely and utterly pony mad as a child and even as a teenager," said Vivienne.
"I returned to horse riding four years ago, and that passion was reignited at Aberdeen Riding Club.
"I love photography, but following Covid I knew I wanted to do something hands-on with horses."
Vivienne discovered the equine massage course through the College of Animal Physiotherapy, and with 50 clients on her books she has never looked back.
Equine massage therapy
But what is equine massage therapy? While horses might not care for essential oils and a spa-day experience, they are not so different from people after all.
"The benefits of massage for horses are similar to the benefits of massage for people," said Vivienne.
"It can reduce muscle tension and soreness and help to prevent injury.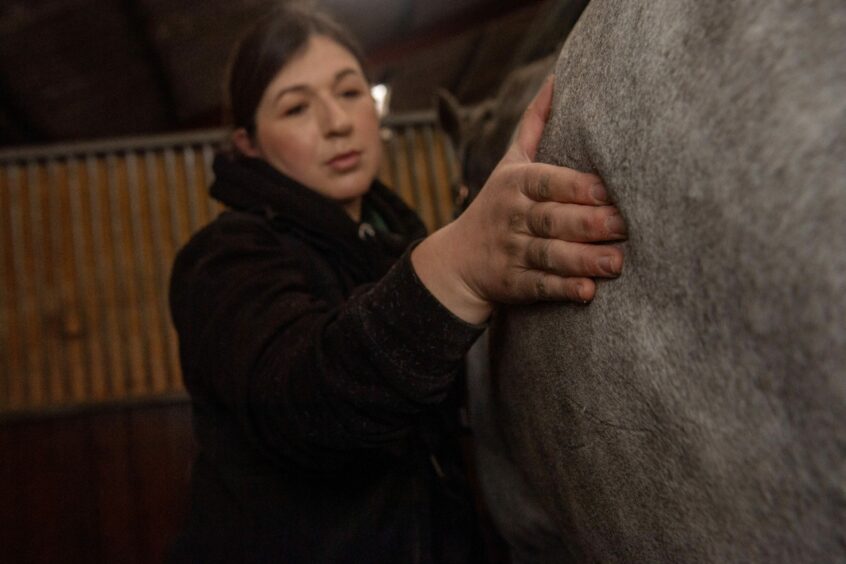 "It's also very beneficial for their mental state, its relaxation and the release of endorphins.
"It enables them to move more efficiently, it's an all-round physical and emotional benefit. Massage can help horses stay relaxed and happy.
"It's very effective when used during rehabilitation after injury or illness, or as a way to promote emotional wellbeing for tense, nervous horses."
How does it work?
But how do you go about massaging a horse? You can't ask them to lie down under a posh white towel after all.
For Vivienne, the secret is in the approach.
"When you go into the stable, quite often the horse won't know you," she said.
"They're immediately thinking who are you, are you a vet?
So I'll say hello, I'm Vivienne. I introduce myself to the horse. I'll let he or she sniff me. I feel them gently so they get used to my touch.
After Vivienne has seen the horse trot up, she is able to assess them dynamically.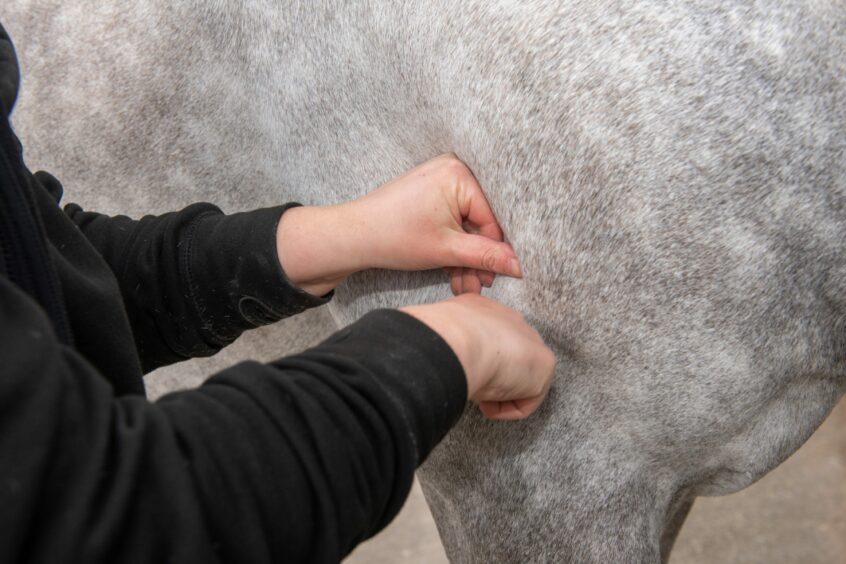 "Horses are all built differently," said Vivienne.
"Once I've started massaging, different horses react in different ways.
"I massage in big long strokes, there's different techniques.
"Some horses get sleepy and will start yawning, I look for all the different signs.
"Yawning lots is a way of releasing tension. They might sway or lean into you, or get fidgety if there's a sore bit.
"Licking and chewing is also a relaxation sign; I'm always watching them for all these different kinds of behaviour."
A winning sign
Luckily flatulence is rather easy to notice. Regardless of how tricky the client may be, Vivienne's magic hands get to work.
"I saw a little pony recently, he was a rescue case and his owner wasn't sure I'd be able to do much massage," said Vivienne.
"This pony was very resistant to human contact, but he loved it once I got going.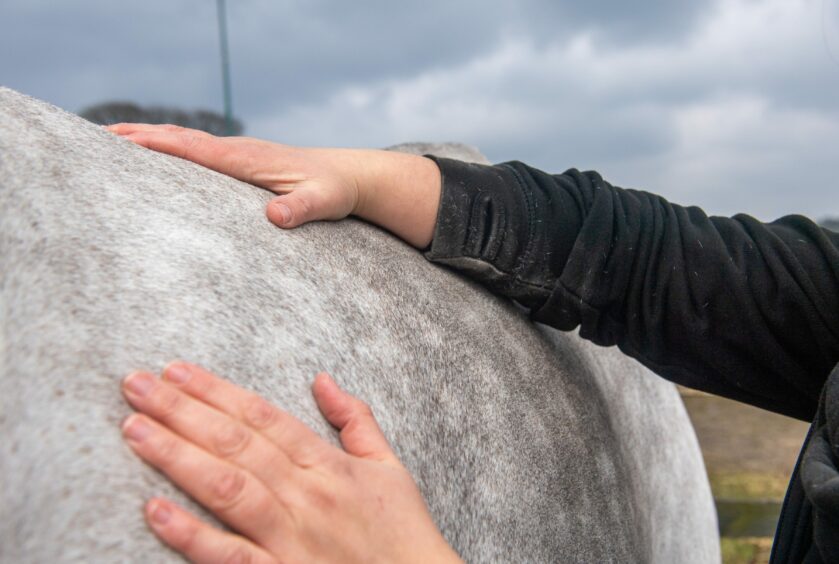 "I love being able to help horses, and it can be a therapy session for the owner as well because we get to chat lots.
Horses are a bit like big babies, they can't tell us in words what they are feeling. You have to go on their responses and reactions.
"Most horses want to be friendly. If they're not, they're in pain or don't understand what you're asking of them. Or they've experienced something bad by the human hand.
"You should never apologise for a sassy horse.
"All I've done really is move from helping the two-legged to the four-legged, it's still a nurturing role."