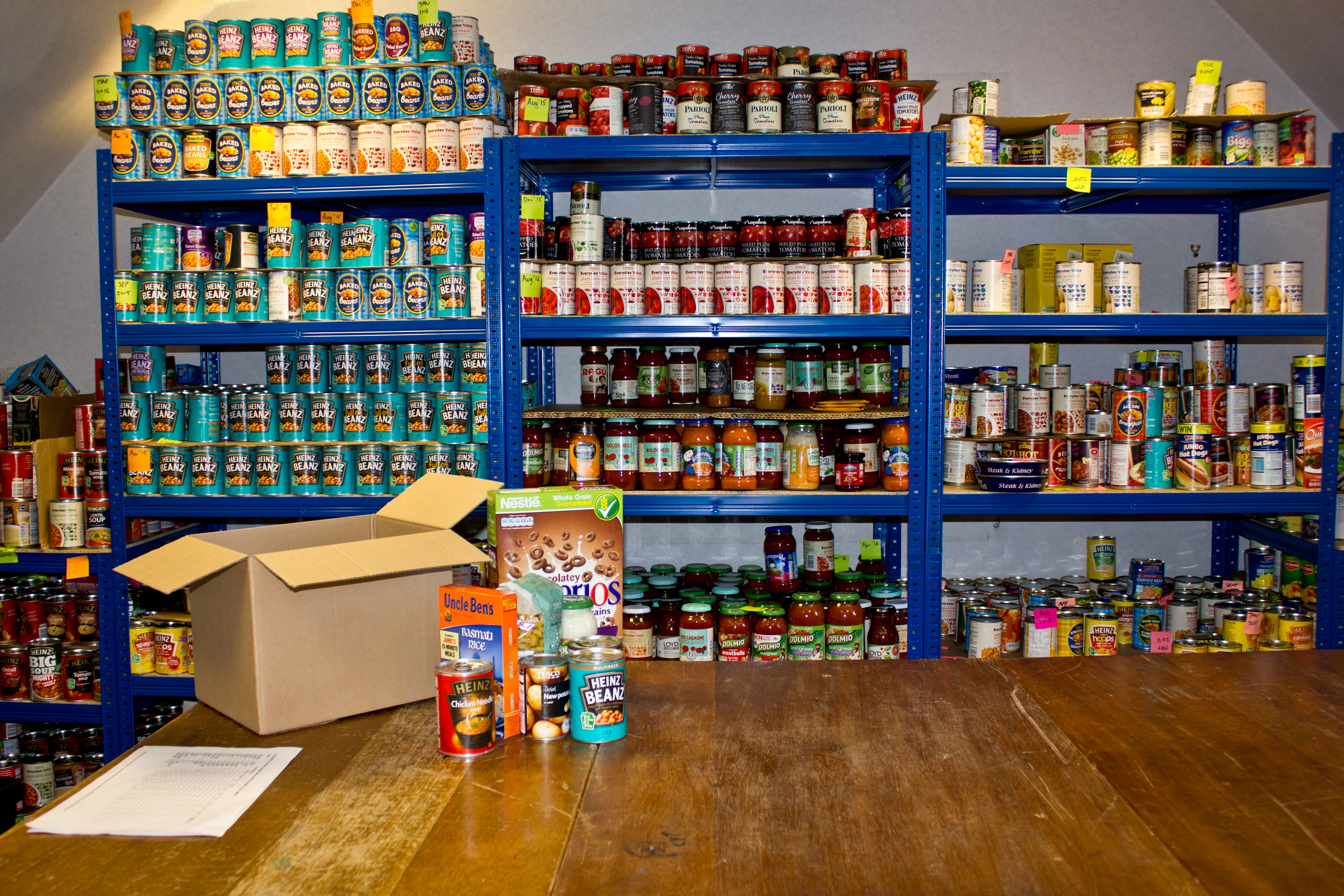 With food banks back in the headlines, we speak to those at the frontline who are tackling the north's food poverty head on
Why do people use food banks, and how big an issue is food poverty in the UK? These questions have been recently raised by a cross-party group of MPs in light of concerns that no robust data on this phenomenon is available.
But is the national picture really that unclear? YL picks the brains of food bank co-ordinators across the north to hear what those on the ground have to say.
EILEAN SIAR FOODBANK,
WESTERN ISLES
Working as a full-time accountant while juggling the demands of being administrator for the Eilean Siar Foodbank makes for a hectic life for Sarah McDonald.
"It's a huge commitment, but if people are going hungry we need to do something. It would be really sad if we could help but didn't. So if it takes up some of my time to help, then so be it," she said.
Sarah took over as administrator in August last year and helps to co-ordinate a team of 25 volunteers at the foodbank's headquarters on Point Street, Stornoway. The Western Isles food bank, a project seeded by nationwide NGO the Trussell Trust, distributes food packages from the northern tip of Lewis, right down to the southern isles of Uist and Barra. This geographical spread makes for a complicated operation, but with the help of volunteer drivers from local company, Grillburger, those in need are provided for.
A common misconception, Sarah finds, is that food banks are a mainland phenomenon. However, as she and her team know, poverty arises in many forms.
"It's a very different community. It's still a small community, and while you don't see people begging on the street, there's definitely poverty here," she said.
"The cost of living is higher, from fuel, to food and electricity. But I don't think the wages are higher to match. So in that sense, there are bigger problems that people face here. In our first year, we fed 290 people, which is quite shocking."
Anyone can fall on hard times, Sarah finds, and the key for her team is to offer help while preserving a client's dignity.
"A lot of people think we don't need them, and that there are only certain types of people who use them. But it could happen to anyone – you just need to get a big, unexpected bill, or suffer a bereavement, or lose a job. It's amazing how many people didn't know that there's a food bank here. But the local community are so generous too. It's amazing how generous people are."
For more information, visit www.eileansiar.foodbank.org.uk
COMMUNITY FOOD INITIATIVES NORTH EAST (CFINE), ABERDEEN
"For people to come over the door is not an easy option. There's a lot of embarrassment and shame there," explained Dave Simmers, chief executive of CFINE.
"We don't see how that should be the case, but that's how people feel."
A franchise of food supply organisation Fareshare, CFINE takes a slightly different approach to tackling food poverty. Working with a network of more than 20 food banks across Aberdeen city, Aberdeenshire and Moray – including their own in Aberdeen – the organisation has helped develop a robust infrastructure for collecting and distributing food parcels where they are needed most.
As a result, Dave and his team have the finger on the pulse of food poverty in the north-east.
"Welfare reform is undoubtedly the main reason given by people who come to us, and we interview everyone that comes in," Dave explained.
Of the clients who come to them, 10-15% are in work, and the vast majority are reliant on welfare. Benefit sanctions, delays in welfare payments, and the impact of the "bedroom tax" are by far the biggest consistent problems cited by clients of CFINE.
The picture is a serious one – the number of visits just four of CFINE's partners have had since April 1 2014 is nearly 10,000, but taking into account the remaining partner organisations, Dave estimates the true number is closer to 15,000 visits.
Such staggering figures, which Dave finds to be inextricably linked to welfare reform, are why CFINE's partners work hard to pass on data to those in power.
"For us in the food banks partnership, one of our key goals is to share the information and experience from our food banks with the policy-makers at a local and national level so they're making informed decisions. I'm not sure policy-makers are understanding the impacts of policy decisions on people's lives. With so many people who come through our doors, you are hearing a story of human tragedy."
By the end of this financial year, CFINE will have received and distributed in excess of 2,000tonnes of food thanks to the support they receive.
"The response from the general public and corporates has been absolutely uplifting and heartwarming. I think that's interesting because, if you read a lot of the media, poor people are often vilified. But that's not how the general public and corporates are responding."
CFINE is currently on the lookout for more volunteer drivers. For further information, visit www.cfine.org
COMMUNITY FOOD MORAY
When Andy Walker took up the post as co-ordinator of Community Food Moray 18 months ago, the organisation was handing out five or six parcels a week. Today, that figure has soared to more than 32 parcels a week, which get distributed as far as Cullen in the north to Tomintoul in the south.
The main reason for the increase, Andy explained, is the organisation raising awareness among referral agents, such as Citizens Advice and social workers. As such, the level of need might not be much greater – rather, it's that more people are aware that help is at hand.
"For example, this morning we had a young couple with a three or four-month-old baby, but at the same time we just had an emergency call from a social worker about a 66-year-old lady who doesn't have food or heating. So we really get the whole cross-section, from babies, to elderly people, from families to individuals," Andy said.
The misconception that food banks are only for "junkies and winos" is all but gone, Andy explained. There is now a higher appreciation of the issues that can lead to needing the aid of a food bank – which in Moray's case, range from fuel poverty, to financial difficulties arising from benefits sanctions.
Like all food banks, Moray Community Food has its own nuances in the way it operates. Anonymity is important for the sakes of client and volunteer, and so the organisation primarily takes referrals from agents and distributes packages to central collection sites.
"A lot of our volunteers say they don't want to be assessing people," Andy continued.
"That's something you see in rural communities – people say they don't want to be serving their neighbours and having to ask them about bereavements or hard times. So we have never gone that way and it works very well."
For further information, visit www.communityfoodmoray.co.uk
JOSEPH STOREHOUSE, PETERHEAD
The Apex Church's Joseph Storehouse in Peterhead sprang into action three weeks ago when the Northbay Pelagic fish factory was ravaged by fire. The food bank offered up emergency food packs for the workers of the processing plant whose jobs were endangered by the blaze.
Mercifully, very few people lost their jobs, and a food drive at a local Morrisons supermarket was cancelled.
"We expected to have more people in than we did, but because most people's jobs were secure, it's good that we wouldn't be needed," said George Forman, co-ordinator of Joseph Storehouse.
The rallying of the food bank volunteers served to highlight the help they give year round, and their ability to respond quickly to new emergencies as they arise. Since opening in May 2013, Joseph Storehouse has given out 2,700 parcels – the equivalent of £68-70,000 worth, George estimates.
Working with a wide network of agents, the food bank gives out specially tailored parcels – including family packs, couples packs, and packs for people without access to a cooker – for an average of 50 people each week. A mixture of local residents and foreign nationals struggling with long-term unemployment and benefits sanctions, there is a steadily growing need among the Peterhead population for the storehouse's services.
A tricky challenge he and his team face quite regularly is being blind-sided by clients.
Some clients seek to abuse the food bank by trying to get more food than they are allotted. But for the most part, the gratitude of clients is tangible – with many people inspired to offer up financial contributions to the charity once they have found their way back to employment.
Irrespective of the thanks they get, George and his team strongly believe the food bank is an opportunity for them to express their Christian values, and reach out to a community who needs them.
"There are calls for the government to be funding food banks, but for us this is a great opportunity for the church to help people when they are down. So we are saying that this is what our church should be doing."
For further information, visit www.facebook.com/josephstorehouse
THE HIGHLAND FOODBANK, BLYTHSWOOD CARE,
THE HIGHLANDS
The call for an independent study into the proliferation of food banks in the UK is a sound one, finds Laura Ferguson. But the food bank co-ordinator for Blythswood Care's Highland Foodbank feels strongly that such a study shouldn't discount the robustness of data collected by organisations such as hers.
"The good thing about our data is, when we collate it, it's giving our clients a voice that they wouldn't have otherwise. And that's because we are on the ground and hearing these stories first-hand. But I do think data needs to be collected independently too," Laura said.
In her role, Laura works with local community food bank projects across the Highlands to help them develop in ways which are ideally suited for the communities they are based within. Also part of the Trussell Trust's UK-wide food bank network, Blythswood provides a minimum of three days' emergency food to local people in crisis in Dingwall, Tain, Alness, Kyle of Lochalsh down to Aviemore, Nairn and Inverness.
While the Inverness food bank is by far the busiest branch – given that's where the largest population resides – the nuances of operating outside of urban areas is a whole new ball game.
"What we see more in rural areas is more complex situations. Maybe because they fear what food banks are, or that someone will find out they have gone. So they often leave it to the last moment to seek help.
"So we see a lot of people who are more desperate because they've waited and tried to survive on their own before seeking help. It's a challenge in small communities because there's that fear that there's maybe not the same privacy as in a city."
In the year running from April 2013 to April 2014, Blythswood gave out 4,500 food packages. Like other areas of the north, benefit delays and sanctions are all big factors which lead to food poverty across the Highlands, Laura explained, as are newer phenomena such as zero hour contracts which make budgeting from week-to-week very difficult for clients.
Thankfully, the food banks are well supported by their communities, allowing Laura and her team to focus on the bigger issues.
"We are so well supported by the generous public, so we now want to see what support we can offer the communities outside of emergency food. For example, can we work better with agencies to help people break out of the cycle of poverty?"
For further information, visit www.blythswood.org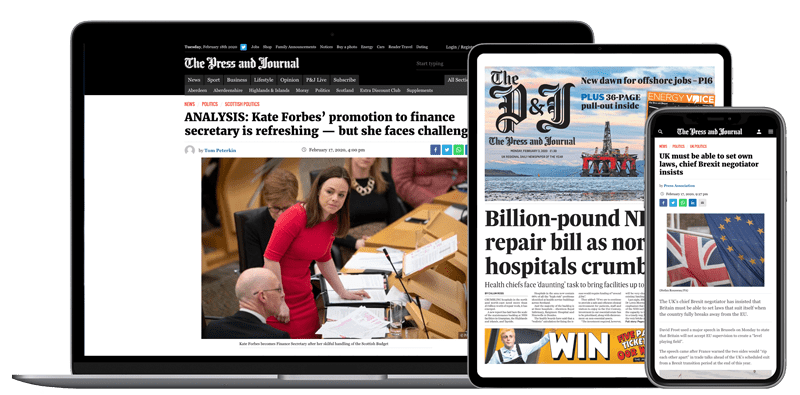 Help support quality local journalism … become a digital subscriber to The Press and Journal
For as little as £5.99 a month you can access all of our content, including Premium articles.
Subscribe