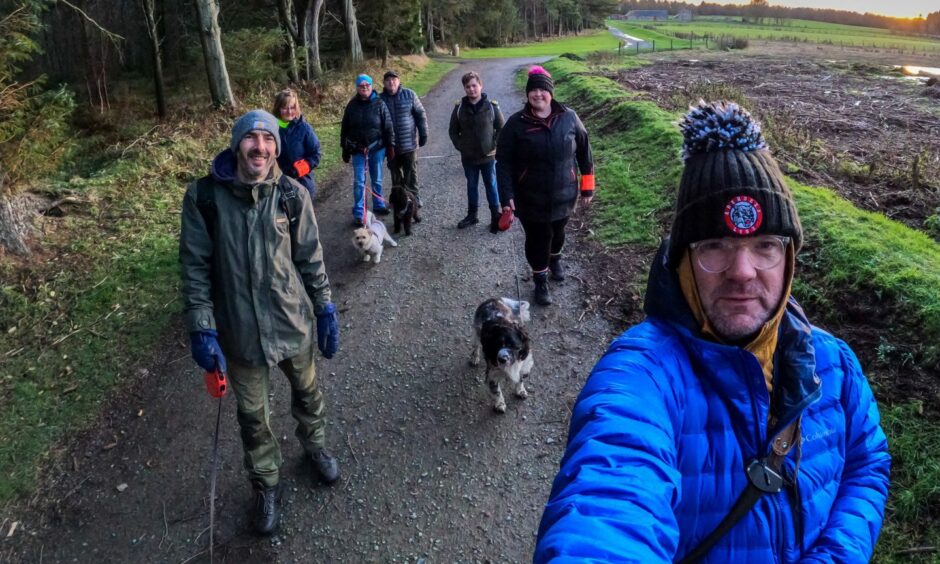 The short version of the PawPalz story is that Toby McKillop walked up Bennachie one day and came down with an idea, a brilliant, altruistic idea, that would change lives for the better, including his own.
Although his walk up the Aberdeenshire hill was on December 31, 2019, the journey started years before that when he couldn't have guessed at the brighter path that would one day open up before him.
That December day did not start well for Toby, in fact it started in the worst of ways, with a desperately low mood and even suicidal thoughts.
He had never walked up Bennachie, although he could see it from his cottage, and decided that this was the day to tackle it with his rescue dog, Ebby.
Toby McKillop, PawPalz founder
"I said to Ebby, 'we are climbing that mountain today and when we get to the top we are going to let the wind blow away all the bad and we will come down feeling better'."
The sun shone for the two of them as they scaled the hill, and sure enough, when they reached the top, Toby's mood was much improved.
"I felt amazing," he said, and asked himself "alright, why is this working for you?".
By the time he and Ebby walked back down the hill, he had some answers and a plan that involved fresh air, exercise, beautiful scenery – and most importantly, man's best friend.
The plan was PawPalz, a mental health peer support group, where people could get together with their dogs – and simply go for a walk.
Toby knows more than most the power of peer support. As a former heroin addict he had tried several recovery treatments but for him, being with people who had been through similar struggles was the most effective.
Toby, originally from Fraserburgh, had tried to conquer his addiction for 20 years, trying "everything" to stop, including therapy, methadone and other forms of counselling.
"Peer support to me was wrapped around a word – rehab – and for the longest time I thought 'I don't need rehab' but then it got to the point that if I didn't do something I was going to end up in jail, deid, or whatever and I needed to make a change," he said.
He was given the opportunity to go to a Glasgow-based rehab called Phoenix Futures, "an amazing place" and his first experience of peer support.
"It wasn't councillors or therapists, it was folk the same as you, recovering addicts or alcoholics and you're all equal, you're all learning and for some reason this just clicked with me.
"Things started to make sense about my addiction, my illness, I started to understand it, and doing this with people who had gone through the same thing was a different experience altogether.
"I was there for six months. It was formal peer support, so sitting in a circle and that's really challenging. But it was easier at Phoenix because you're living, working and playing together, so you're developing relationships.
"If you're doing a normal peer support group, outwith rehab, it's difficult sitting in a room of strangers and trying to develop trust, respect and honesty because it's an alien environment.
"When I came out of Phoenix, I was still in Glasgow and I joined Street Sport. They use football to help develop confidence, team-building and self-esteem. All this is being built with a game of football, which for me was great because I love fitba!"
His team was chosen to represent Scotland in 2014 at the Homeless World Cup in Santiago. "It was a life-changing experience, it really stuck with me, living the dream."
Toby then moved back to the north-east and began a relationship which sadly turned sour and resulted in a battle to see his baby son.
"I tried to see my son for three years and at the end of it I had a nervous breakdown."
He moved into a cottage in the country, but described the quiet and isolation as a "double-edged sword".
"I thought, this is dangerous, I need support. That's when I adopted my wee dog."
"Straight away I noticed a difference, getting peace from the noise in my head," but there were still "good days and bad days" and on the last day of the year in 2019 Toby was "really struggling".
"I was just desperate," he said, "I've never been up there on Bennachie, but it was gorgeous, there was no-one about and I was not thinking about anything. It was amazing, given the way I'd been feeling earlier."
In that moment, everything he'd learned on each step of his journey to recovery came together to form a single, deceptively simple idea.
"I thought, why not make a support group around a walk with the dogs? It's the same idea as Street Sport, around a game of football, and similar idea to Phoenix, but it's informal support.
"I thought if that worked for me, then it would for other people and I'd better just go and do it!"
Now PawPalz has walks in Ellon and Mintlaw and is growing.
"Being part of a pack, we are stronger than on our own," is Toby's motto.
Among the pack are walk leaders Helen Leel and Ralph Greig, who explained what PawPalz means to them.
Helen Leel, walk leader
Helen has a three-year-old sprocker spaniel "Stan the man" who appears to be quite proud of his role as walk leader.
"He knows to be at the front of the pack and seems to think 'mum says we're going on a walk' and if someone tries to speak to him it's like he says 'I'm on a mission'," said Helen.
"I've lived with mental health issues most of my life and there are times when it's been very dark, when I couldn't leave the house.
"That's why I got a dog in the first place. Folk look at you strange when you go out for a walk on your own but with a dog you have a purpose."
At a walk for the Platinum Jubilee in Aden Park, near Mintlaw, Helen spotted a familiar face in the crowd – Toby.
After learning about PawPalz, Helen tried to summon the courage to go on a walk but would often "find a reason why I couldn't go".
Then Toby messaged her and invited her along.
"It was lovely and everyone was friendly and so welcoming. It's daunting walking into a group of strangers but everyone we met that day in the park was just… it was like I had always been there.
"It wasn't awkward and having the dogs as a distraction is really handy."
Toby, who was already doing walks in Ellon, approached Helen about leading the Mintlaw group, and "immediately panic set in" she said.
"I thought, no, I can't do that, I can't leave my house, how can I lead a group of people?
"But the more I thought about it, the more I thought, well it needs to start, it is needed and somebody has to be the person, so when he told me that he also had a gentleman who was interested in being the leader it just so happened that I knew him.
"I got my confidence and thought 'right I'll do it'.
"And it was the best decision I've ever made – apart from getting the dog.
"One of the days we had 16 humans and 17 dogs and I stopped and looked back and I could hear them chatting and laughing, everyone was getting on and I thought, wow, this is what it's all about."
Ralph Greig, walk leader
Around Easter last year, Ralph was in Aden Park with his beagle, River, when he spotted the group and decided to join the walks.
Ralph, a marine pilot, had done mental health support with his work, and after a while Toby asked him if he would like to become a leader as the charity expanded.
Ralph said: "Talking to a bunch of strangers in a formal circle is quite difficult, but then again, talking to people who are too close to you, like friends and family, is also difficult.
"But this is a really happy medium. You get to know each other a little bit from going for a walk but there's still enough distance to just be yourself.
"And yes, we're chatting to each other on the walk, but we're also looking after the dogs.
"People don't have to say anything about themselves if they just want to walk with the dogs and keep quiet, but if they want to tell their life story, that's OK as well."
He knows it's sometimes hard to find the time or inclination to go on a walk, but by the end "it's all smiley faces".
"You get walking, get the fresh air and a little bit of chat going, everybody comes out of their shell. There can be a little bit of stress when we start, but it's a very, very relaxed group by the end."
Ralph co-leads the Mintlaw group, but uses Ellon as his own health walk. "When I'm there I'm just one of the walkers and Toby is my main sounding board, he's been absolutely great.
He said there are lots of ideas in the pipeline for PawPalz, including for dementia, which may involve more gentle walks, even around people's gardens.
Ralph would also like to add more adventurous walks, out on the hills, but that's "further down the road".
Rebecca Jackson, teacher
PawPalz recently visited Meldrum Academy after pupils there adopted it as their charity and all involved agree it was a "magical" day.
Rebecca Jackson is principal of interdisciplinary learning with a focus on developing the young workforce.
Alongside business, pupils have undertaken some exciting tasks, including designing a rollercoaster, an aquarium and a Mars rover.
They have looked at the UN's Global Goals and the difference young people can make in the world.
They also take part in an enterprise exercise, where they come up with a business idea and sell something at the school Christmas fair.
Then between January and Easter they take part in the school's youth philanthropy initiative (YPI), exploring the values that are important to them and choose a charity that links in with that.
They work out ways to help that charity with some groups opting to donate the proceeds from their business enterprise as well as contributing in other ways.
This year one group picked PawPalz and have been designing keychains and bandanas for the dogs featuring the charity's logo.
Best of all, Toby and treasurer Tom Craggs took Ebby in to meet them and they went out on a walk with the group.
Rebecca said: "Oh everybody loved the dog! It was a fantastic atmosphere."
She noticed that having Ebby to focus on helped give some more hesitant pupils the confidence to become more involved and ask questions.
"I thought, there's a another step and just shows the power of animals and what an impact this charity can have.
"The young people were so excited and were asking what could we do?"
Toby suggested they might be able to offer to walk the dogs of elderly people in their community and now this is another idea that's being explored by the group's newest branch – PawPupz.
Last week the S2 group had the added celebration of winning the top prize at Meldrum Academy's YPI programme.
The £3,000 prize comes from the Wood Foundation, with the school contributing £500 of that, and will go directly to the charity.
PawPalz was invited to the Grand Final and a statement on its website said: "We were so pleased and proud of all the groups but beyond words when the PawPupz were announced as the winners of the £3,000 prize which PawPalz will put to good use in our growth. Well done PawPupz, so proud of you all."
For more information visit pawpalzpack.co.uk or find PawPalz on Facebook.