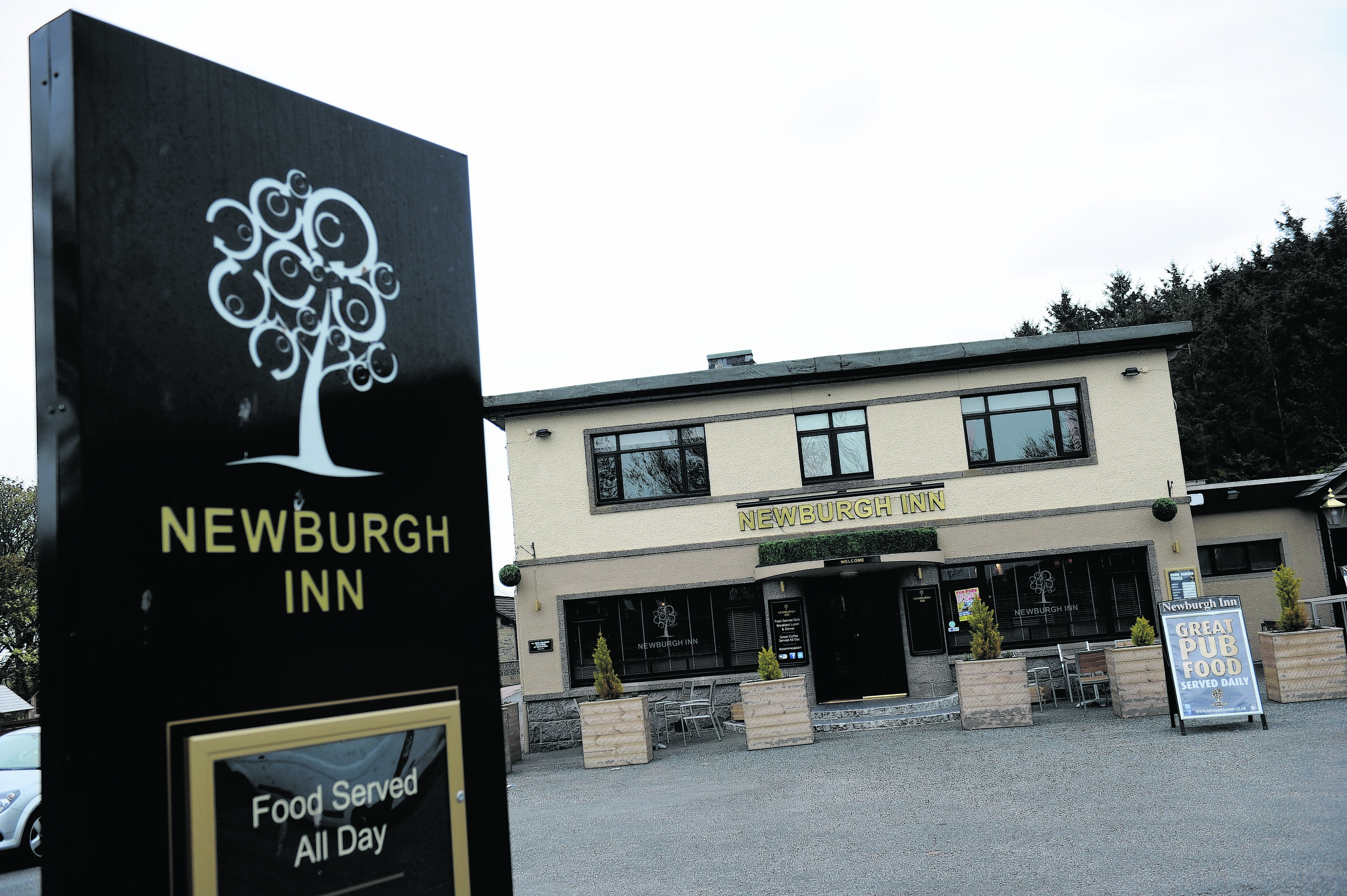 Typical. We set off on a sunny spring day for Newburgh, from Aberdeen, for lunch – and now it was a battle for survival: hail was pinging off our car like machine-gun fire.
At last, we were pulling into the safe haven of the Newburgh Inn, but another surprise was lying in wait for us.
We assumed that, as it was a Tuesday lunchtime, the restaurant might be a little on the quiet side. However, we only just managed to find a parking space. And inside, the place was heaving with grey tops: a mature group of diners, who obviously knew a good thing when they saw it. From the grey perspective, I fitted in perfectly with my new-found fellow diners. Like peas in a pod, in fact.
A waitress approached, a little nervously, and inquired if we had a reservation. Fearing a trap, I was about to explain we had booked in advance, when it turned out she was only checking if we were redeeming a lunch voucher offer – like everyone else, it appeared. That explained why it was busy. Once it had been established we did not have vouchers, we were ushered to a table next to an attractive display of single-malt whiskies, stored in a glass cabinet.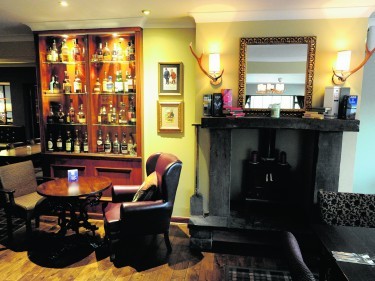 The friendly lunchtime throng gave the place a nice atmosphere and service kept up with demand throughout our stay. The menu was business-like and catered for wide tastes.
For starters, I went for a warming soup, which seemed perfect given the chilly weather. But, for some reason, I decided to throw in cheesy garlic bread as a side-dish for my starter. An unusual move, I know, but I have a severe addiction to cheesy garlic bread. I would come to regret this error of judgment, which I will explain later. You can then digest that at your leisure.
My wife, being sensible, chose a simple starter of nachos: tortilla chips, topped with sour cream, salsa and melted Cheddar cheese.
The Newburgh Inn has undergone a transformation and refurbishment under new owners since last year. It seemed to be coming up in the world as it looked as though Take That were appearing soon, but a closer squint at a wall poster revealed it was a tribute band. And I am sure they are very good, too. They also have a nice line-up of background music at Newburgh Inn. I became fixated with Billy Joel's classic Longest Time – to the point where I was still whistling it for a long time afterwards – 24 hours, in fact.
My soup and garlic bread were excellent, as I knew they would be; generous portions, too. In fact, I felt a little full – and I had ordered home-made steak pie and chips next. My wife's nachos were tasty, but high on tortilla chips and low on filling, she felt. And she had added extra chilli beef from the menu, at £1 a portion.
As well as diners, this is also a popular place for birdwatchers due to teeming bird life around the Ythan estuary nearby. I fixed my gaze on a couple at another table and, due to my razor-sharp journalistic training, I deduced they were birdwatchers. They did have the biggest pair of binoculars I had ever seen sitting between them, which was a bit of a giveaway. It did not need Sherlock Holmes to figure that out. In fact, the binoculars were so big, they left them behind as they left – but quickly came dashing back from the car park to retrieve them.
I could not put it off any longer: despite my full tummy from the starter, I had to confront my steak pie and chips like a man. This is the bit I warned you about earlier – I was paying the price for my eyes being too big for my belly.
However, I battled on manfully – and I must put it on record that this was the finest steak pie I have ever tasted, topped with golden puff pastry.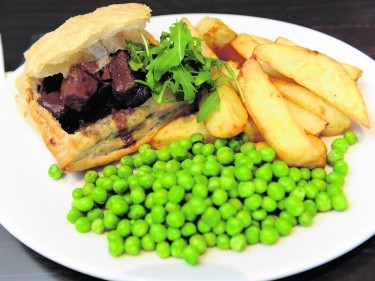 The filling was a delight: rich gravy, juicy tender Scotch beef and delicious seasoning, with hand-cut chips. It had the lot – and I managed to eat the lot, too.
My wife was helping herself to escalope of "Hootin Anni" chicken: pan-fried chicken, in golden Parmesan bread crumbs, topped with melted mozzarella cheese and salsa and with a bed of summer salad. It was a flashy little Latin number, but out-punched by the solid British heavyweight on my plate.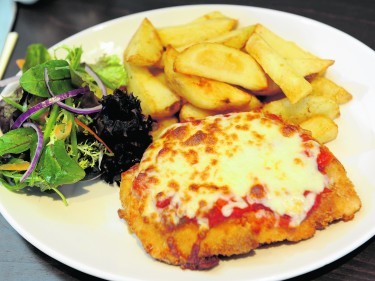 We had come this far, so we plunged in for puddings. My wife's was the best dish of the day, for her: Banoffee crepes, filled with bananas, topped with toffee sauce and a dollop of creamy vanilla ice cream.
I tried to keep it light: mint choc-chip homemade ice cream with marshmallows. A great way to round it all off. It had been a really pleasant visit, a nice atmosphere, with good service and food. It is only around 12 miles from Aberdeen, so well worth a visit. They also do breakfasts, if you happen to be passing. Now it was time to work off a few calories, so we ventured out to the Ythan estuary to take in stunning views.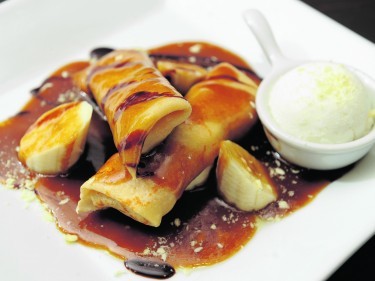 I gazed at an old World War II pill box. What secrets did it hold? It was built to defend the bridge across the Ythan, in the event of Nazi troops landing on beaches to the east. A frightening echo from the past, but it was of huge strategic importance.
Now a grey heron stood on sentry duty in the water nearby, absorbed in looking for its lunch. I noticed my wife was gazing intently at some striking apartments, perched close to rocks beside the estuary, with fantastic views all around. She had spotted one was for sale. Time for home.