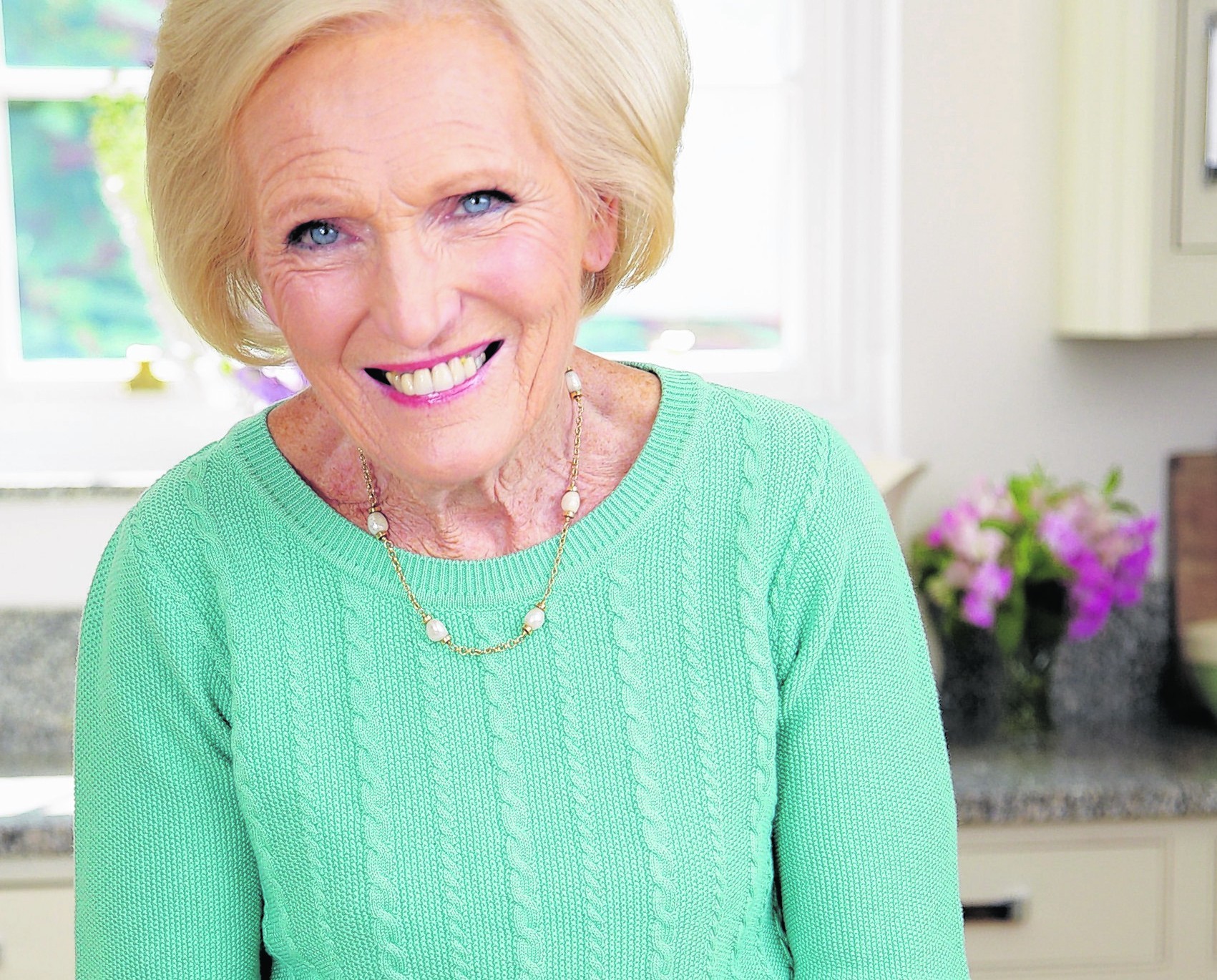 Over eight decades, Mary Berry has seen food fads come and go. And the latest one – kale – she deals with in typically firm fashion.
"No, I don't like it and I see it everywhere. I grew a new kale, which was rather big and a dark colour, and it looked so pretty in the garden. Then I started to cook it and it was so strong and bitter. I know it's good for us, but I'd prefer to grow land cress, or something a little bit different."
But Berry – who grew up with rationing, turned 80 in March and has written more than 70 cookery books since the late Sixties – is softer on other 'new' ingredients, including the basil she grows in the garden of her beautiful Buckinghamshire home.
"When I trained and when I was a housewife, I automatically used dried herbs.
"Basil was something you only got in France, and now we sow basil in the garden in May and we've got it in the garden from late June onwards. We make our own pesto. Things have certainly changed, and this is the joy of new ingredients.
"We also grow fennel," adds Berry, who makes a fennel slaw in her latest book, Absolute Favourites, which accompanies her new BBC Two show.
"My husband says, 'What are you putting fennel in? We didn't have it as children, my mother didn't do it!' I say, 'Hard luck, you're going to 'have it!"
Her grandchildren appear in the BBC Two series, Mary Berry's Absolute Favourites. Her 12-year-old twin granddaughters, Abby and Grace, make biscuits, while her grandsons are put to work on a pasta bake.
Food and family have always gone together for Berry, who married husband Paul in 1966 and had three children, Thomas, Annabel and William, who sadly died when he was just 19.
"I'm very lucky to have family and there's nothing better than cooking with children – there's no happier way of keeping children amused than teaching them," she says.
Try some of Mary Berry's favourite recipes for yourself at home…
WATERMELON, FETA, CUCUMBER AND MINT SALAD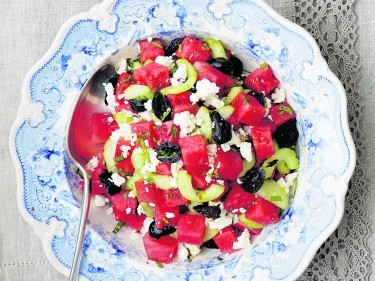 SERVES 6 AS A MAIN DISH OR 10-12 AS PART OF A BUFFET
1/2 cucumber
1/2 small watermelon, peeled, deseeded and cut into 2cm cubes
200g good-quality feta cheese, crumbled into small cubes
50g pitted black olives in oil, halved
1 small bunch of mint, chopped
FOR THE DRESSING:
4tbsp olive oil (or oil reserved from the olives)
Juice of 1/2 lemon
Salt and freshly ground black pepper
Peel the cucumber with a potato peeler, cut in half lengthways and, using a teaspoon, scoop out and discard the seeds. Cut into crescent shapes.
Layer half the watermelon, cucumber, feta and olives in a bowl, repeat again, then sprinkle with the chopped mint. For the dressing, whisk together the oil and lemon juice, season with salt and pepper and pour into the bowl. Serve chilled.
ROASTED SAUSAGE AND POTATO SUPPER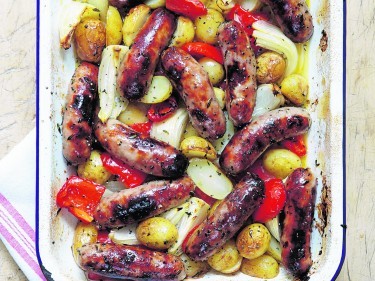 SERVES 4-6
2tbsp olive oil
2 large onions, sliced lengthways into wedges
2 red peppers, deseeded and cut into large dice
2 garlic cloves, chopped
1 tbsp chopped thyme leaves
500g baby new potatoes, unpeeled and halved
12 sausages, pricked with a fork
200ml white wine
Salt and freshly ground black pepper
Preheat the oven to 220C/200C fan/Gas 7.
Place all the ingredients except the wine in a large, resealable freezer bag. Seal the bag shut and shake well to coat everything in the oil. Alternatively, put everything in a large bowl and turn the ingredients until they are fully coated in the oil. Tip into a large roasting tin, spreading the ingredients out into one even layer and ensuring that the sausages aren't covered by any of the vegetables. Season well with salt and pepper.
Roast for about 30-35 minutes until golden, then remove from the oven, turn the sausages over and toss the vegetables in the cooking juices. Pour in the wine and return to the oven for a further 20 minutes, or until browned and the sausages are cooked and the potatoes tender. Serve hot with a dollop of mustard on the side.
MALTED CHOCOLATE CAKE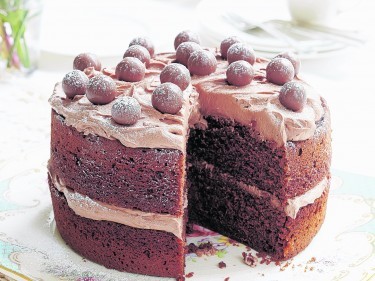 SERVES 8-10
PREPARE AHEAD:
The filling will remain soft and ready to use in a bowl covered with cling film for two to three days. The finished cake can be kept in an airtight container for up to a day.
FREEZE:
Freeze the cake and icing separately, then defrost at room temperature and assemble when ready to serve.
30g malted chocolate drink powder
30g cocoa powder
225g butter, softened, plus extra for greasing
225g caster sugar
225g self-raising flour
1 tsp baking powder
4 eggs
FOR THE ICING:
3tbsp malted chocolate drink powder
11/2tbsp hot milk
125g butter, softened
250g icing sugar, plus extra for dusting
50g dark chocolate (at least 50% cocoa solids), melted
1tbsp boiling water
About 20 Maltesers, to decorate
Icing sugar, to dust
You will need two 20cm round sandwich tins. Preheat the oven to 180C/160C fan/Gas 4 and grease the tins with butter and line the bases with baking paper.
Measure the malted chocolate drink powder and cocoa powder into a large bowl, pour over two tablespoons of water and mix to a paste. Add the remaining cake ingredients and beat until smooth.
Divide evenly between the prepared tins and bake in the oven for 20-25 minutes. Set aside in the tins to cool for five minutes, then turn out on to a wire rack to cool completely.
To make the icing, measure the malted chocolate drink powder into a bowl, add the hot milk and mix until smooth. Add the butter, icing sugar and melted chocolate and mix again until smooth, then add the boiling water to give a gloss to the icing.
Place one cake on a plate and spread over half the icing. Sandwich with the other cake and spread (or pipe) the remaining icing on top, using the tip of a rounded palette knife to create a swirled effect from the centre to the edge of the cake. Arrange the Maltesers over the top and dust with icing sugar before serving.