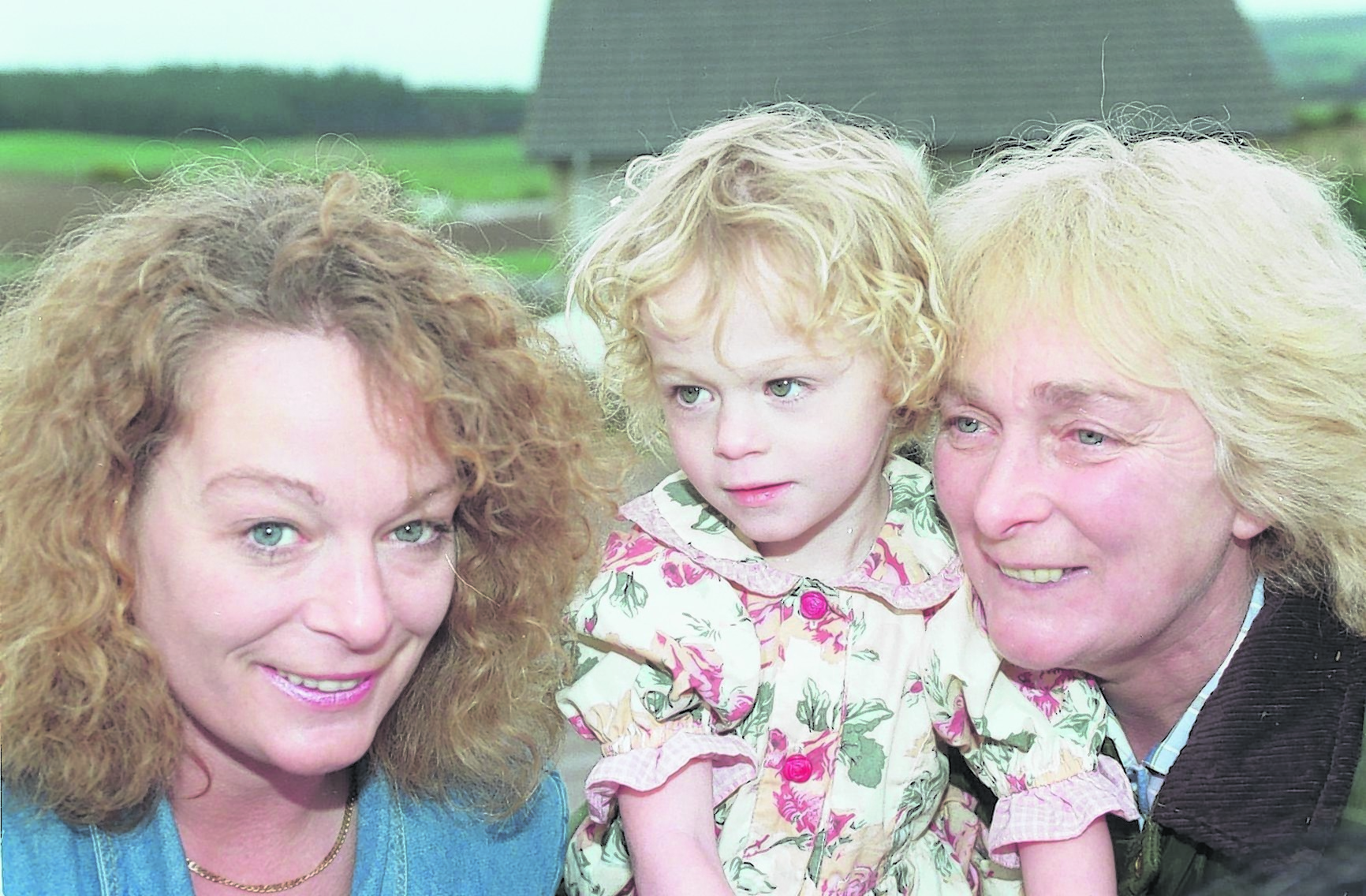 Twenty years after she first hit the headlines for standing shoulder to shoulder with her daughter after she became embroiled in a bitter cross-Atlantic custody battle, Scots grandmother Flora Dempster is back to tell her own side of the story
Flora stood with a smile on her face as she watched her young granddaughter sitting high on the horse looking every bit the part. Her hair was pleated, tied in pigtails and wrapped in ribbons and her giggles echoed around Thainstone mart.
"That granddaughter of yours really helped you sell that pony," one of the regulars told Flora. Laughing she made her way across to give Jasmine a cuddle for her efforts.
Memories like this are all Flora Dempster, a retired taxi driver from Forres, has left of her granddaughter as she has had no contact with her for more than two decades.
The estrangement began after Flora and her late daughter, Morag – also known as Sarah – were dragged into an international child custody battle which would last several years and make newspaper headlines both at home and abroad.
It is a story that Flora believes has not yet been properly told. This is one of the reasons why the mother of two has recently published her book, Help Me Mum, which tells her side of the story.
It is a tragic story. It started when Morag met Marcus Chapman in Aberdeen. Jasmine was born in 1992 but after returning to America for a short time, the couple split and the battle began in 1995 when Morag and Jasmine were back in the UK.
A British court ordered the family to return to Texas where another court granted Mr Chapman's parents temporary custody. It was following this decision that Morag ran away with Jasmine and ended up in prison before returning to court where she was awarded custody of her daughter.
In the years to come her health and mental state would deteriorate and a Scottish court would rule that she was unfit to look after Jasmine and the child was sent back to live with her father in America.
The book also serves another purpose though – to tell Jasmine her mother and grandmother's side of the story.
"Those memories I have are gone for Jasmine," Flora said.
"That's why I really need to get this book set in concrete because if she does want to read it, she might realise where the blame lies. She's been indoctrinated over there."
The idea for the book began three years ago when Flora began researching her family tree and soon ran into trouble trying to trace several female ancestors. Not knowing what happened to these women got her thinking about what her future relatives might think or know of her eventually.
She said: "Although my granddaughter doesn't want to have anything to do with me or any of my relations, one day she will have children and they are going to turn around and ask what happened to her and why did it happen? So I thought for that I must get this down into a book of some sort.
"She is American now but her history and her genes come through her mum and the Scottish side of the family. She's never going to know about that."
Recalling the events and emotions of those trying years was hard for Flora and the writing resulted in lots of sleepless nights. She said she tried to get it all out of her head before going to bed but no matter how much she tried, she still found herself lying awake in bed reliving what had happened.
The book centres predominantly around the American trial which ended with a Texan judge  awarding joint custody to Morag and Flora and the three generations returning to Scotland. But it continues the story.
Flora talks about Morag's decline while back at home and the decision by a Scottish court to send the youngster back to her father's family in 1998 after deciding Morag was unfit to look after her. She also discusses her daughter's death in 2008, aged 42.
The young mother never recovered from losing the transatlantic legal fight for her daughter and as her health deteriorated, she spiralled into alcoholism and was later diagnosed with cancer of the tongue and also epilepsy.
On December 22, she was found dead at her flat in Fraserburgh. Flora has said previously she believes Morag died of an epileptic fit.
The events were already the basis of a book – Mummy, Take Me Home – which was published in the US, Canada and the UK. But Flora said the book didn't go far enough.
"The reason for what went wrong and why she was sent back to America wasn't explored," she said.
"I had more on that, I was involved with that here. I knew all the legal things that had gone on and the injustice of what had happened. It didn't have the complete story.
"It was Morag's story, the year it came out, she was only alive for three months after that. It didn't complete the story. People would ask me what happened in the end so I thought I had to get this finished and explain what really happened and how it could have been prevented."
One reason Flora states for her daughter's downfall was the lack of support she received once she returned from America with Jasmine. She believes her daughter was suffering from some kind of post-traumatic stress but that was never acknowledged by those who were there to help her.
She said: "Social work departments were so unprofessional in understanding what she had gone through and their support was not what it should have been."
More heartache was to follow for Flora less than a year after her daughter's death when she had to leave her home of 28 years – because of her son, Stuart. It was the result of a nine-year legal battle with him over the ownership of her Moray bungalow. Mr Dodds, who is understood to be living in San Diego, California, successfully claimed half the value of his mother's 14-acre croft home at West Park, on the outskirts of Forres.
They had been at loggerheads since 1999 over his claim that he was entitled to 50% of the value because he had acted as guarantor to enable her to buy out her former husband's share of the property after they separated.
The house was put on the market but Flora continued the fight for her three-bedroom home, arguing her son had not invested a penny in the property and therefore had no rights to it. However, she had to concede defeat after spending £80,000 on legal bills alone. She had to leave the house but managed to keep a two-acre plot at the smallholding and has now built a house overlooking what was once her happy family home.
Constant reminders
It has been seven years since her daughter died and with still no contact with her granddaughter, Flora lives on her own in her beautiful house in Forres. While she says she tries to get on with life, there are constant reminders of her past.
"Even now people will say to me what's happened to your granddaughter? Do you ever hear what she does now? How old is she now? Or you'll start speaking to people on a plane and they'll ask do you have any grandchildren? I feel like saying not really because it saves me getting into a long discussion about why I haven't and what happened.
"I think now that I've got this book finished it'll be in a library, it'll be there forever, but I don't know if it will give me closure.
"It's like being stuck in third gear and not in fifth. Your life ticks over, you've got material things but you don't have people that you love about you, which to me is more important than anything that you want to have. I suppose when I am away from here it is easier.
"The minute I come back, I sometimes turn in  at the end of the road, and you know I have a nice house, but my heart just goes to the bottom. I think there are too many memories here."
Flora hasn't given up her fight, however, to try to be reunited with Jasmine, who recently celebrated her 23rd birthday. She continues to send Christmas and birthday cards in the hope that one day Jasmine will respond. She last saw her granddaughter when she was seven years old during a visit to her home in Killeen, Austin, Texas. Although she seems to be unreceptive so far, Flora said she would definitely welcome her with open arms if she ever changed her mind. But Flora added it comes to a point where you have to accept that might never happen.
"I don't want to say you get to the point where you are past caring but you've hammered on for years trying to make contact, sending over Christmas cards and birthday presents and getting no reaction whatsoever, you just get to the stage of thinking well if Jasmine doesn't want to make contact, maybe if I last long enough I'll have great-grandchildren, they might be more likely to come if they read the book.
"At one point Jasmine looked so much like my daughter that I don't think I would have been able to cope. I wouldn't have been able to be with her without thinking about my daughter all the time. And who knows how Americanised she is now, she's not a Scottish girl anymore.
"Being brought up by a good Scottish mother from Keith, she stood me in good stead for what has happened to me.
"It would be nice to see Jasmine again but I just toddle on. I go out to visit friends in Cyprus a lot. I spent Christmas with them. It's good to be away from here, away from the memories at the worst times of the year. Christmas is a bad time because we used to have a great time.
"Someone told me once they would love to live in a place like this and I told them I'd like to have a life like yours with kids around."
For more information on the author, visit Flora Dempster's website, here.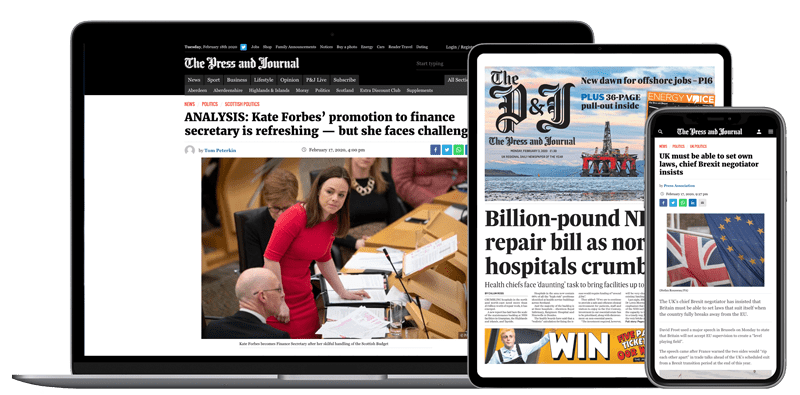 Help support quality local journalism … become a digital subscriber to The Press and Journal
For as little as £5.99 a month you can access all of our content, including Premium articles.
Subscribe