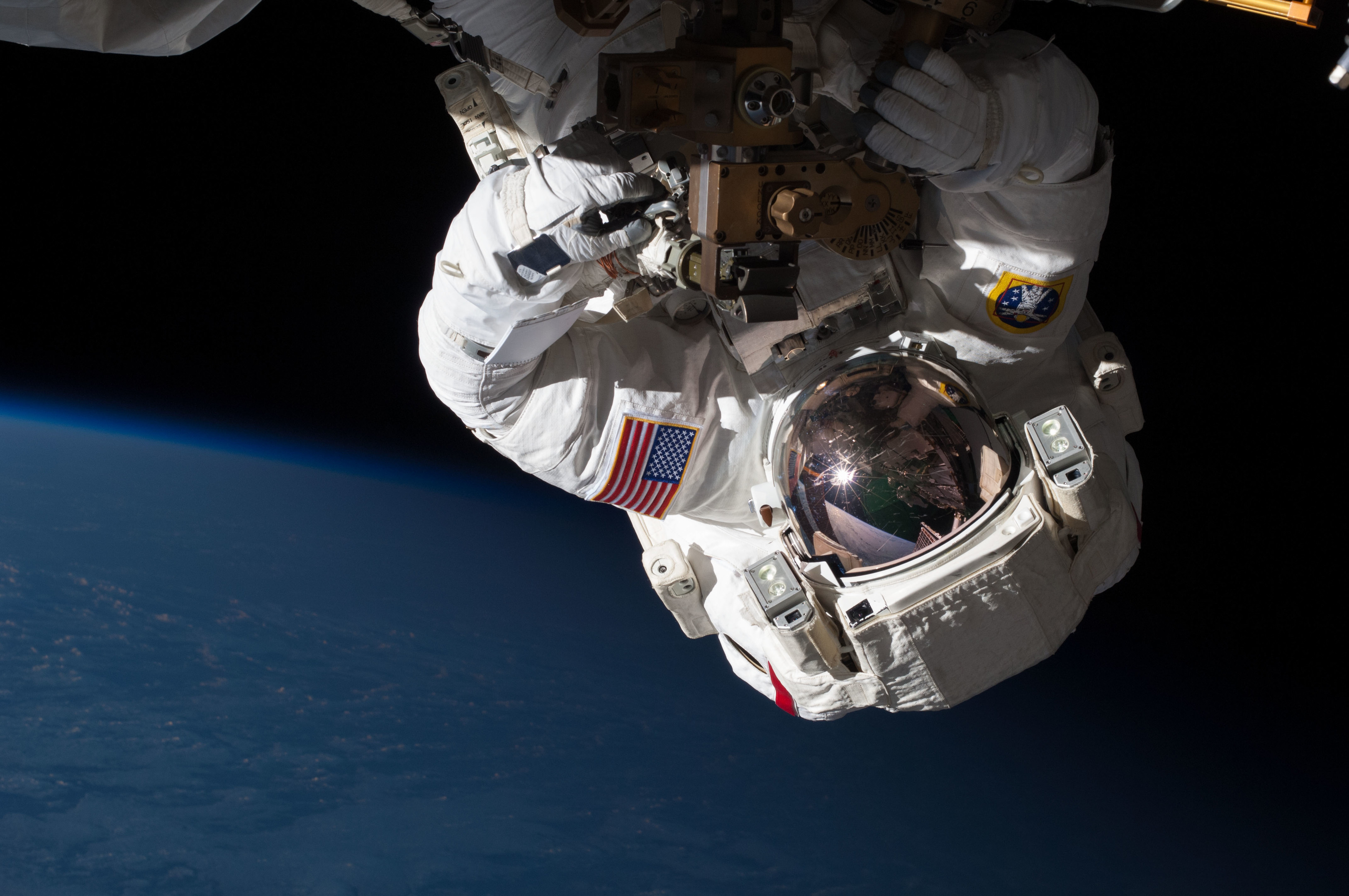 Captain Steve Bowen never set out to become an astronaut. It wasn't a dream he had as a child or even something he thought about after leaving school.
But when the opportunity arose, he went for it and, in July 2000, he became the first submarine officer to be selected to become a mission specialist for Nasa.
The 51-year-old, who lives near Houston, Texas, was in Aberdeen this week promoting a programme he is involved with called Mission Discovery. It is a partnership between Nasa and the International Space School Educational Trust (Isset).
"The Mission Discovery programme involves working with astronauts, Nasa leaders and world-renowned scientists in teams to come up with ideas for experiments to be carried out in space," Chris Barber, founder of Isset, said.
"The best of these designs are selected and built by students in liaison with these experts, launched into space and carried out at the International Space Station by astronauts."
Steve Bowen's visit to Aberdeen was to support well known Scottish entrepreneur and Isset business director Andy Campbell, who has been working with educational and community leaders to try to bring such an amazing and inspirational programme to the young people of the north-east.
"The week is about so much more than the experiments though," Steve said.
"It's an opportunity to look at all sorts of aspects from maths to engineering and even leadership skills. I really wish this sort of programme existed when I was their age."
A professional hockey player or an architect was at the top of Steve's career list when he was a teenager but it was engineering he later studied at naval academy.
From there, he went into the submarine corp and spent 14 years under the sea. Then at the end of the 90s, Nasa put out an appeal for astronauts and Steve decided to apply.
"I had never met an astronaut before I applied but I remember sitting there thinking 'metal tube, uninhabitable environment, exciting research' . . . I thought I might as well apply, the worst they can say is no," he said.
"I had never done anything to preclude being selected and I was incredibly fortunate and lucky to be selected in 2000.  It's been a great privilege ever since."
Eight years later and Steve found himself sitting in a space shuttle on the launch pad ready for lift-off. He said that first flight was "quite a ride".
In eight minutes he went from stationary to 17,500mph, then the rocket boosters kicked in, the engines cut off and the ship was floating.
"You have 15 seconds to breathe and say 'wow' and then you are off to work," he said.
"You've had years of preparations in training so by the time you step onto the vehicle you accept the risk aspect of  what you are doing. A lot of times you've met the people who repair and build the spacecraft that you are flying on and you know they put their lives into making it as safe as possible.
"So when you are on the launch pad and you are sitting on your back for a couple of hours, it's not fear so much as trepidation, that concern that am I actually capable of what they have trained and asked me to do? For the duration of the mission they are expecting me to execute the plan and go out and get things done –  am I really up to that? That is what you feel on the launch pad. You've accepted the technical risks, it's that personal risk of 'I need to step up and perform'."
He remembers the first time he saw Earth from the International Space Station and said that videos do not do what you can see justice.
"That experience of looking back at Earth from that altitude, it's just absolutely incredible," he added.
"It's like a Grand Canyon moment. You turn a corner and you get this vista that just takes your breath away. It's awe-inspiring and really from the space station that's like a 24-hour, 365-day-a-year experience. You get 16 sunrises and sunsets every 24 hour period, you are just circling the Earth every 90 minutes. It's really incredible all the time."
And he said it is a feeling that never goes away, no matter how many missions an astronaut goes on.
"Being in space never gets old," he said.
"If you are doing some work, some experiment that starts getting a little tedious or frustrating, all you have to do is let go for a second and float there. You haven't really moved anywhere but you are floating in your environment and you just think 'wow, I am floating in space. How cool is that?' It sort of puts all that work you are doing into perspective."
As part of his missions, Steve has undertaken seven space walks but he says while it is incredible in so many ways, "it is as strange outside as inside".
He concentrates on getting the job done and doesn't allow his surroundings to overwhelm him. It is an experience that he has spoken about with other astronauts who have been in similar situations.
He said speaking to other people who have experienced it allows him not to get overwhelmed by it.
"There is no way of getting rid of that sense of awe but acknowledging that feeling and moving on is an important skill to have," he said.
"You acknowledge it, you relish it, but you are out there for a job and that needs to take priority."
Back on Earth, rather than miss his outer space surroundings, Steve said that it makes him appreciate what he has back at home that much more.
He recalled a time when he was on a spacewalk working on an antenna when he was told to stand by. After strapping himself in he thought to himself, 'What in the world am I doing up here doing this? It's not something I could have ever anticipated as a child. It's really absolutely amazing'.
"But I can get that sort of feeling here on Earth a lot too," he said.
"The opportunity to spend time with my family, I can just say 'wow, this is fantastic'. Going into space may have made me appreciate that aspect of life here that much more. You can learn that here though, you don't have to go to space for that. Appreciate what you have, appreciate the family and friends and civilisation as a whole."
QUICKFIRE WITH AN ASTRONAUT
How comfortable is your space suit?
The spacesuit is a mini spaceship in which you are living and mine fits really well. I could get the temperature just right. It feels like I am walking around in my pyjamas sometimes.
What are some of the coolest things you've seen in space?
The first mission I went on I managed to push myself down and look below the space station so I could get a view of the Russian segment and Earth at the same time and it looked like I was living in a science fiction movie. It was unbelievable. I was hanging onto the side of a building travelling at 17,500mph and you don't feel any of that, you just watch it all happen. It's absolutely amazing.
There are two cool things that I always talk about though: I actually watched a meteorite go into the Earth's atmosphere below me. How many people get that perspective? Then I realised that little piece of rock was out with me shortly beforehand so that's always a concern.
Another time I was outside and one of my colleagues shouted out and said: "Hey Steve, we're coming over Boston shortly but it's already dark there." And I said that's kind of cool and I looked down and I could see the lights of Boston coming on. What they were really trying to tell me was I was visible from Earth, because when you see the space station going overhead, you can go online and see when it's visible from Earth. It looks like a really bright star going past – it's really cool to think there are usually six people living up there. So they were telling me this, I was looking down, I was in floodlight so my sister was looking upwards and she could see the space station up ahead. I told her if she had squinted a little harder she might have seen me outside looking down on her.
Favourite astronaut/space movie?
I really do still like 2001, I  think even looking back from this perspective, in addition to the sci-fi larger questions that it asked, the imagery is still really cool and well done.
Life on other planets, what do you think?
We keep finding new planets all the time and there are billion of stars so the probability that there is another planet out there that has life on it is pretty high. I think at one point we'll figure that out and find it. Statistically the numbers are staggering, the probability and the opportunity for life to exist out there is very high.
Understanding that and recognising that the nearest star is light years away, the probability that anyone has ever come and visited us is extremely remote and unlikely. I'm pretty sure that no one has ever visited us from another planet.
A few years ago, Felix Baumgartner skydived from outerspace. Would you ever do that?
I might if they could convince me it was worth the effort. But I am not by nature an extreme sort of person. I don't bungee jump, I don't skydive, I'm actually a fairly boring person in some respects.
What's your take on the conspiracies that the moon landing was faked?
I always find that hysterical because you go back and look at the movies they were making at the time and they had million-dollar budgets and they got it wrong. So every time we look at the videos and images from the moon landing, they got it right. It's because they did it. We could not have afforded to fake it. There was no way we could have faked it. It would have cost us more money to fake it than to do it.
STEVE'S MISSIONS
In the 15 years since he made the career change from the navy, Steve has been on three space missions and has logged 40 days, 10 hours, four minutes and 37 seconds in space, including 47 hours and 18 minutes in seven spacewalks.
In his first mission in 2008 he was part of a team that spent 16 days expanding the living quarters of the space station so it could house six-member crews. They built a new bathroom, kitchenette, two bedrooms, an exercise machine and a water recycling system. He returned to Earth with his space shuttle having completed 250 orbits in more than 6million miles.
In 2010 he went up  again to deliver an integrated cargo carrier and a Russian-build mini research module and installed a spare antenna and stowage platform. They also replaced batteries on a system that stores solar energy. The mission was completed in 186 orbits, travelling 4,879,978 miles in 11 days, 18 hours, 28 minutes and two seconds.
And a year later he undertook a 13-day flight which was accomplished in 202 Earth orbits, travelling 5.3million miles in 307 hours and three minutes.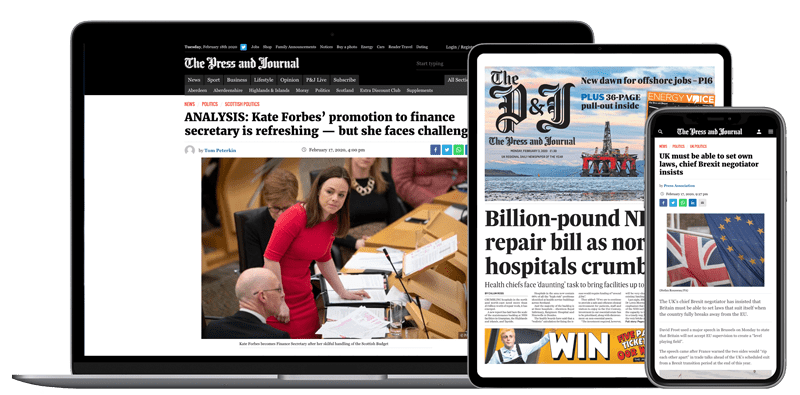 Help support quality local journalism … become a digital subscriber to The Press and Journal
For as little as £5.99 a month you can access all of our content, including Premium articles.
Subscribe