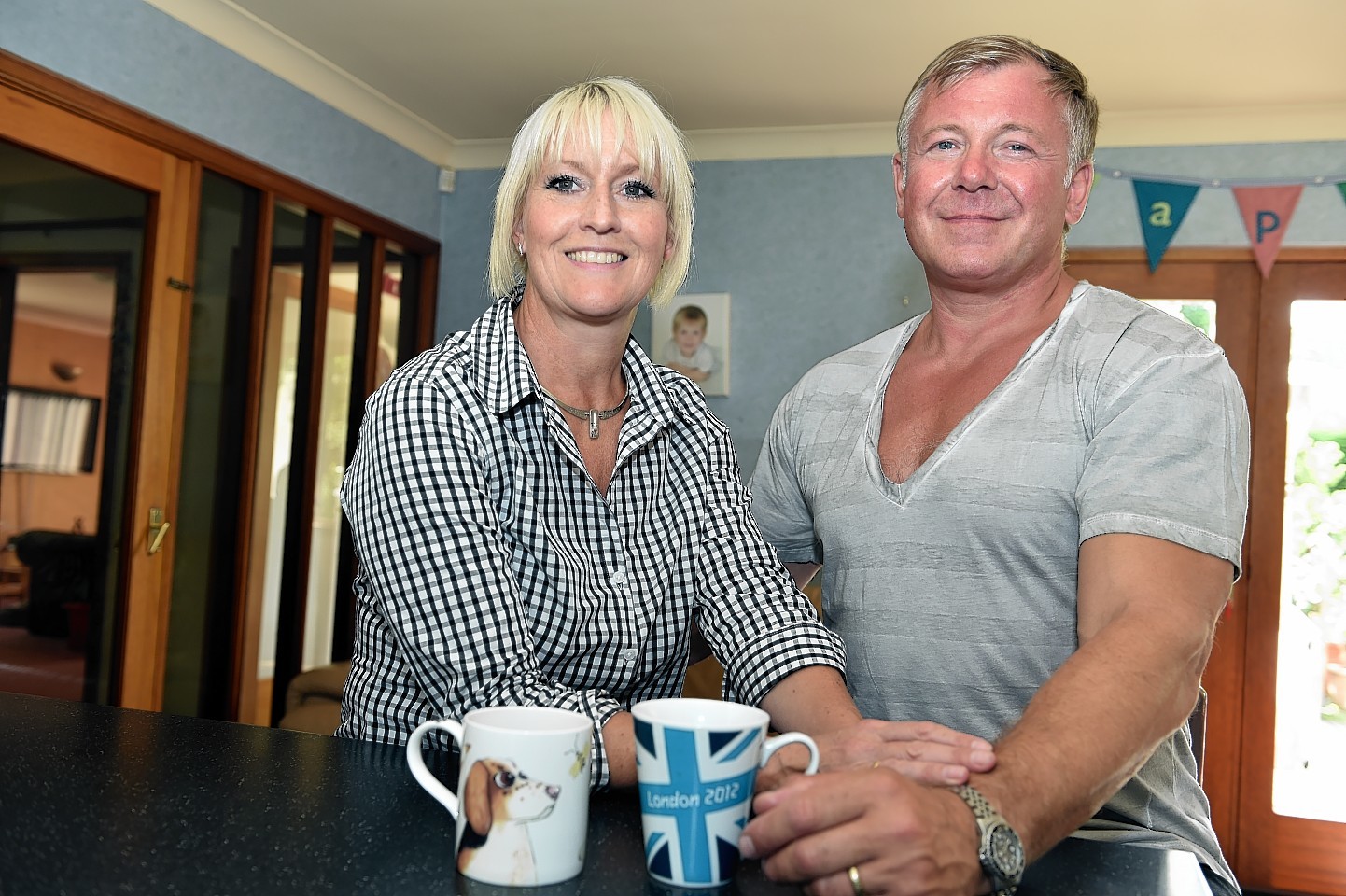 As the bodyguard of Princess Diana, Mohamed Al Fayed, Alex Salmond and a score of other celebrities including Tom Cruise and Sylvester Stallone, Moray father Lee Sansum has spent the majority of his years risking his  life to protect others. But now, after a near-death experience in Libya, his wife is trying to protect him
She was the people's princess and her death  shook the world in a way that none other had before.
The usual manic London stood still in silence as thousands turned out to pay tribute to Princess Diana, who died in Paris in August, 1997.
Even now, 18 years later, many still mourn the day the world said goodbye to their English Rose.
"It was a massively important thing for the British public, the greatest outcry of public grief that Britain has ever seen," said Lee Sansum, who looked after the mother of two and her sons during a holiday to St Tropez just weeks before her death.
"I was with them all the time. Like with the boys, if they were going out on the jetbikes, I'd go out with them. With the princess, if she was going out on the boats, I'd take her out there and we would sit and chat.
"Every morning, she'd come down and we would sit and chat like we are now, before the paparazzi came and it was all quiet.
"She was a lovely person. William and Harry were lovely kids, just normal boys, we had a lot of fun with them. I think it was down to her, she was amazing with them and it really stood out to me at the time what a wonderful mother she was."
Now living in Elgin, Moray, with his wife, Kate, Lee told me that, like many people, he still remembers where he was when he heard the tragic news.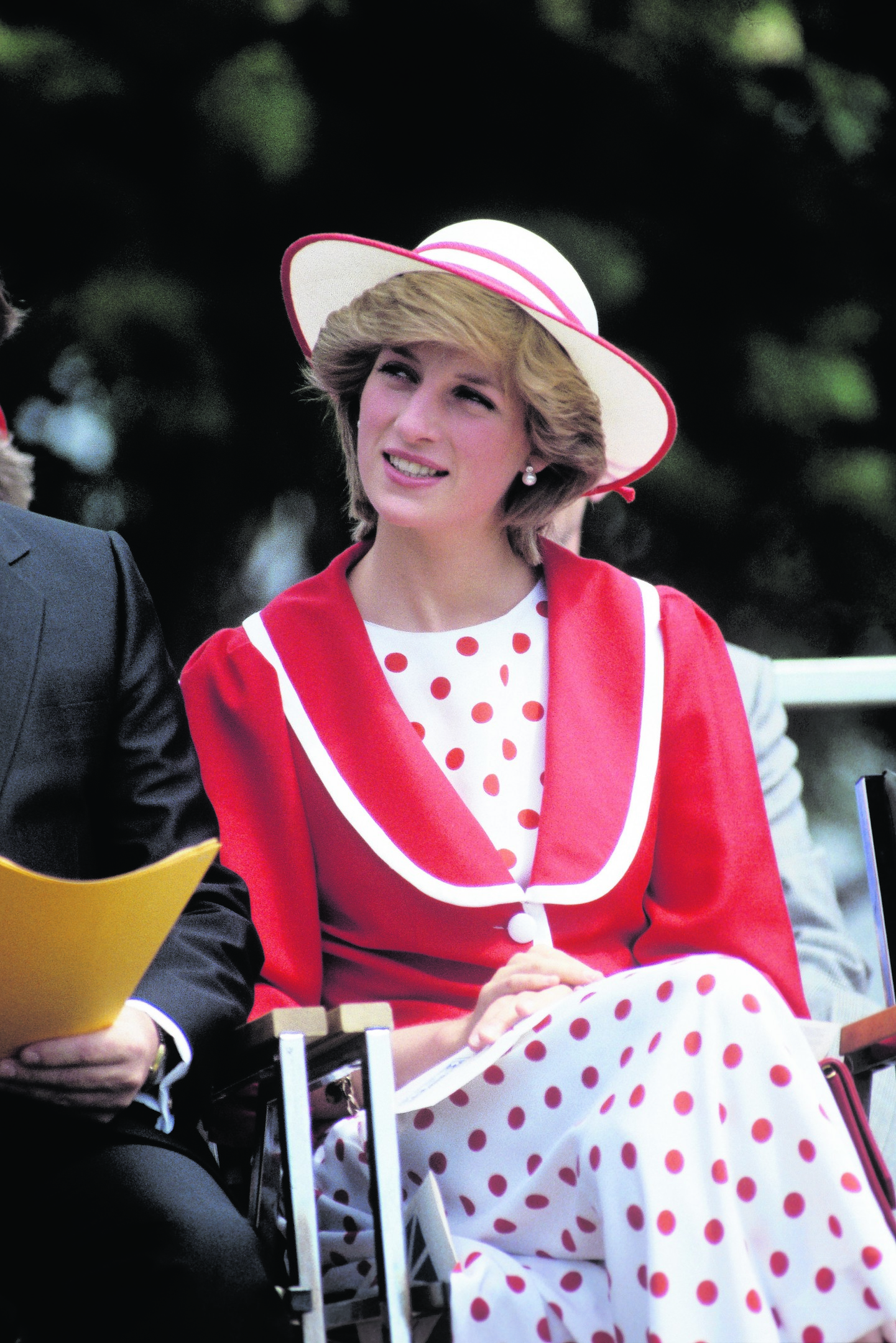 He had returned home from the St Tropez holiday, shattered, and having slept for two days, threw a barbecue for friends and family. Later that night, not able to sleep, he started the washing up and caught the breaking news on TV.
"I had lived with that family more than mine for three and a half years, so it was hard for me," said Lee, who has six children.
"I knew Dodi relatively well and I knew the rest of the family well, too. The effect on the family was really hard, too, as I was close to them. It did affect me. Only my really close friends knew what I was doing at the time, but most people didn't know what I did, so I couldn't really talk about it so it was a little bit hard."
His time with the princess came towards the end of a four-year period working for Mohamed Al Fayed, his first bodyguard job after having spent years with the Military Police.
Over the years, he has worked for a score of celebrities, including Tom Cruise, Sylvester Stallone and Jean-Claude Van Damme, protected Alex Salmond during the independence campaign and has been at the heart of conflict in Libya and Somalia.
But now, after 30 years in the business, he is getting ready to take on his last-ever job in the security field – looking after the Scottish team during the Rugby World Cup – and become a stay at home dad.
The career change came after a particularly troubling time in Tripoli, Libya. Initially, Lee was in the country working with the Foreign Office, looking after a stabilisation unit (SU).
"We were there as part of a team and we looked after these people as they went from our compound out into Tripoli and farther afield into the cities to speak to the local militia, police, judicial services and prison officers, giving them advice to try to bring a bit of peace to the region.
"That job lasted about 12 months, and then I was asked to work for the European Union Border Agency Mission (Eubam). Their job is to close down the poorest countries' borders to stop the terrorists getting in and transporting their arms and ammunition.
"The contract was going really well, but, after the SU job, at the end of that, the country was just getting worse and worse. We could feel tensions increasing very quickly and we had the IS coming into our position. They wanted to take over Tripoli and we were east of the city near a military airport on our own. So things started to deteriorate."
Lee, who runs a martial-arts academy with Kate in Elgin, said it got to the stage where there was shelling 24 hours a day and they were constantly being shot at. They were living in an old colonial hotel called Camp Peacock – named because it was also home to lots of that kind of bird – which was all fortified.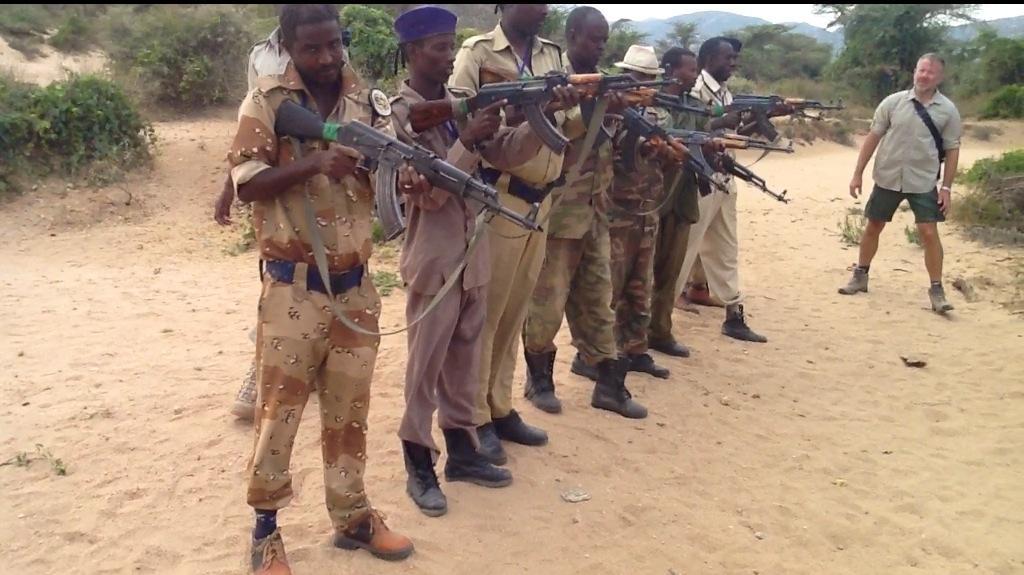 "You could sit by the swimming pool and the water was shaking with the bombardment outside. It was quite surreal," he said.
"If they got too close, the peacocks would start doing their  call and that would tell us how close they were. It was getting really dangerous and we were among the last to leave. It was like in the old films, like Vietnam: when they start shredding the paperwork, you know you are getting ready to go."
Lee and his team made their way to the Tunisian border, where they came upon a large shootout while tens of thousands of people tried to cross over into the neighbouring country.
The border was closed and Lee and his team had to wait a long time before they were let through and evacuated back to the UK.
Meanwhile, back at home, Kate was sitting anxiously, waiting for a phone call letting her know her husband was OK.
"When Lee was away in Tripoli, the kids would speak to him over FaceTime and Skype," said Kate.
"We could hear shots going off in the background. The kids didn't know what it was and Lee even tried to tell me it was cars backfiring, before he actually told me how bad it was out there.
"It wasn't until he was out there and fairly through the job that we realised how quickly things were going to escalate. Then he phoned me on a Saturday morning and said: 'That's it, we're leaving; hopefully, the next time I speak to you I'll be over the border in Tunisia.' And then we didn't hear anything for 14 hours. It was absolutely awful. I didn't want to go through anything like that again.
"Suddenly, he was home, and obviously it was quite traumatic going through that and dealing with that afterwards. We knew that something had to change. We didn't want to have to go through him being away again."
And so Kate took the role of protector, getting involved in a new beauty product range and ensuring Lee didn't have to go away any more.
The decision was made earlier this year as the couple sat in a friend's hot tub on Valentine's Day. Kate told her husband she had done her research, but needed to give it her full attention to make it work.
"We sat there and Lee said: 'Right, you have 12 months; we will do the swap and we'll see where we are, if I need to go away or not.
"We're five months down the line and he's done a brilliant job of daddy day care. The boys love having him around."
Lee admitted that he had thought about the possibility of not coming home to his wife and children during certain situations and, during his Libya time, even wrote a book as something to leave behind for his children.
He said: "You get to the stage you think about your family, your kids and your wife, you take stock of your life and, at some stage, I'm maybe not going to get out of this.
"When I was in Libya and it was getting bad, I wrote a book about bringing up kids. We've brought up thousands of kids through the martial arts, so I thought I'd write a book about bringing up well-balanced kids and I wrote that so it would be there for my children in case I never came back.
"It might sound daft, but working in a close-protection team you can't get scared; you've got the other people you are there to protect to think about. It's difficult."
Five months in, and Lee said he is loving his new "career", but it was a transition that he found tough at first. Being offered amazing jobs and having to turn them down was among the things that he found hard to deal with.
"It was difficult to get into a routine as well. Generally, when I am home, I'm not in a routine; I'm almost on a holiday between shift rotations," he said.
"So now I come home and I'm organising the school run, doing the washing. I've got to do all this to allow Kate to do her thing. When I am away, I do all that stuff for myself. Coming to terms with the transition was quite hard.
"I think  that there was quite a bit of post-traumatic stuff from Libya and other places that was in there, and from my experience in the Army, I've gone through post-traumatic stress (PTS) with that and I know now that PTS hits a lot of servicemen and private military contractors a couple of years after finishing your service.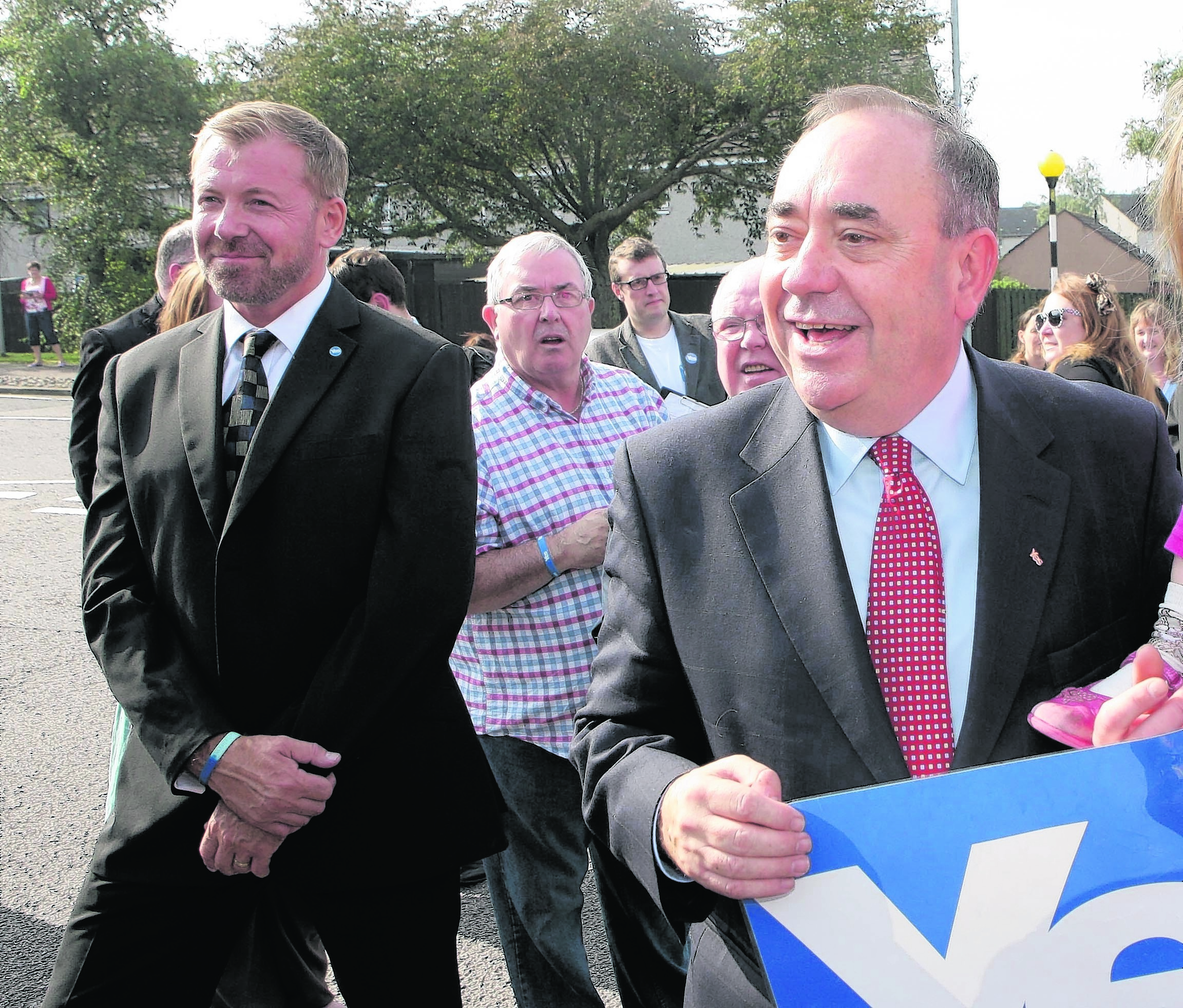 "That's why the government is concerned about the guys coming back from Afghanistan; it hasn't even hit them yet. But knowing what I know and how I dealt with it – and Kate helped me massively many years ago – I can deal with the feeling of PTS  quite well.
"Sometimes, to deal with it, you've just got to let it go and let it do its stuff. Dealing with the new routine, the thought of not going away again and the near-death experiences that I've had in the past couple of years, it was an interesting thing to come through.
"And coming through the other side of it is great. It's been nice with certain things, like the kids having a sports day. I can put it in my diary and I know I will definitely be there.
"But dealing with the school run is pretty traumatic in itself. These crazy yummy mummys are driving down these single roads at 60mph and they ain't stopping for no one. Sometimes, I need to come home and have a strong coffee."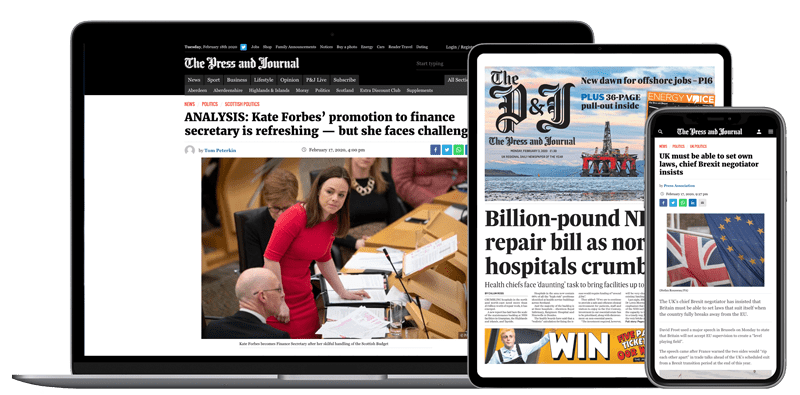 Help support quality local journalism … become a digital subscriber to The Press and Journal
For as little as £5.99 a month you can access all of our content, including Premium articles.
Subscribe