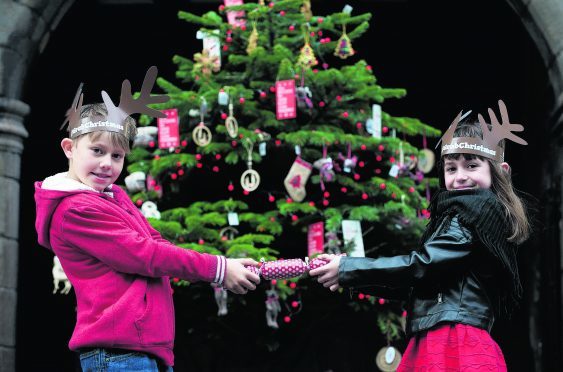 As the old song goes, it's beginning to look a lot like Christmas. Shops are busy, there's a whiff of mulled wine in the air and favourite yuletide songs can be heard ringing out.
But there's more to the run up to Christmas than jostling for space in busy car parks and trying to grab a bargain or two at the shops. There are a host of wonderful feel-good events taking place which lift the spirit, embrace the season of goodwill and make for a lovely family day out. Here's a selection of events taking place both closer to home and elsewhere in Scotland that will help make this an extra jolly run-up to Christmas.
WINTER WONDERLAND, INVERNESS
Families can get into the festive spirit at a special Winter Wonderland taking place at the Whin Park, Inverness, from December 11-13. The park will be beautifully illuminated, and as well as visits from Santa and his reindeer, youngsters can have a go on giant inflatable walk-on-water balls at the park's boating lake. The Winter Wonderland takes place from 6pm-9m on Dec 11; 4pm-7pm on December 12 and 13.
NATIONAL TRUST FOR SCOTLAND
Drum Castle at Drumoak near Banchory is ready for another Hollyfest celebration – its 21st in fact. The event is now a well-established Christmas tradition, on a par with Christmas stockings, eggnog and stripy candy canes. This year, the festive fun takes place on Saturday, December 5 and 12 and Sunday, December 6 and 13. There's a Christmas Market offering plenty of shopping opportunities, impromptu carol singing, a huge advent calendar and elves on the loose too. Santa and Holly the Horse will also be stopping by on Sunday, December 13.
Property manager Alison Burke said: "Our 21st Hollyfest is going to round off a fantastic year for Drum Castle. We're looking forward to sharing some Christmas magic with our visitors."
Unlike in previous years though, Christmas does not spell the end of the season for Drum Castle. The castle is open on weekends all year round now to show off one of Scotland's finest collections of contemporary art. The Human Presence exhibition features items on loan from Aberdeen Art Gallery which is currently closed for a major refurbishment.
Alison said: "We are so pleased to be able to welcome visitors to Drum all year round. The exhibition is proving so popular and is helping to attract a new crowd to our fantastic castle."
Drum's connection with holly isn't just a seasonal one – Holly is the symbol of the Irvine family who were given Drum by Robert the Bruce in 1323 and the family motto is "Su sole, sub umbra virens" meaning "In sun and shade it thrives", ostensibly referring to holly but also a metaphor for the family. Holly Fest is at Drum Castle on December 5, 6, 12 and 13 from 11am till 4pm. Entry costs £4 for adults, £2 for children and £10 for a family.
Contact: 01330 700334 or visit www.nts.org.uk/Property/Drum-Castle-Garden-and-Estate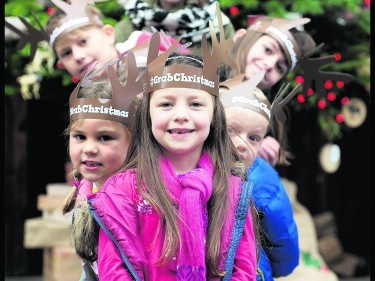 Other events taking place at NTS properties include a candy cane Christmas party at Castle Fraser in Aberdeenshire on December 12 and 13. With party games, Christmas crafts and a visit from Santa, this will be a fun-filled start to the festive season. Tickets cost £10 for adults and £12.50 for children.
Gladstone's Land, the historic Old Town tenement, is hosting one of the Trust's most magical Christmas events this year. On weekends throughout December, young visitors can fly an owl, just like in Harry Potter. With craft activities, storytelling and lots of festive treats, this is a Christmas event with extra sparkle. The event runs on selected dates throughout December and tickets cost £18.50.
In Glasgow, Mrs Claus makes her annual visit to Pollok House where she keeps Christmas with all the trimmings. She'll be on hand to take Christmas wishes back to the North Pole and perhaps to hand out a few early gifts too. Surrounded by Christmas sparkle, this very popular event is one that families return to, year after year. Mrs Claus is visiting Pollok House until December 24. Tickets cost £6 per child.
Santa, meanwhile, will be making a visit to Threave Garden in Dumfries and Galloway on December 5 and 6. The beautiful baronial Threave House will be decked with holly from the glorious garden outside and be ready to welcome visitors of all ages. There will be Christmas crafts, music and mulled wine. Tickets cost £5.
In Ayrshire, the enchanting Culzean Castle will be brought to life with characters from some best-loved fairytales and pantomimes for its Mission Snow event. Visitors will be asked to help collect snowflakes on their special seasonal tour round the stunning 18th-century castle and help make sure Culzean's Christmas is white. The Magical Castle: Mission Snow runs on Sunday, December 6 and 13. Tickets cost £10 for adults, £7 for children, £30 for a family.
Santa and a sackful of festive, fun activities are arriving at Kellie Castle near Pittenweem in Fife in December. This Saturday and Sunday, December 5 and 6, from 11am-4pm, younger, excited visitors can engage in lots of sparkly activities in the castle, and follow a 12 Days of Christmas trail through the garden. A very special person – Santa – will be in the cosy stables, waiting to hear their Christmas wishes.
The following weekend, adults can take part in a Christmas wreath-making workshop, followed by a buffet lunch in the castle. Learn how to make that wow factor seasonal wreath from Kellie's garden experts. All materials and evergreen foliage will be provided at the event, which runs from 10am-3pm. Places are limited, so booking is essential. Contact: 01333 720271 for further information.
Booking is essential for most events – visit www.nts.org.uk for the full festive programme, prices and booking information.
TURRIFF ACADEMY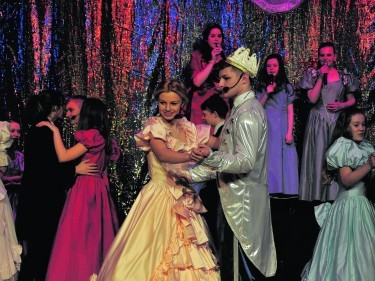 Turriff Academy is the venue for a magical night out as a 30-strong talented cast present the pantomime Cinderella. Pupils Fabienne Renwick and Lois Paterson will share the role of Cinders, with Michael Ironside playing the role of the Prince and Lewis Moggach as Buttons, with teachers Alan Shearer and Richard McWhirter playing the Ugly Sisters. Performances take place on Thursday, December 3, and Friday, December 4, at 7pm. Tickets on sale from the school office on 01888 563216.
BLAIR CASTLE
O Come all Ye Faithful! On Sunday, December 13, the castle welcomes the Jambourée Choir for a Christmas carol concert in the magnificent setting of the ballroom. Tickets are £10 for adults and £5 for children, with proceeds going to Marie Curie. 7pm-8pm. Refreshments will be provided.
The award-winning restaurant will once again host Sunday lunches in the ballroom on December 13 and 20, from noon-2.45pm. The same dates, the castle will be decorated as it was in the Victorian era when the 7th Duke and his family lived here. Admission prices are £8 for adults, £6.80 concessions and £4.80 for children. A family ticket is available for £21.60. The famous piping Santa will also be in his grotto at the castle on those dates, from 10am-3pm. A visit to see Santa costs £7.50 per child.
Contact: Atholl Estates on 01796 481411 or www.atholl-estates.co.uk
PERTH, BEAUTY AND THE BEAST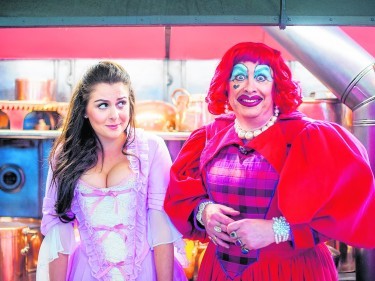 Written by Alan McHugh, directed by Ian Grieve, and starring regular Perth panto dame Barrie Hunter and a cast of local favourites, the traditional pantomime Beauty and the Beast, presented at Perth Concert Hall, has all the ingredients for a feast of family fun this Christmas.
After refusing to marry the evil Witch Queen, the arrogant Prince Sebastian has been cursed to live as a hideous beast unless he can find a maiden to fall in love with him. Not only that; the Prince's castle and servants have also been cursed to remain in limbo until the curse is broken. The panto dame and her hapless son, along with their best friend, the beautiful Belle, arrive in the village on holiday with nowhere to stay. The Beast's manservant thinks that Belle might just be the one to break the curse, and invites them to stay.
With evil witches, fairytale princesses, a dopey dame, a startling set, classy costumes, dazzling dances, magnificent music, and laughs a plenty, Beauty and the Beast in Perth Concert Hall from Saturday, December 12-26, is the perfect panto night out for all the family. Contact: 01738 621031 or visit: www.horsecross.co.uk