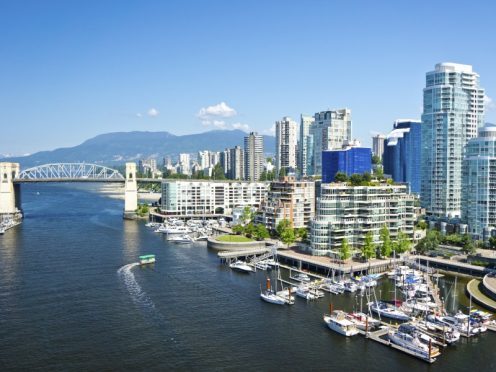 Canada is known for its striking vast landscapes of sapphire-blue lakes, snow-capped mountains and rich carnivorous forests.  It is also a home to culturally vibrant cities, offering attractions to people that are looking for more dynamic experiences.
West Coast's Vancouver overlooked by the North Shore Mountains grants the best of both worlds, making it a truly captivating destination. We take a look at a few highlights of this fantastic city.
Take the glass elevator up to the top of this tower and treat yourself to a birds-eye view over the whole city and its beautiful natural surroundings. Soak up the last bit of sunshine during a sunset, or if you decide to go at night make sure to look out for BC Place Stadium where 2010 Winter Olympics were held – a sight difficult to miss as the stadium lights up in vivid colours throughout the night.
Larger than New York City's Central Park and once an aboriginal land, Stanley Park offers an array of attractions that guarantees everything but another boring park stroll.
Almost entirely surrounded by the waters of Vancouver Harbour and English Bay, the 10km segment of Vancouver's seawall surrounding the park exhibits the best of Vancouver's nature and offers a close-up look at the Lion's Gate Bridge.
If visiting, we recommend taking a look at the nine o'clock gun, Totem Poles, various gardens scattered across the park as well as visiting Vancouver Aquarium.
Granville Island is a bustling epitome of the local culture and a must-go for any food lover. The public market boasts the best of local specialties, homemade products and fresh foods and will lure you in with its colourful displays and intense aromas.
When on Granville Island you can experience the best of popular Canadian comedy improv at the TheatreSports League, attend beer tasting events and tours at one of Canada's oldest micro-breweries or hop on a boat in search for Willy at one of the whale-watching explorations.
A trip to Canada would not be complete without this one. What a better way to get the real feel of Canadians and their culture than to attend an ice hockey game? Canadians are very serious about this sport and even if you are not a sports fan, these events are of a truly spectacular atmosphere.
When in Vancouver, attend a Vancouver Canucks game and you're in for a night like never before.
Grouse Mountain also known as the Peak of Vancouver offers a range of activities depending on the season.
During summer, the visitors can take part in lumberjack shows, paragliding, zip lining, heli-tours and grizzly bear watching. In winter, the mountain transforms into a paradise for local snow sports enthusiasts with a number of ski slopes and an outdoor ice rink.
To get to the top you can take the gondola or – if you are looking for a challenge –climb the Grouse Grind (Warning: not for the fainthearted!)
For all thrill seekers, the suspension bridge is a not-to-miss opportunity.
Built in 1889, the bridge stretches across 450 feet and suspends 230 feet above Capilano River. But this is not where the thrill ends. Other attractions in the park include the Cliffwalk – consisting of narrow, cantilevered, suspended walkways clinging onto a granite cliff above the valley, or the Treetops adventure – a network of suspended bridges hanging above magnificent and unbelievably tall carnivorous trees, allowing you to literally touch their tops.
When the hustle and bustle of the city becomes tiring, we recommend taking a short trip to Deep Cove. Just an hour-long bus ride from the city, this small town is a tranquil haven that will put any mind at peace. When in Deep Cove, take the quarry rock hike to the top of the rock to experience the breath-taking view over the Indian Arm Fjord.
The Holiday
If you are interested in a holiday like this we have a wide selection of holidays to Canada and the USA – click here to view.