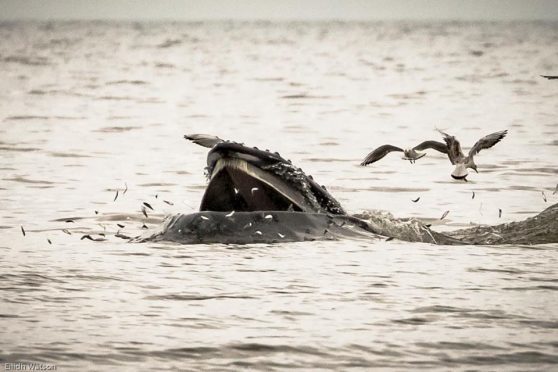 The military should investigate why so many rare deep-diving whales are dying along the Scottish and Irish coasts, environmental campaigners have suggested.
Six Cuvier's beaked whales have been found on North Uist, South Uist and Islay in the Hebrides this month.
A mass stranding of at least six whales from Ireland has also been reported over the same time frame.
Now Whale and Dolphin Conservation (WDC) says a probe should be launched and that military war games could be a source of the problem.
"We know very little about their distribution or the numbers that live out there," said Sarah Dolman, WDC policy manager, in a blog.
"Mass strandings of Cuvier's beaked whales often result from offshore human activities. Most regularly, due to active sonar used by military forces to locate submarines.
"Sound travels well in deep water and very loud sounds, like active sonar, may frighten whales to the surface too quickly, leading them to suffer decompression-like symptoms, similar to divers. This can kill them.
"Some whales strand and others have been found floating dead at sea as a direct result of military activities offshore. There have been no mass strandings of Cuvier's beaked whales in the Canary Islands, previously a stranding hot spot, since active sonar was banned within 50 nautical miles of the coast in 2004.
"Something appears to be happening offshore that is killing these whales and causing them to come ashore. It is important to find out as much as possible even though their bodies are very decomposed and there are no post-mortem results."
Ms Dolman said the potential implications of mass strandings and the large number of individuals involved "make this a very worrying situation."
SHe called for a "full and joint investigation" by the UK and Irish governments.
She added: "It needs to be determined what human activities were occurring offshore, including military, during that time period. This area should be broad given that past mass strandings have occurred more than 100 nautical miles from where naval exercises were taking place. The investigation should be conducted independently of the military.
"Much better monitoring and management measures should be put in place during military and other noisy underwater activities. Regardless of the cause of this mass stranding, military activities around the world do not adequately protect Cuvier's beaked whales and other species from harm potentially caused by active sonar."
The Navy has denied any involvement over the deaths.
A spokesperson for the Royal Navy has said: "There is no evidence that the deaths of these marine mammals have been attributed to any Royal Navy Sonar operations, trials or exercises.
"We take our environmental responsibilities very seriously and continue to work with the relevant UK authorities to reduce any environmental risk."