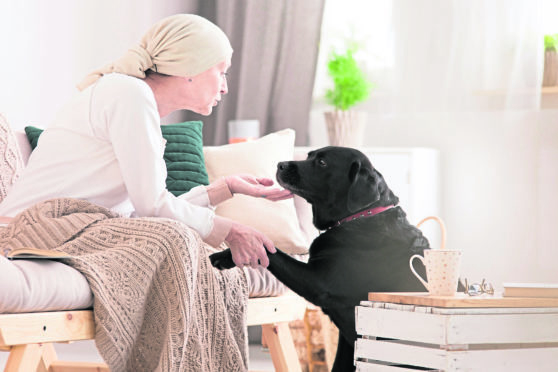 The volunteers all describe it in the same way.
They walk into a hospital, care home or school and everyone's eyes light up at the sight of a cold wet nose and a wagging tail.
It doesn't matter if it is a frail surgery patient, a stressed student or the doctors and lecturers around them, therapy animals make everyone smile.
In the past, animal-assisted therapy was rare and often met with suspicion as something unproven that would only serve to bring germs into hospitals. But for some years now, the idea of using animals as therapy has been gaining traction.
Indeed, it has been scientifically proven that the mere action of stroking a dog or cat slows down the heart rate, reduces blood pressure and can even cut the likelihood of heart attack patients suffering another attack.
While some of this research may be rather new-fangled, Elgin resident Maureen Thomson has been advocating the benefits of therapy pets for more than two decades.
After volunteering with her own dog for many years, Maureen is now the Moray area representative for Canine Concern Scotland Trust (CCST), the main charity working to bring therapy pets to hospitals, schools and other settings.
Set up in 1988, the organisation is celebrating its 30th birthday this year and Maureen reminisces about how things have changed in that time.
"I started with the charity 21 years ago," she said. "I saw an advert in a newspaper at the time and had a really friendly dog who I thought would be ideal for the job.
"She was an Irish Red Setter cross called Holly and she spent nearly 10 years as a therapet with me.
"When the charity started it was set up to find dogs to visit primary schools.
"The idea was to teach children not to be scared of dogs and also how to look after animals properly.
"But from there it has grown hugely and now I spend my time organising all the different events we attend as well as co-ordinating the 14 active volunteers we have here in Moray."
Today, programmes exist that provide animals who assist with physical therapy, help tutor children in reading and provide comfort in settings from disaster zones to university campuses.
"I know that stroking a dog is meant to lower blood pressure, but I think there is much more to it than that," Maureen said.
"In hospitals we go from ward to ward and bed to bed at visiting time, and people's faces light up when the dogs come into the room.
"It is a wonderful distraction for patients who don't get many visitors, as well as being a change in conversation for visiting family – we all know it can be tough to know what to say to sick relatives.
"In care homes sometimes small miracles occur and people who have never spoken seem to magically come to life at the appearance of a dog in their living room.
"We visit schools and university campuses too, and are starting to do doctors' referrals which involves working one-on-one with patients to improve their mental-health issues.
"The whole idea with each of the sessions is to build a relationship with the animal, so I make sure to organise consistent visits and people really begin to look forward to them."
However, practice has far outpaced research when it comes to the benefits of therapy animals, and explaining why – and if – animal-assisted therapy works is still tricky.
Yet the idea that animals are good for our health has been around for some time.
There are cases of doctors trying to incorporate animals into psychiatric settings as far back as the 1700s, to try to calm patients and improve their quality of life.
More recently, the American Heart Association has stated that owning a dog may lower the risk of heart disease, while research also suggests that pet ownership makes us happier overall – as well as calming us down, petting a dog for a few minutes can raise levels of hormones that make us feel good.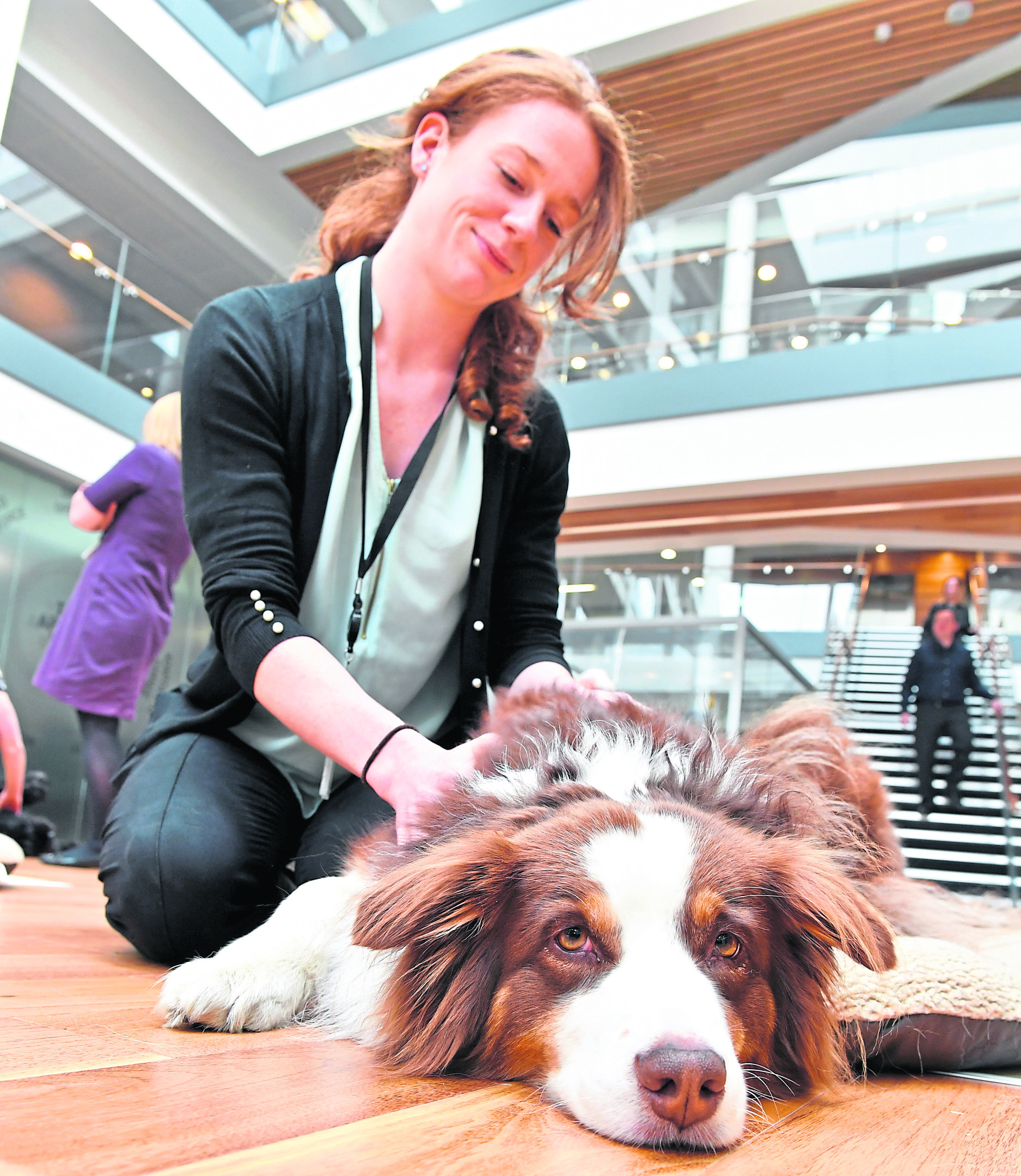 As well as feeling good, perhaps they can also help us to learn, as CCST also runs a successful programme called Reading with Dogs.
Instead of having a child who may be struggling with reading persevere with a human tutor, the children read stories to a visiting dog, who sits patiently and listens.
"It's a wonderful programme and is really motivational for the child," said Frank Cascarino, whose two Shetland Sheepdogs Mia and Kane are both therapy pets.
"The dogs don't judge if a word sounds wrong or the child stumbles over a sentence and it really gets their confidence up. I've been working as a volunteer with CCST for the last six years, though I've only started the Reading with Dogs programme recently.
"It took Mia a bit of getting used to, but now she sits and listens wonderfully and the children love it.
"Not only do the dogs offer a non-judgemental ear, but they also make sure the kids associate books and reading with a positive, happy experience.
"On one occasion recently a boy was being very disruptive and rude, but after our reading class he was totally different and very calm.
"He even went and apologised to the teacher without prompting, it was really wonderful and he looks forward to our sessions now."
Anecdotal evidence like this in support of animal therapy is constantly mounting.
Frank remembers a particular resident at a nursing home where he and his sheepdogs volunteered.
The elderly lady went blind quite suddenly and did not have many visitors.
"We visited her every week for three years," Frank said.
"Even though she had gone blind she still could tell the difference between the two dogs and would make a real effort to play with them when we were there.
"Eventually she passed on and a letter came through my door inviting us (Frank and his dogs) to her funeral.
"It was really a wonderful connection between them and she said it was the only thing she looked forward to each week."
Giving patients hope is a common theme with therapy animals.
For Ailsa Dick, a mother from Aberdeen, it brings faith that her son Baxter may be able to lead a normal life after all.
"Baxter has spina bifida, hydrocephalus, scoliosis and a potential genetic disorder," she said.
"His medical conditions and reliance on a wheelchair mean it can be difficult for him to join in activities with other kids.
"It's difficult to find things we can all do as a family, as he can't keep up with his brother and sister."
It's particularly tough over the school holidays, as empty weeks stretch out and Ailsa struggles to fill the days.
However, one event put on recently by Aberdeen charity Charlie House, was a particular hit for all the family.
"Meeting the theraponies is just fantastic," Ailsa said.
"All of the kids love them and can play equally together.
"Sometimes dogs can be too small for Baxter to reach or too boisterous for him to keep up with.
"But the ponies are a bit bigger and are so laid back, they don't mind that he is in a wheelchair.
"It helps all the children grow more confident around animals and meeting them is a wonderful thing we can do together."
Miniature Shetland Ponies Flicker and Applejack belong to Elaine and John Sangster, who run a business called Therapy Ponies Scotland.
Although based in West Lothian, they are constantly travelling across the country to attend events as far north as Thurso.
They charge only enough to keep their ponies well fed and have been visiting nursing homes, hospitals, schools and other special events for the past three years.
"Sometimes people speak to the ponies and not anyone else," said Elaine.
"The reaction they get is incredible.
"I remember a care home we visited and a man was happily chattering away and I thought nothing of it.
"But the staff were open-mouthed in amazement as they had never heard him say a sound before.
"Somehow the ponies had unlocked his speech and he went on to say that he had worked with horses as a young man and remembered all sorts of terminology related to them.
"When you see things like that it's impossible not to believe that animal therapy works."
And while dogs or ponies will never replace therapists, nurses or teachers, perhaps the evidence that they benefit some of the most vulnerable members of our society needs to be experienced rather than proven.