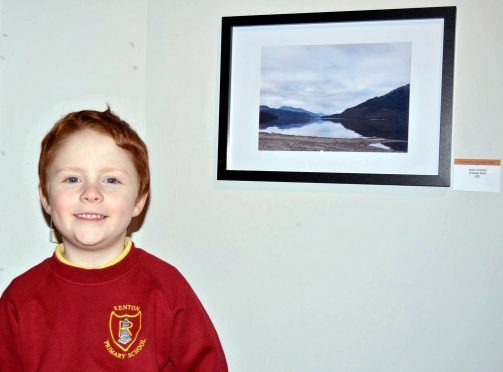 A four-year-old boy has become one of the youngest photographers in the world to have their work on show in an art gallery.
Christopher McAuley-Paton took a stunning picture of Loch Lomond one morning while in the car with his mum.
The primary school pupil was impressed by the spectacular view and asked his mother to borrow her iPhone to take a photo.
It was taken during the October holidays last year and was hung up on January 3 when Christopher was still four-years-old.
Last week, he celebrated his fifth birthday.
Proud mum Sam Paton, 42, was so proud with the snap that she showed it to her friend who runs an art gallery in Clydebank
It was promptly printed out, placed inside a frame and hung up in a room filled with work made by much more experienced professionals.
Alan Rutherford, 39, who runs the Awestruck Art Gallery and is a professional photographer, admitted to being envious of the young photographer.
He said: "It's one of those pictures where you feel like throwing your camera away because of how good it is.
"It's been hung up for around three weeks.
"What I've been doing is that I'll tell people who visit the gallery that one of the pictures was taken by a four-year-old.
"I ask them to take a step back and choose which one is the work of a child. So far, no one has been able to tell which picture it is.
"I saw Sam's photograph and saw that it was taken with great perspective, lighting and a beautiful reflection in the water. It's fantastic for a four-year-old definitely.
"After I printed it out I actually took down another photograph and put Christopher's in its pace.
"If he sticks at it then he can become an incredible photographer."
Christopher hopes to sell the picture for around £25 and intends to spend his windfall on new toys from the Lego Batman.
The success of Christopher's photograph has inspired Alan Rutherford to host a competition to showcase the artistic talents of other youngsters in the region.
The previous youngest photographer to have work on show in the gallery was a 25-year-old.
Proud mum Sam recalled the drive along one of Scotland's most famous beauty spots with fondness.
She said: "We went out on a wee drive, which we do every now and then, on the October break and stopped at a few different points along the Loch.
"At one of the stops Christopher asked for my phone and took the picture and it looked so nice so I was showing it off.
"When I showed it to Alan he said we could print it and see how it looked and so that's what we did.
"Christopher is just over the moon, he turned five last week but was four when the picture was taken and put up so we're all very proud of him."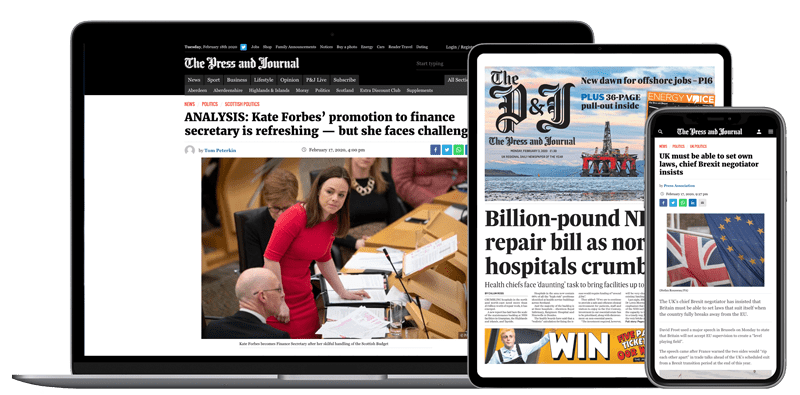 Help support quality local journalism … become a digital subscriber to The Press and Journal
For as little as £5.99 a month you can access all of our content, including Premium articles.
Subscribe