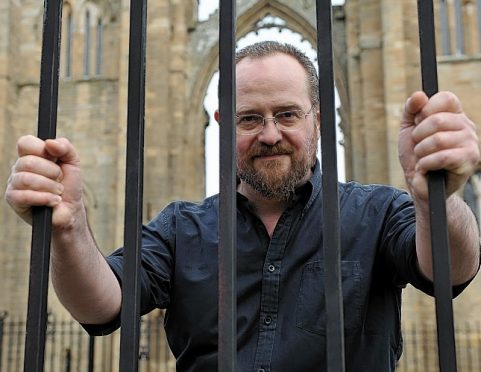 One of Scotland's top authors has revealed how a trip to Moray influenced the plot of his new book.
Stuart Macbride visited Elgin Library last night to discuss the upcoming novel, A Dark so Deadly, with fans.
Mr Macbride's thrillers are famous for featuring grisly crimes, and have taken place at locations all across the north-east.
But speaking to the Press and Journal before the event, the writer explained how a visit to Elgin helped shape his latest work.
He said an exhibit in the town's museum captured his imagination and spawned some dark ideas.
The Aberdeen-based scribe said: "My wife and I come up to Elgin every now and again, and decided to look at the museum on a recent trip.
"In there, there is a Peruvian mummy which attracted my interest."
Mr MacBride learned that university researchers had studied the artefact and discovered that, where it came from, there exists a belief that a person becomes a God after mummification.
He added: "The idea was that, as a God, that person could then look after the village.
"So, what they have in the museum is a Peruvian God rather than just mummified remains.
"That struck me as a great place to start a crime novel, that idea that someone can be transformed into a deity by preserving their remains.
"That forms the backbone of the whole book."
Mr MacBride would not be drawn on how that notion comes to life in the story of his new novel, but indicated it could have some gruesome consequences.
Mr MacBride's Logan McRae crime novels proved the most popular in Moray's libraries in 2015 and 2016.
The cover of the new release carries a connection to the region, as it features an image of Lossiemouth's Covesea Lighthouse.
The photograph was taken by the former caretaker at Elgin Library, Jim Robertson.
And one of the story's main characters, policeman Callum McGregor, reflects on childhood holidays at the coastal town's Silver Sands caravan park.
Mr MacBride said that he included that element as he had spent summer breaks in his youth at the scenic spot as well.
Though he gained fame writing about Aberdeen detective, Logan McRae, the new book is a standalone novel with a different cast of characters.