Ahead of its Scottish premiere at the Glasgow Film Festival, Scott Graham, director of the movie, Run, chats to Susan Welsh
Sunday March 1 will be a red letter day for Fraserburgh-born director Scott Graham, as his movie, Run – set among north-east boy racers – has its Scottish premiere at the Glasgow Film Festival.
How are you feeling as we head closer to the Scottish premiere of the film?
I'm really excited about it as how the audience in Scotland feels about it is a big deal to me.
Run had its premiere at Robert De Niro's Tribeca Film Festival in New York, and originally there was word of them dubbing the Doric accents but, in the end, they used subtitles which seemed to work OK.
It was great to have the film screened at De Niro's festival – although I don't know if he's seen the movie – as I'm a big fan of his. I grew up watching classic American cinema from the 1970s although I was a bit young then to fully appreciate them.
The film has also been shown in London. It was screened without subtitles, which I thought was something of a risk, but the reaction was even better than in New York.
What is Run about?
It tells the story of a fish factory worker who fell in love when he was young, took on a lot of responsibilities and failed to leave his home town.
Now he thinks his son is about to follow the same path.
It stars Mark Stanley (Game of Thrones) who spent two weeks in Fraserburgh before filming started so he could get to grips with the accent.
I'll be pleased if the film resonates with audiences as we all worked very hard to make something authentic and I think we've achieved that.
The inspiration for it was always to do something quite hopeful.
How was filming in the north-east?
I made a short film there in 2007 and knew we would be welcomed back as we received a lot of support.
When you are making a feature, everything is just bigger and you're there for longer so we were a bit disruptive, particularly on the roads, but people were really supportive and happy for us to be there.
The film features the music of Bruce Springsteen. What's the connection between his music and the north-east?
When I moved to Glasgow I would drive back to the north-east and often, the closer I got, the more I heard Springsteen on the radio.
I made the connection between someone singing about growing up in small towns, falling in love when you're young and following in your parents' footsteps – that whole sort of life cycle where history repeats itself.
The songs are really about growing up in small towns and, whether here or in America, audiences can really relate to that.
They're also about the hope that can be found by falling in love young. I needed to understand why someone like Finnie (Mark Stanley) would be frustrated by his life, but also by the love which has kept him there.
I wrote a letter to Bruce Springsteen, telling why I was making the film and asking permission to use a couple of his songs – explaining why it was a big deal to us – and he kindly agreed.
Were you ever tempted to be a boy racer yourself?
It kind of passed me by but I did once have an Opel Manta which I crashed, although I wasn't racing it.
I think that's why I ended up writing about boy racing because to me it still seems quite a romantic thing to do.
Maybe if you did it, it wouldn't be any more.
What's your next project going to be?
I've previously made two films, Shell and Iona, with Shell (it received a BAFTA nomination in 2013) being filmed in the Highlands so it would be nice to make another film there at some point.
I have a few things I might do including something about migrant field workers who have escaped a war in their home country, and a few other things.
But it's probably too early to talk about them.
Where can people see the film?
It has its Scottish premiere at the Glasgow Film Festival on March 1 and it will be released in cinemas across the UK 12 days later on March 13.
You should be able to see it in Aberdeen, Inverness, Edinburgh and Dundee.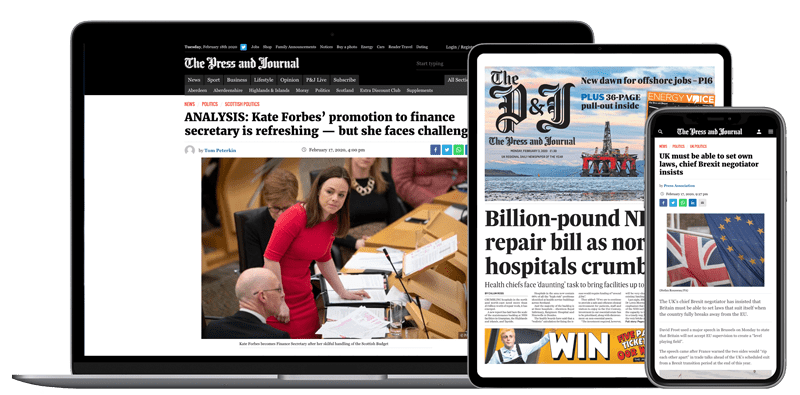 Help support quality local journalism … become a digital subscriber to The Press and Journal
For as little as £5.99 a month you can access all of our content, including Premium articles.
Subscribe