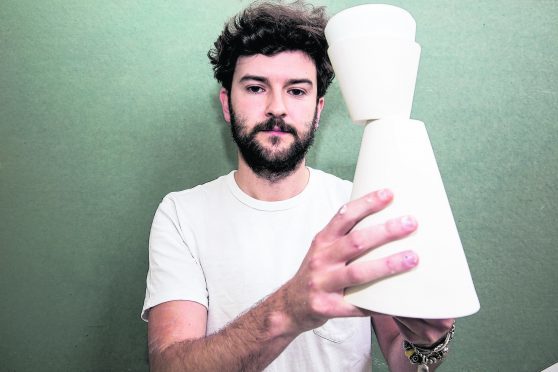 For an emerging artist or designer, the degree show is a seminal moment in their career.
For many, it is the first public statement they will make about their work and the direction they intend to take in the future.
Walk into Gray's School of Art at Robert Gordon University (RGU) during the lead-up to its annual degree show and you can sense the intensity emanating from the building as the fourth year students put final touches to their work and their exhibition spaces. Time is short and there is always something else to adjust, to add, to make things perfect.
Spanning painting; contemporary art practice in printmaking, sculpture, and photography; communication design; fashion and textiles; and three dimensional design, the 2016 Degree Show is a colourful, thought-provoking exhibition which offers a chance
for visitors to lose themselves for hours in the labyrinth of the art school.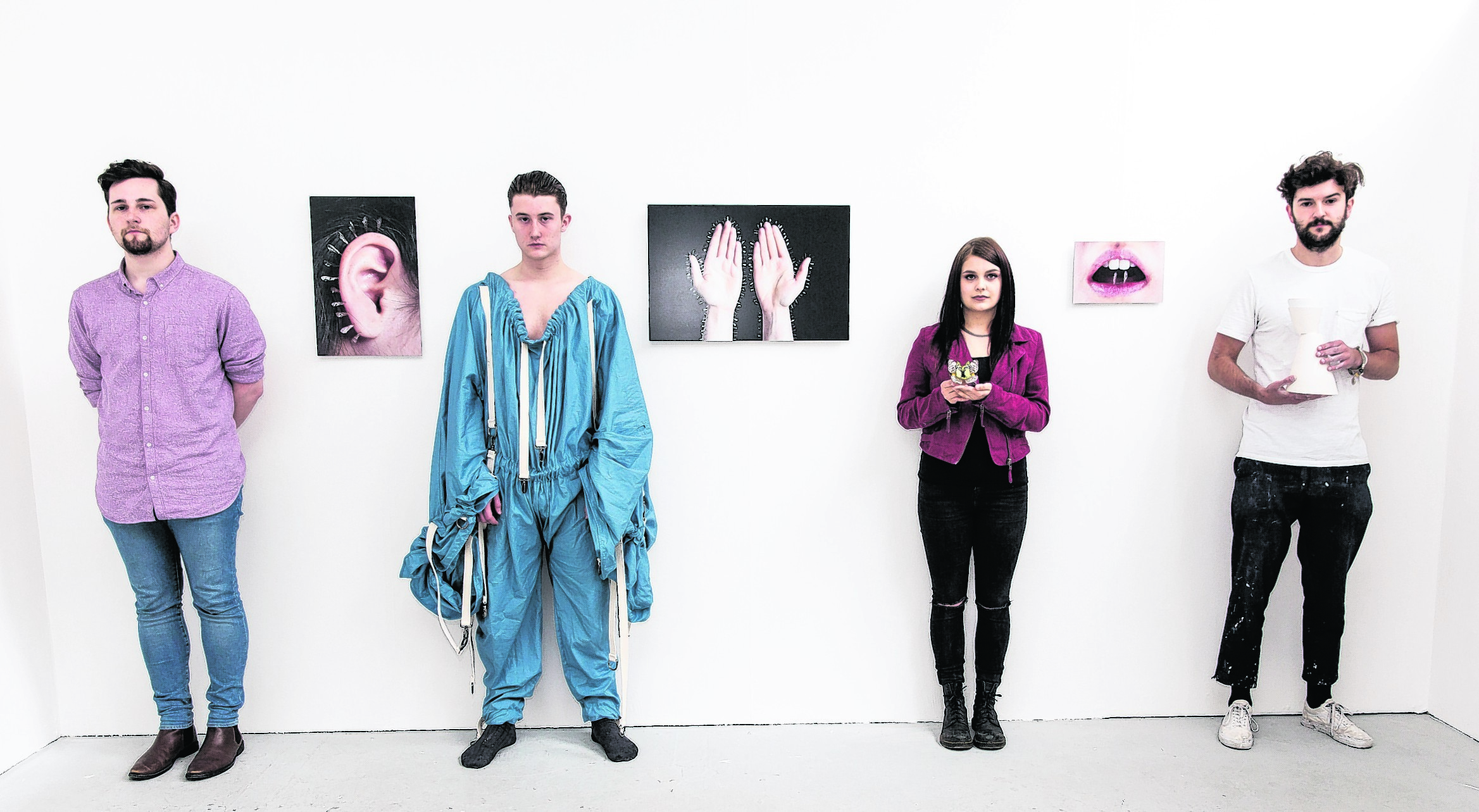 Head of Gray's School of Art, Professor Chris O'Neil, said: "It is a very, very rich show. We have seen a level of engagement from the students which once again demonstrates the integrity, commitment and talent of our new artists and designers.
"There has been a professional intensity and a serious, focused feel to the art school over the past few weeks. I think the degree show is a natural and very necessary focus for the visual arts and design community in Aberdeen and it is part of a rich and developing offering in the city which includes festivals such as Look Again, the art gallery and museums project and some of the independent galleries.
"These developments are signs of the emerging confidence of the region in terms of its cultural offering and we at Gray's are very proud to be a part of that scene."
He believes that it is a time of change for Aberdeen, with a shift in emphasis with regard to the importance of other industries outside oil and gas.
"It is this notion that if a place is culturally rich it will attract clever, engaged and valuable people into the region," Professor O'Neil said.
"We need to be attracting those people into Aberdeen as they are the people who are going to help us define the future of the city.
"While it is a difficult time for Aberdeen city and shire at the moment in many ways given the downturn in oil and gas, it is also an opportunity to carve out additional and new directions for the region, one where we can utilise the skills and talent which already exist here and refocus them through new collaborations.
"I think design and advanced manufacturing is one of the areas in which Aberdeen can seize the initiative going forward. Design isn't about the prettification of objects, it is about the most efficient manner in which an object can be designed, manufactured and made.
"Here at Gray's, we understand these design principles and we have an extremely well-equipped digital design studio in MAKE Aberdeen which our students are using to do exciting things and where we think some very innovative collaborations with businesses could be developed.
"The degree show is a perfect opportunity to come and see what we
are doing as an art school, to engage with the students, and to help build the vibrant cultural scene that Aberdeen deserves, as well as explore some of the interesting opportunities for collaboration."
We talk to three final-year students about their work.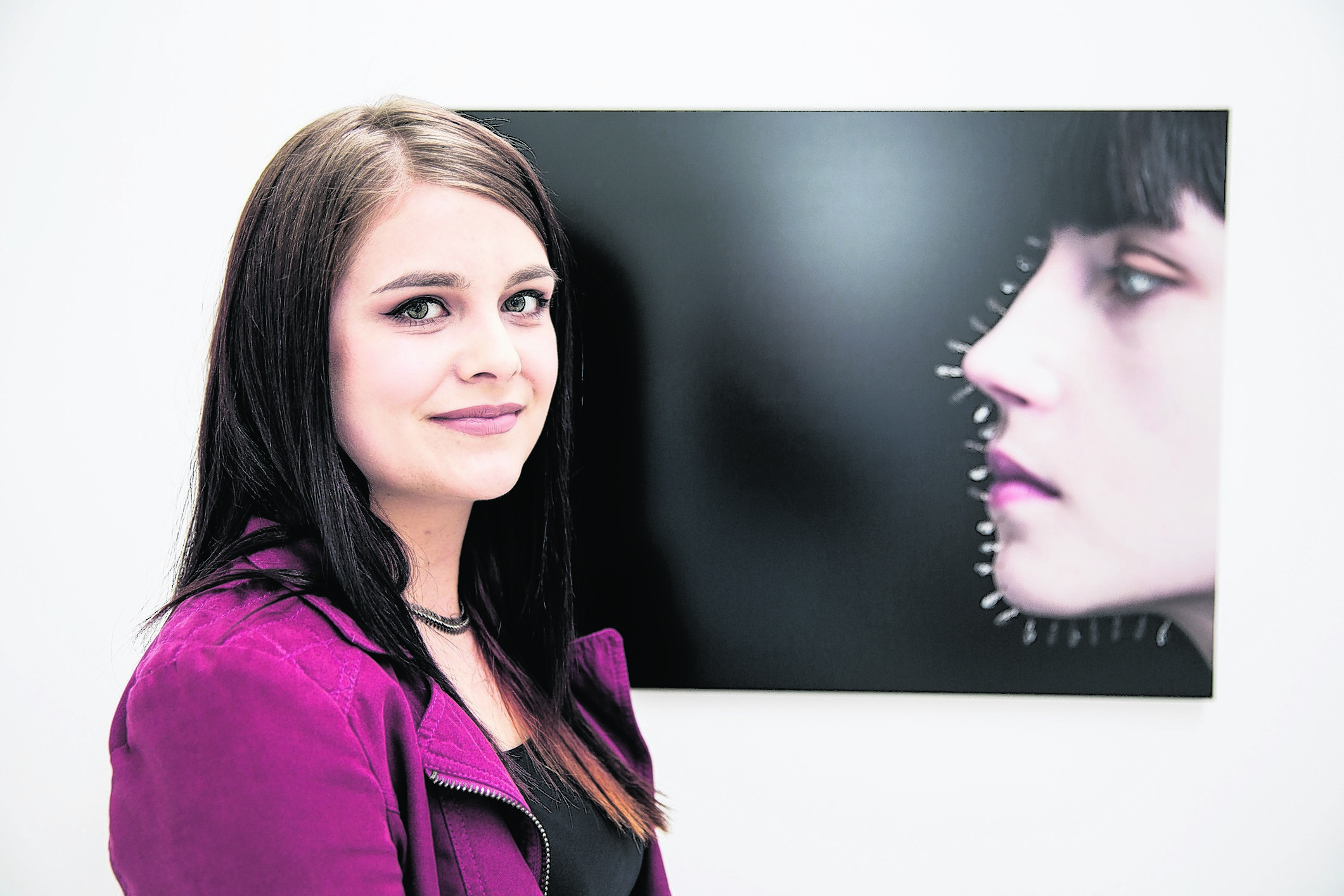 NAME: Harmony Bury
AGE: 22
WHERE ARE YOU FROM? Moray
WHAT DEGREE PROGRAMME ARE YOU STUDYING? Contemporary Art Practice.
NAME OF DEGREE SHOW EXHIBIT, AND BRIEF DESCRIPTION OF MATERIALS/TECHNIQUES USED?
The title of my exhibit is Connected. I have been using ethically sourced bee wings, butterflies and feathers to create fragile compositions. I work predominately with photography to capture the ephemeral side to these compositions, but I also make small sculptures where the viewer can get up close with the subject.
WHAT INSPIRED YOU TO DO THIS COLLECTION OF WORK?
I have always been inspired by nature and our relationship with it. Studying the plight of the bee motivated me to portray this relationship. I also have a keen interest in macro photography, so the desire to make what usually goes unnoticed, visible, was important.
WHAT DID YOU SET OUT TO ACHIEVE WITH IT?
My aim was to make a body of work to highlight the reliance we have on the natural world and emphasise the control and dominion humans enforce over other species, while still maintaining beauty in the finished pieces.
WHAT DO YOU PLAN TO DO AFTER UNIVERSITY?
I plan to apply for the Graduate in Residence position at Gray's as I feel I still have potential to develop my practice.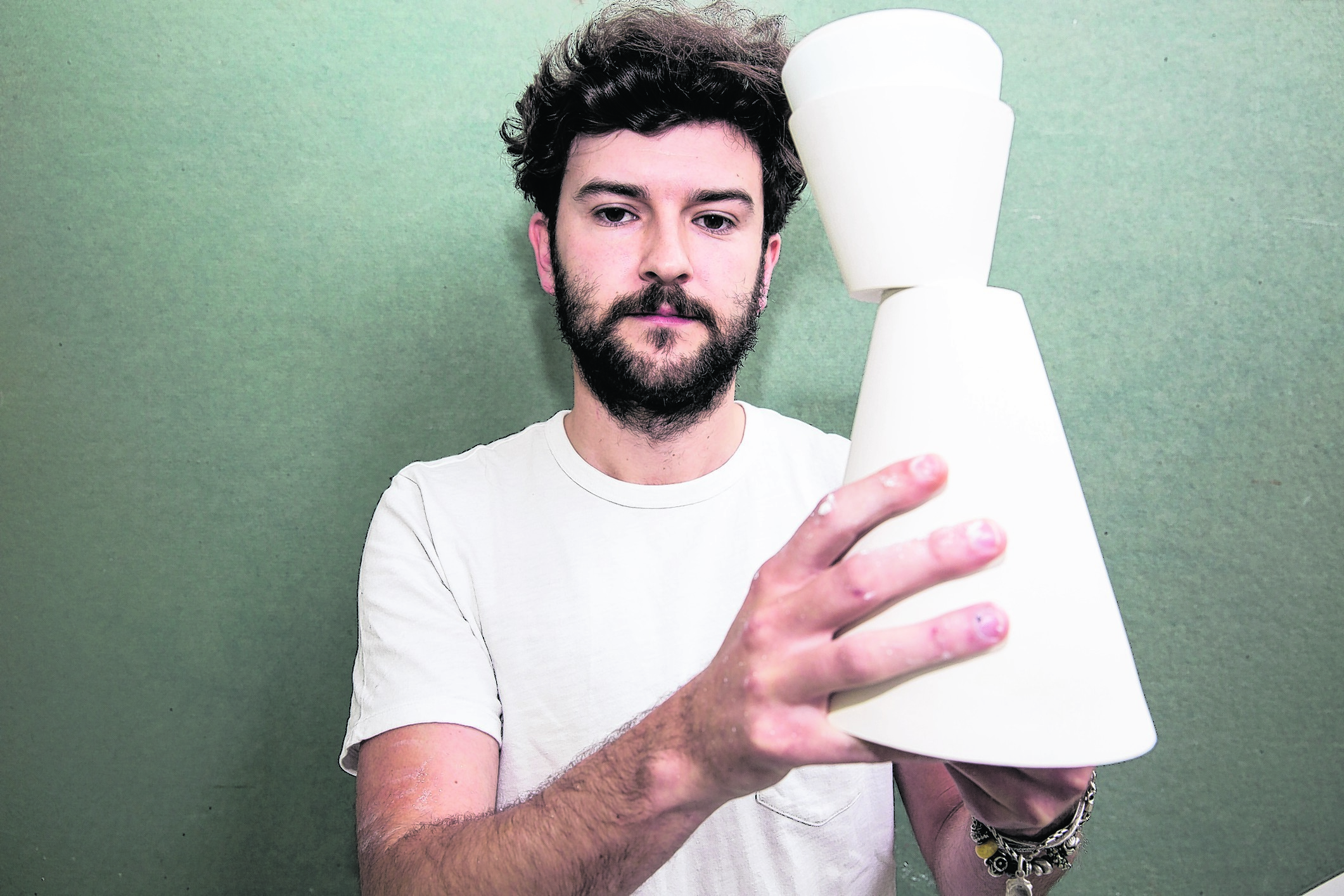 NAME: Jordan McGinlay
AGE: 28
FROM: Glasgow
WHAT DEGREE PROGRAMME ARE YOU STUDYING?
Three dimensional design
NAME OF DEGREE SHOW EXHIBIT, AND BRIEF DESCRIPTION OF MATERIALS/TECHNIQUES USED?
The name of my exhibit is Collection 01 and the materials used are 3D printing of pattern cuttings, moving into ceramics. My practice involves the combining of ceramics and
digital design, and I worked with digital fabrication studio MAKE Aberdeen where I was able to use the facilities.
WHAT INSPIRED YOU TO DO THIS COLLECTION OF WORK?
Cos clothing ranges for men and woman are modern, functional and minimalist. The Swedish company is a lifestyle brand and customers buy its aesthetic. Cos inspired me to apply their aesthetic philosophy to tableware through their design process of re-imagining geometrical forms from pattern cutting as a three dimensional object.
WHAT DID YOU SET OUT TO ACHIEVE WITH IT?
I wanted to take a traditional table setting and reassemble the elements in a more functional order, simultaneously bringing a fresh visual context to the everyday image of a dining area.
WHAT DO YOU PLAN TO DO AFTER UNIVERSITY?
Study ceramics further abroad.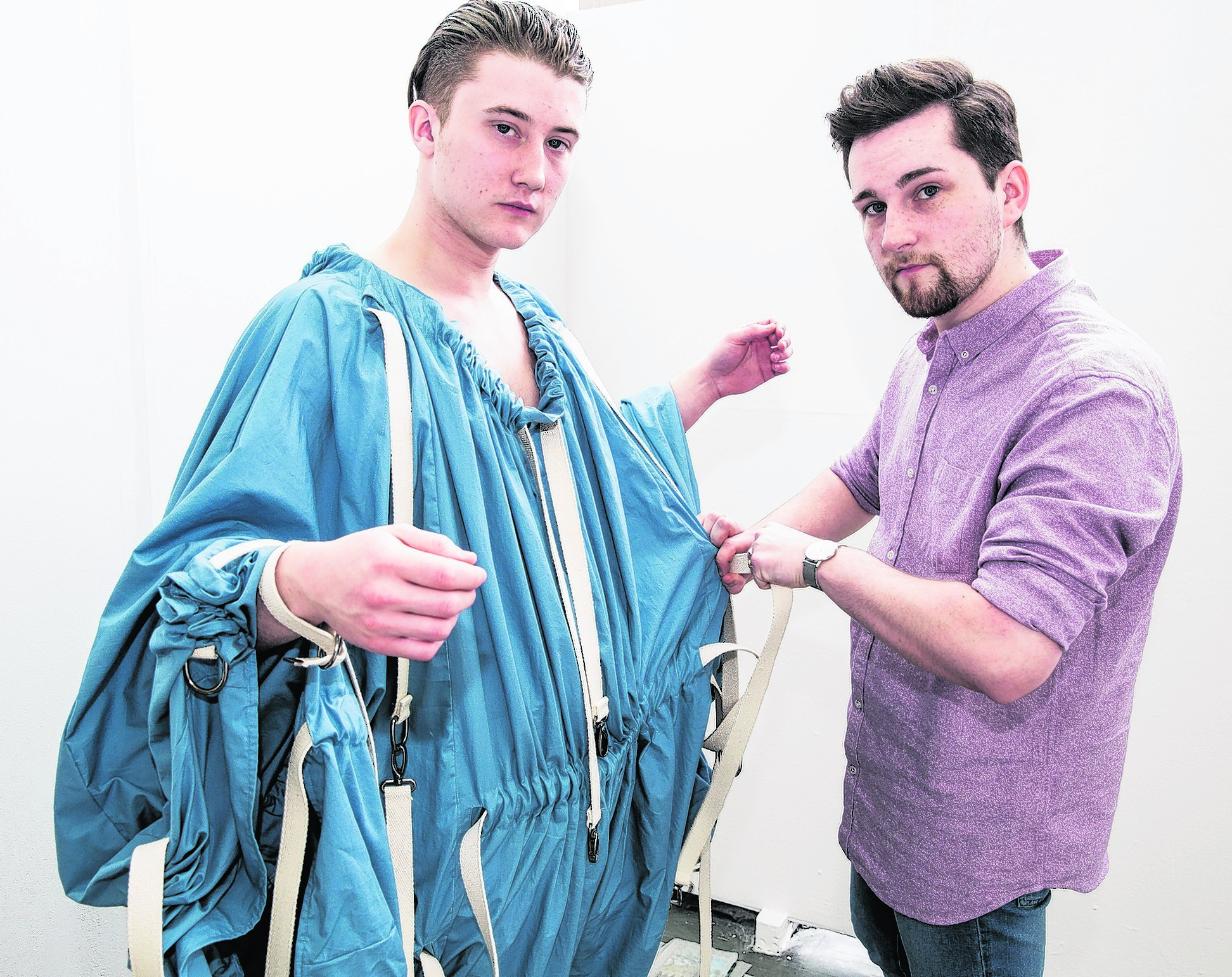 NAME: Dennis Arthur Neville
AGE: 22
WHERE ARE YOU FROM? Inverness
WHAT DEGREE PROGRAMME ARE YOU STUDYING? Fashion and Textile Design
NAME OF DEGREE SHOW EXHIBIT, AND BRIEF DESCRIPTION OF MATERIALS/TECHNIQUES USED?
Narratives of the Past – Mental Health. My fundamental inspiration for my honours collection is based on mental health and the narratives of patients. The concept of restricting the body allows the traits of mental illness to become visual. Focusing on coated fabrics, these outer wear garments can change each time they are worn through ties, pulls and clips.
WHAT INSPIRED YOU TO DO THIS COLLECTION OF WORK?
My childhood was filled with stories of patients of a past time. Having family members who have worked within the mental health field for countless years has shaped my imagination and thinking process. Understanding how mental health affects us all, through family, friends and even ourselves.
WHAT DID YOU SET OUT TO ACHIEVE WITH IT?
Awareness. Although my inspiration has been taken from historical sources, I want to create awareness of mental health in today's society. Mental health is something which cannot always be seen, however through the expression of clothing we can try and translate awareness. I wanted to create a collection which linked together, literally. My garments clip to each other as to display that we are all connected and should consider another's mental state without judgement.
WHAT DO YOU PLAN TO DO AFTER UNIVERSITY?
Learn. I want to develop my understanding of garment construction and explore the techniques available. Moving to another city and beginning a new chapter.
The 2016 Gray's School of Art Degree Show, sponsored by BP, will open to the public at Robert Gordon University's Garthdee campus on Saturday, June 18, and will run until Saturday, June 25.
Entry is free and opening times are 7am to 10pm, Monday to Friday; Saturday, 9am to 6pm; and Sunday, 9am to 3pm.
For more information, visit www.rgu.ac.uk/degreeshow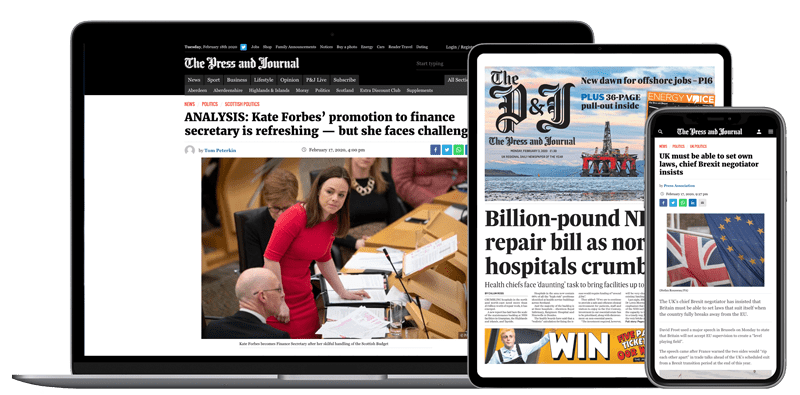 Help support quality local journalism … become a digital subscriber to The Press and Journal
For as little as £5.99 a month you can access all of our content, including Premium articles.
Subscribe