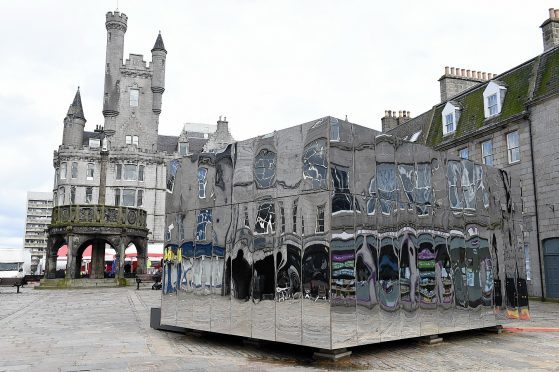 Inflatable sculptures inspired by old scientific equipment were at the centre of a masterclass that got an art festival underway.
North East Scotland College students were invited to delve into the world of artists Pester and Rossi at the start of this year's Look Again @ Garthdee event.
They visited Robert Gordon University (RGU) to take part in an educational session with the talented duo.
Look Again is delivered through a partnership between RGU and Aberdeen-based art curators SMART.
Showcasing both local and internationally acclaimed talent, the festival celebrates the very best contemporary visual art and design.
As it reaches its third year, it aims to challenge the way the public see the Granite City, encouraging audiences to 'become a tourist in your own city'.
The collaborative partnership of Pester and Rossi has been a key highlight of the festival so far.
Their 'Inflato-optical image intensifier' presents a series of large-scale inflatable and wearable sculptures, inspired by some of the curious measuring and optical instruments from the early pharmacy, engineering and domestic science schools.
Chris O'Neil, head of Gray's School of Art, said: "Look Again at Garthdee is going to be really exciting. It will add colour, drama and vibrancy to the campus as part of what is already a great festival.
"The festival is a very unique partnership between the university and SMART. RGU's investment in such a publicly accessible arts festival is unprecedented for a Scottish art school and our involvement allows us to take art directly to people.
"We will be showcasing the best of talent we have to offer here in the north-east, and drawing in huge names from around the country.
"This year's programme aligns with the Year of History, Heritage and Archaeology. Artists and designers will delve into the extensive collection of archives in the city, as inspiration for new public art works celebrating the region's rich cultural heritage."
Festival director Sally Reaper said: "We have such an amazing line up for Look Again this year. Not only is the festival bigger than it's ever been – it is bolder too with even more installations that will capture people's imagination and challenge what they think about Aberdeen."