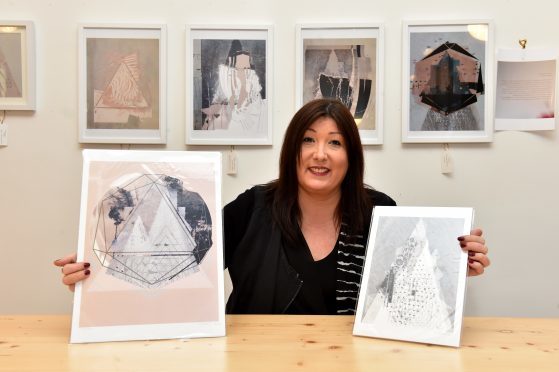 An Aberdeen mum is preparing to stage her first solo art exhibition after rekindling her creative passions following a 20-year break.
Jemma Tastard studied at Gray's School of Art as a teenager but was moved into a career caring for older people.
The 44-year-old developed an interest in social care while studying, and ended up spending 20 years in that profession – latterly serving as assistant manager at the Voluntary Service Aberdeen (VSA) centre at Broomhill Park for a decade.
But when her six-year-old son, Joshua, was born Ms Tastard's lifestyle drastically changed and she went back to art.
The part-time pharmacist said: "I never had the time for it when I was working, but I did once Joshua came along and now it seems to have taken off."
Ms Tastard creates collages which are inspired by Scandanavian design, nature and architecture – an interest she attributes to her father's career as an architect.
She says she "builds landscapes using layers of photographs, drawings, and paintings mixed digitally, in order to explore her emotions".
Last year, Ms Tastard received her "big break" when she was taken on by a gallery in London after bosses spotted her work online.
Broth Art exhibited her pieces in a Hackney restaurant for three months over the summer, giving her a taste of life as a professional artist.
And the Kingswells resident says her first solo exhibition, which launched on Saturday at the Foodstory cafe on Thistle Street, Aberdeen, and runs all month, is another big step.
But the busy mum is under no illusions about hard-pressed Aberdeen residents shelling out on costly artwork amid the downturn in the oil industry, and thinks affordability is key to the success of any new arts venture in the city.
She added: "It is lovely that I am getting this support, especially considering how difficult things are for people.
"I want to provide artwork that isn't going to break the bank, so that folk can have something that has been designed with love and care without it costing hundreds.
"Things in Aberdeen have changed, but people still need little treats and are still willing to support local artists where they can."