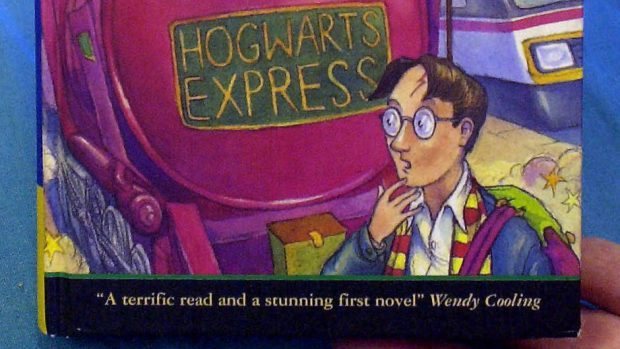 It's a book which has been read by millions of people all across the globe and is celebrating its 20th anniversary with a fanfare of trumpets.
And now, a Scottish publisher has confirmed it has created a new version – in the Scots tongue – of the novel which brought Harry Potter to the world's attention.
The news is likely to excite Doric aficionados, who are working hard to nurture interest in the language among young people across the north and north-east and ensure it continues to thrive among future generations.
The Press and Journal has been given a sneak preview of Harry Potter and the Philosopher's Stane, which has been translated by Matthew Fitt from JK Rowling's original work, and will be published by Black & White in October.
The book, which developed into a series and was turned into a hugely successful film franchise, starring Daniel Radcliffe and Emma Watson, has already been translated into an astonishing 79 languages around the world, and this new Scots rendition is number 80.
In 1995, Rowling finished her manuscript for Harry Potter and the Philosopher's Stone on an old manual typewriter. It was subsequently submitted to 12 publishing houses, all of which actually rejected the manuscript.
But, a year later, she was finally given the green light (and a £1,500 advance) by editor Barry Cunningham from Bloomsbury, a publishing house in London.
The decision to publish Rowling's book owes much to Alice Newton, the eight-year-old daughter of the Bloomsbury's chairman, who was given the first chapter to review by her father and immediately demanded the next.
The original book, which became a publishing phenomenon, starts in this fashion: "Mr and Mrs Dursley, of number four, Privet Drive, were proud to say that they were perfectly normal, thank you very much.
"They were the last people you'd expect to be involved in anything strange or mysterious, because they just didn't hold with such nonsense."
Mr Fitt has re-imagined that as: "Mr and Mrs Dursley, o nummer fower, Privet Loan, were prood tae say that they were gey normal, thank ye awfie muckle.
"They were the lest fowk ye wid jalouse wid be taigled up wi onythin unco or ferlie, because they jist widnae hae onythin tae dae wi joukery packery like yon."
That everyday opening – in a world of normal, humdrum folk – was soon transformed by Rowling's vivid imagination as a long-running battle started between Harry, and his friends Hermione and Ron, at Hogwarts, and their arch nemesis Lord Voldemort.
Mr Fitt said this week: "It is a book I have always wanted to translate and it has been a pleasure to do it.
"Harry Potter has become one of the most-read books in recent history and I hope I can help bring something new to it."
The Dundonian has plenty of expertise in that department.
Indeed, he has written numerous children's books and translated a number of titles into Scots, including Roald Dahl's Chairlie and the Chocolate Works and David Walliams' Mr Mingin and Billionaire Bairn.
He was a co-founder of the award-winning Itchy Coo, the Scots language children's imprint at Black & White.
Since 2002, the company has produced new translations of books by such eclectic talents as Roald Dahl, Julia Donaldson, David Walliams, Alexander McCall Smith and AA Milne.
And, as Mr Fitt added: "It has all been done in the wonderful Scots language which has the power to engage, excite and entertain readers of all ages."
The Harry Potter series has re-energised children's fiction in a manner which many considered impossible, given the emergence of IPods, XBoxes, games consoles and other gizmos.
But Mr Fitt knows that youngsters won't simply keep reading unless they are offered something new and challenging.
And he has learned this, not through sitting in some ivory tower, but by going out and meeting his audience, down and dirty in classrooms all over the country.
In recent years, he has visited educational establishments in every part of Scotland from major towns and cities to schools of only three or four pupils in rural settings. He has also read poetry and conducted workshops for pupils in as far-flung locations as London, Prague, Sydney and New York.
Mr Fitt said: "Writing for bairns is tough. Children are more honest than adults. If they don't like a book, they fling it, sometimes out the window or at your head. You have got to get their interest straight away."
He works hard to promote literacy in Scotland's schools and supports teachers through in-service training and professional development. And he also writes teaching materials based on his own work, and poems and stories by other Scottish writers in the Scots language.
In recent years, various works including everything from the Bible to The Gruffalo have been produced in Scots and Doric and have proved very popular.