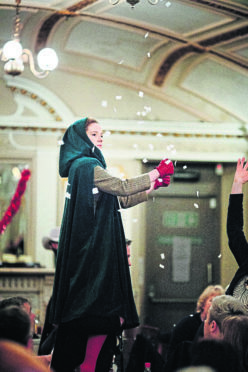 Since premiering in Glasgow in 2011, The National Theatre of Scotland's play, created by writer David Greig, The Strange Undoing of Prudencia Hart has enjoyed phenomenal success both at home and abroad.
It is currently touring Scotland and can be seen in the Aros Hall, Tobermory, Mull today, Thursday May 24, and the Corran Hall, Oban tomorrow, Friday May 24. Jessica Hardwick takes the lead role of Prudencia.
How long have you been with the show?
I started in 2016 and did a five-month tour around the US and Scotland with the play. We visited lots of different states and performed in places such as Seattle and Virginia where it went down really well. There's a huge amount of people there who are proud of the Scottish and Irish heritage so they really enjoyed it. We ended up in New York for a six-month residency which was an amazing experience.
Tell us about Prudencia
Pru is an academic; a post-grauduate student who studies folk music and balladry and we meet her as she makes her way to a conference in Kelso in the Borders where they will speak about Scottish ballads and folklore.
She is rather uptight, prim and quite a judgemental person. She knows her place in the world and is quick to judge other people about their choices, but although she likes to put on a front she's actually quite lonely. We follow her as she goes on a journey, a sort of adventure of self-discovery where she loosens up a bit and sees the world in a different way. That kinds of appeals to people in the audience because I think we've all been there at some point.
What's unusual about the places the play is performed?
It doesn't always play theatres and is not site specific. Since I've been with it we've played bars, village halls, libraries, schools and all sorts of different venues. It lends itself really well to any space and as it is immersive people sit within the action which makes it quite different to standard plays.
Should people with concerns about becoming part of the show be worried?
Not at all! Nobody is forced to take part or dragged on to a stage – it's more that the show happens all around you or close to you. The last thing we would want to do is make anyone uncomfortable but hopefully they will get caught up with the story and without realising it, become part of the collective action.
Tell us about the music
We have fantastic musicians with us who play a very eclectic mix of different music, while the whole production is underscored with music. There's also some wild karaoke.
Your final thoughts on the show?
It is an opportunity to indulge in an evening of supernatural storytelling, music and theatre inspired by the Border Ballads, Robert Burns and the poems of Robert Service. It is a very positive and uplifting show. It's nice when people come in with an open mind not sure what to expect. It is a really beautiful piece of storytelling that has everyone leaving with a huge smile on their face, which is beautiful for the cast and musicians to see. I think people themselves become a bit undone – not just Prudentia!
Contact: nationaltheatrescotland.com