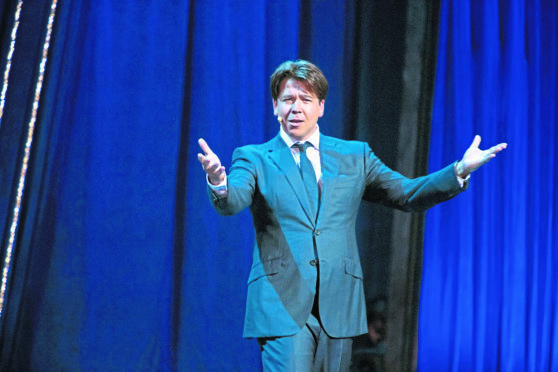 BAFTA-winning comedian, Michael McIntyre, had the Granite City in giggles last night performing to a packed out AECC.
Part of his Big World Tour, McIntyre made his first appearance in Scotland this year playing one of two nights in the north-east.
Welcomed with a roar of cheers and clapping, he took to the stage and from the get-go had the audience laughing.
Trolling the Scottish culture with sneaky jabs at the Granite City and how everything is grey he gives his best rendition of an Aberdonian accent.
The houses are grey, the shops are grey, even the cars are grey he says as a bellow of laughter comes from the crowd.
Doing what he does best, the Londoner pokes fun at the humdrum of everyday life covering subjects such as smartphones, family life and the British driving etiquette.
McIntyre took time out to visit Paul Lawrie and his wife before taking the stage later tonight.
Great to have @McInTweet @PaulLawrieGC today to hit balls, really looking forward to his show tonight @AECC_Aberdeen pic.twitter.com/A5EiK4ovRk

— Paul Lawrie (@PaulLawriegolf) June 13, 2018 
Looking around the AECC you can see heads nodding and chuckling as to say – we've all been there.
He brings each line to life with a brilliantly pantomimed physicality but his iconic skip across the stage has become more of a shuffle as the the 42-year-old accepts the reality of his ageing body.
One such story that epitomises that is when he attempts to seduce his wife whilst wearing a medical back belt. Something of a mood-killer in the bedroom and an image you won't forget anytime soon.
The father of two paints an amusing picture of his family life, telling us how his children won't eat their greens, clean their teeth or wear weather-appropriate clothing. His wife on the other hand is portrayed as a consultant at the doctors to check up on his health and making sure he's had his fill of water.
As the title suggests, this is the comedian's largest tour as he travels the globe from Hong Kong, Singapore, South African, Canada, America and all over Europe. Come November the BBC television host will have performed 63 times all across the UK and after that he rounds things off down under in Australia.
Reflecting on his travels he tells bizarre stories like his stay in a Norwegian hotel with 'faulty' lights and how a bearded Viking-like man stands in darkness at the end of his bed.
As the tour is not televised there is more swearing than you would expect from the comedian but it's all done with a cheeky smile.
The show ended with an encore and an entertaining tale inside the dreich walls of a public male toilet. As he skips off the stage he thanks the audience with a special hazard signal.
Overall a cracking night full of fun. McIntyre connects with his audience so well because at the end of the day he is just an everyday normal person. This is portrayed as he refers to his recent mugging after a Dublin performance and how getting back on stage was the best thing for him.
McIntyre will perform at the AECC again tonight before taking the A90 down to Glasgow's Hydro tomorrow.
Tickets are available on www.michaelmcintyre.co.uk/big-world-tour.