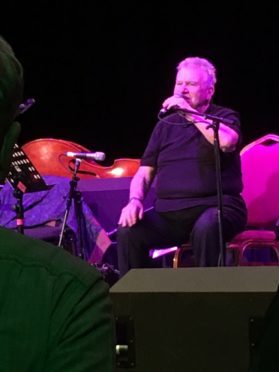 Glasgow hosted a sell-out show on Saturday night to celebrate the 'Ceilidh King' Fergie MacDonald with a host of big names from Scottish traditional music.
Celtic Connections organised the event with the audience treated to a recital of the most popular music he recorded throughout the years.
Mr MacDonald also reminisced with the host Gary Innes about his career as a musician and band leader which spans almost 70 years.
Two of Scotland's leading traditional musicians, Phil Cunningham and John Carmichael, shared their own memories of their time with Mr MacDonald.
Speaking on Sunday, Mr MacDonald said: "It started really seriously when I was 13. I never had a lesson in my life, I played by ear."
After a spell in the army he went on to study at Glasgow University and it was during his time as a student that he got his big break with the BBC.
He said: "I was asked to do a series of six programmes – it was a trial period for Gaelic TV – with Alistair Gillies, who became one of our big stars.
"They liked what they heard and they signed us up for six more programmes and then for three years. I was at the right place at the right time."
However, it was not all plain sailing for the musician during his career because Mr MacDonald said that Ceilidh music was "not rated at all" at the time.
Luckily the songs he recorded became popular and are still fondly remembered today.
He added: "I have composed hundreds of tunes and these young ones today still play them."
During the packed out show at The Pavilion Theatre at the weekend, he was joined on stage by musicians Allan Henderson, Iain MacFarlane, Alasdair MacLeod, Hugh MacCallum and Colm O' Rua.
And due to ill health Addie Harper had to pull out of the show and was replaced by Sandy Meldrum on piano for all but one of the sets.
His son John MacDonald on accordion and daughter Morven Anne Macdonald also performed at the event.
Mr MacDonald said: "It went like a bomb, a sell-out crowd. I have never had so much feedback, messages, emails. It was just amazing."