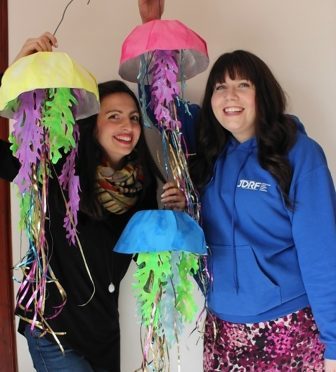 A hotel is being transformed into an underwater paradise for a charity ball – complete with giant neon jellyfish.
Visual artist and puppeteer Jenny Johnson will adorn the ceiling of Ardoe House with her specially-created paper sculptures for the event.
It is being held at the weekend in aid of JDRF and organisers hope to raise more than £95,000 for vital research to improve the lives of those living with type one diabetes.
Each of the ten named jellyfish has its own special edition print and will be auctioned off on the night to the more than 200 guests.
It is supported by local businesses Cortez Subsea, Ramco, Balmoral Group and Bridgend Aggregates.
The event will also feature entertainment from the Sharon Gill School of Dance and the band Splash.
Professor Kevin Docherty of the University of Aberdeen will talk about his latest research into the treatment of type 1 diabetes, while a video featuring the McAlley family from Newmacher will highlight the challenges of living with the condition.
The artist is part of the Upstart Arts public engagement programme which promotes creativity and sustainable approaches to the arts.
She said: "JDRF is a fantastic charity and I am really excited to be taking part in the event.
"Making the jellyfish has been so much fun and each one is unique. I hope they capture the imagination of the guests and help to raise funds on the night."
Claire Henderson for JDRF added: "The 'Under the Sea' ball is always a fantastic event, and to have Jenny's jellyfish sculptures will set the mood perfectly.
"We are all working towards a cure for type 1 diabetes and with the research that is happening here in Scotland and around the world, we feel that it is within our grasp. That's why the push for new funds and continued research is so important."