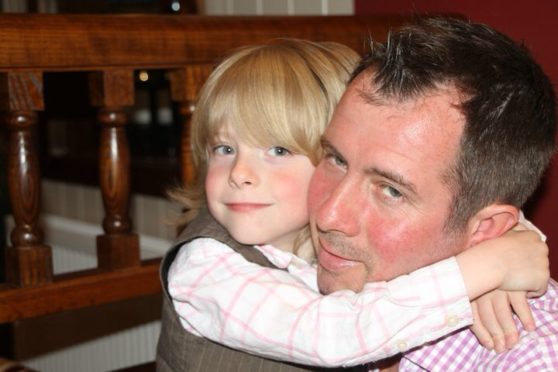 An Aberdeen dad has signed up for a transatlantic trip in aid of the city's sick kids.
Craig Emslie has joined a team of more than 20 people gearing up to tackle the New York City Marathon for local charities Friends of the Special Nursery and The Archie Foundation.
The 26-mile trial in November will be the 47-year-old pipe welder's first foray into long-distance running with the reasons as to why very close to his heart.
He said: "My son, Gabriel-Shane, was a premature baby born at 25 weeks so he was in the hospital's neonatal unit for another 16 weeks.
"So when I saw this opportunity come up I thought it was a way to pay the staff back for all the help they gave us.
"They were unbelievable and the things they do for the kids are amazing.
"It can't be easy for them either, with some of the things they have to do every day.
"It must be hard on a lot of them."
Mr Emslie's son is now 12 and has refused to let fatherhood slow him down.
"I wouldn't say I'm a big runner," he admitted.
"But I've played a lot of football over the years to keep myself fit.
"I had trained for the Loch Ness marathon three years ago but pulled a muscle a few weeks before so I couldn't manage."
He added: "I'm really looking forward to going to New York.
"They say there's going to be around 50,000 runners and about 2.5 million people through the streets coming out to cheer us all on.
"I've never been to New York before so it's going to be amazing – and I'm getting to see all five boroughs on my very first visit.
"It'll be quite the experience and I'm sure one I'll never forget."
Fitness enthusiasts still have time to join Mr Emslie's team and run the marathon in aid of the two charities.
More than 20 people have signed up for the challenge so far, with the deadline for places looming on Monday.
Katie Watters, head of fundraising at Friends of the Special Nursery, said: "We've been delighted with the response so far from runners across the north and north-east of Scotland and our team is training extremely well to be in the best possible condition.
"With the deadline for entry fast-approaching, I'd urge anyone who is interested to get in touch to secure their place before they're all gone.
She added: "It promises to be an unforgettable experience for everyone involved but, more importantly, a terrific way of supporting the good work done by our two charities to provide vital services to babies and young people in the north-east."
Runners are being asked to raise a minimum of £3,000 each to help cover the cost of flights, race entry and accommodation, with the remainder directly benefiting their charity of choice.
The group will leave for New York from Aberdeen on Frida, November 2 and return the following Monday.
Anyone interested in participating should contact Katie Watters by calling 07591 203912 or emailing katie@specialnursery.org