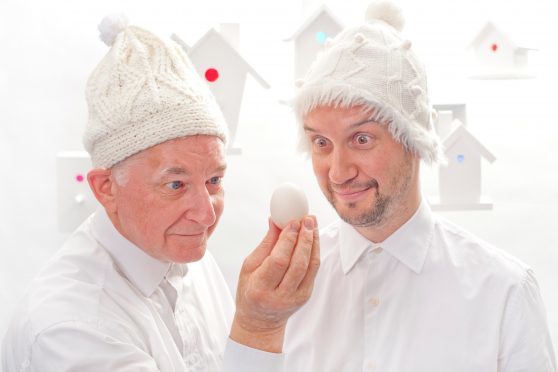 If rollicking and raucous Christmas shows are not quite right for your little ones, there's a delightful and enchanting alternative being staged at Aberdeen's Lemon Tree.
White is a short and clever wee production with a subtle message for youngsters and grown-ups alike.
The callow audience is introduced to a very well-ordered, all-white world, cared for by Cotton (played by Chris Alexander) and Wrinkle (played by Ian Cameron).
And it's undeniably beautiful – from the many multi-sized white bird boxes to the white tepee, from Cotton and Wrinkle's cute outfits to their white breakfast of milk and white quavers.
The twosome proudly gather and nurture the eggs – boy eggs, girl eggs and the wee egg of indeterminate gender – and all are cared for with hugs, kisses and love.
The occasional intrusive colour is instantly binned without a thought.
However, all this is shaken up by the unexpected appearance of a very red egg which is first binned, and then rescued by Cotton who gives the puzzling new arrival a home.
This act of kindness soon transforms their world. And gradually, there's not just white, but red and yellow, pink and blue, and orange and purple and green.
This is a quirky wee show for two to five-year-olds which gently says not just that it's okay to be different, but that it is wonderful to be different, and that all the myriad differences create a beautiful and colourful world for everyone.
It's a perfectly simple idea, perfectly presented by Chris and Ian.
Staged by Aberdeen Performing Arts and the award-winning, internationally acclaimed children's theatre company Catherine Wheels, White runs at Aberdeen's Lemon Tree until Christmas Eve, from Wednesday to Sundays at 10.30am and 1.30pm and on Saturdays and Sundays at 4pm.
The production runs for around 40 minutes, with no interval, and it is the ideal introduction for young first-time theatre goers.
Pre-show activities include colouring in and a tablet with a special app which is downloadable for nurseries and schools to access later.