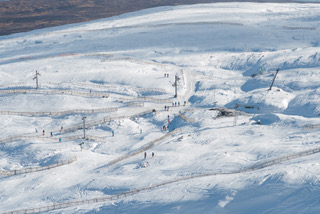 A whole host of cool activities are going on at Highland mountains today as Ski Scotland holds its annual Snow Fest.
Igloo building, a snowman competition and Zibob (sled) racing will be the highlights at Glencoe.
Cairngorm Mountain will have Burton Riglet snowboard taster sessions for the youngest enthusiasts.
Meanwhile at Glenshee, there's live music from 10am till 4pm.
At Nevis Range there is a snow sculpture competition and the chance to watch the amazing SARDA Rescue Dogs in action.
Where snow allows, there will also be the traditional mass descent at 1pm.
This is not a race, but a fun ski in company down one of the available runs. Participants are encouraged to wear something tartan at Glencoe and at Nevis Range will be met by a piper and have a mini hot chocolate.
Heather Negus, chairwoman of Ski Scotland, said: "No one can deny that it's been a challenging winter for Scotland's snowsports areas.
"However, it's not really been a mild winter. We have had good snow and some brilliant overhead weather for T-shirt skiing, but the fluctuating temperatures have meant that it's been a bit of a stop-start season so far. Remember that we usually expect to ski well into May and that in previous years which had this sort of weather pattern there have often been large dumps of snow well into the spring."
Over the last few days snow has been falling even at lower levels and people in Scotland's Central Belt have been waking up to white gardens. In the mountains, this means that plans are well ahead for a weekend of fun, particularly at Glencoe, CairnGorm and Nevis Range. There, the new snow has improved the runs available.
Ms Negus added: "Even Glenshee, currently with no snow for snowsports, is entering into the spirit of Snow Fest with its live music event – assuming of course that the road is not closed by snow.
"Conditions have been changing quickly this winter and so we do advise anyone coming along to Snow Fest to check snow, road and weather conditions before leaving home on the official website www.ski-scotand.com We also recommend having a look at our new fun video about conditions."