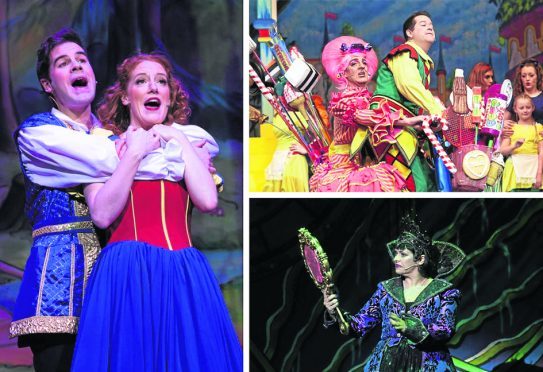 The pantomime season has kicked off in style in the Highland capital with a mixture of magic and humour – and a few surprises on the way.
In good old-fashioned panto style, there is something for everyone at this year's festive treat for children and families visiting Eden Court Theatre in Inverness to see Snow White.
There were some nerves on show for the first public appearances of the panto, but the cast and crew showed their professionalism throughout the performance to provide a thoroughly entertaining and hilarious production.
From the start, the audience got in the mood with a spectacular dance and song routine to celebrate Snow White's 18th birthday, getting to singalong to the hit Uptown Funk.
The momentous birthday catapulted the Princess from child to adult – suddenly becoming the Fairest in the Land, much to the disgust of her wicked step-mother, The Queen.
The audience got into "booing" the Queen on numerous occasions, particularly after she hypnotised jester Jingo to kill Snow White in the Forest. Thankfully, he was stopped from doing so thanks to his mother, Dolly Mixture – who, for me, was the star of the show with a series of impromptu one-liners.
Then, in came the dwarfs, whose amazing costumes – and remarkable names – will only be discovered by those attending the pantomime.
After Snow White was sent to sleep by a poisoned apple, the show really came into its own. The best part was the interpretation of "The 12 Days of Christmas", which included a hilarious climactic line.
There is a lot of topical humour, which will keep the grown-ups happy, while youngsters can enjoy being soaked by water pistols and singing along to some top tunes.
Director Steve Wren, who plays Dolly Mixture, said: "I want the kids to feel things emotionally. I am trying to create pantomimes that are big and showy and have fabulous big musical numbers, because I want it to be a huge entertainment show but it's a morality tale as well."
The production is comprised of 10 musical numbers, stretched across 17 scenes. Mr Wren's scene's with his co-star Ross Allan, who plays Jingles the Jester, provide the humour, while the rest of the cast provide fantastic song and dance.