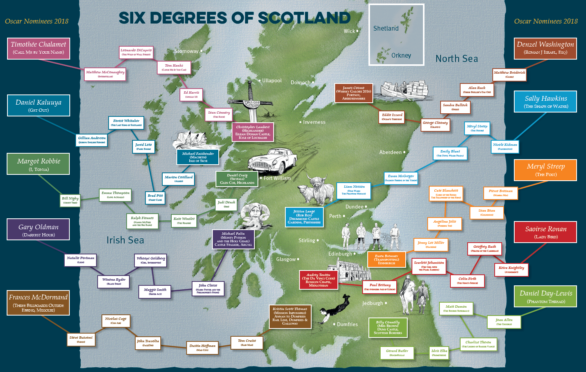 A special map celebrating Scotland's connections to the silver screen has been created by a tourism body ahead of Hollywood's biggest night.
Visit Scotland has put together a new project called Six Degrees of Scotland, which links this year's Oscar nominees to famous films shot in locations across the country.
The scheme was inspired by the concept of six degrees of separation, which posits that everyone in the world can be connected to each other by six steps or fewer.
Jenni Steele from Visit Scotland said: "Film tourism is booming across Scotland.
"With James Bond, Transformers and The Avengers – some of the world's biggest film franchises – choosing to film here, the country's celluloid connections are as strong as ever.
"It's the unique mix of stunning landscapes, rich heritage and fascinating stories that make Scotland an irresistible draw for filmmakers from across the world.
"Our Six Degrees of Scotland offers a fun way to reveal these movie connections and we hope it will inspire many more jet-setters to make connections of their own."
In 2016, various film and television productions spent around £69million in Scotland, and it is hoped that by encouraging even more companies to shoot north of the border even more cash could be brought into the country's economy.
Yesterday, it emerged that the Highlands alone had received a record number of applications for filming this year.
More than 200 requests to use the scenery of the north as a location for everything from adverts to blockbusters have come in this financial year – with traditionally busy March still to come.
Brodie Pringle, the head of screen commission at Creative Scotland, said: "Scotland continues to be an extremely popular destination for international productions, with record levels of production spend in 2016.
"Scotland's unique and versatile locations, coupled with our world-class crews, make it a very attractive place for productions to base themselves.
"In the past year, we have welcomed some of the biggest productions ever to have filmed in Scotland, including Avengers: Infinity War and Netflix's Outlaw King, both of which will showcase our unrivalled film locations to global audiences and give visitors to Scotland the opportunity to step into the big screen and visit some of these iconic places."