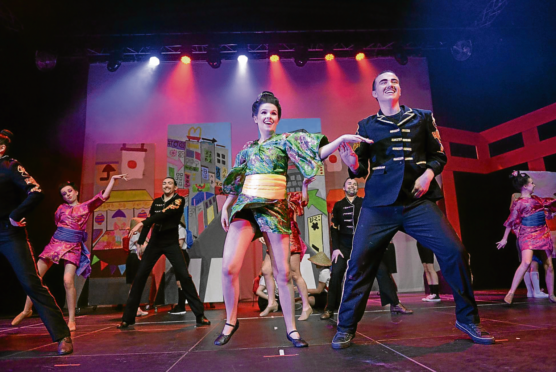 Twenty-one local schools will take to the stage in Aberdeen later this week in what are sure to be two evenings of incredible entertainment.
The Rock Challenge and J Rock aim to inspire, engage and motivate young people to make positive and healthy lifestyle choices. The opportunity provides young people with the chance to perform live on a professional stage, encouraging an adrenalin-based high gained through performing, instead of using alcohol, smoking or drugs.
The BHGE Arena will be taken over by more than 1,500 students as they rise to the challenge, performing in groups of 20 to 135. Themes differ every year, with the students tackling topics from current social issues and real-life events to fictional creations.
They will have up to eight minutes to perform their chosen theme to an audience and will have designed and created every aspect of the performance themselves. Participating pupils for the two evenings in Aberdeen come from schools in Peterhead, Inverurie, Fraserburgh, Laurencekirk and many other towns across Aberdeenshire.
Global Rock Challenge has been staging events since 1988 and was introduced to the UK in 1996 to help young people live a proactive and positive lifestyle and enjoy school.
While the Rock Challenge works within secondary schools, colleges, academies, independent schools and schools caring for students with special needs, J Rock was introduced to the UK as the junior version for young people aged seven to 11.
Supervising event manager, Sophia Campbell, said: "Every school puts so much effort into their Rock Challenge performance, the dedication from students and staff alike is fantastic to see.
"For many, Rock Challenge is the highlight of the school year; I can't wait to see what 2018 brings."
Participants will arrive at the venue early on the morning of their performance day, with rehearsals taking place through the busy day.
Friday night will see the junior performances take place, with 708 young people participating in J Rock. Just under 800 students are involved in the senior Rock Challenge night on Saturday.
The Be Your Best Foundation is a registered charity which facilitates the production and expansion of the UK Rock Challenge and J Rock.
With Rock Challenge reaching its 23rd year in the UK in 2018, Be Your Best Foundation chair Mervyn Bishop MBE is looking forward to seeing the 2018 events take place across the UK: "Rock Challenge and J Rock positively impacts the lives of thousands of young people every year," he said.
"They are inspired to strive for a healthy lifestyle and drug free high through performing, not to mention the social, team-building and creative benefits the initiative provides. I am honoured to be involved with this fantastic event once again."
The top five of the junior performances will be announced on Friday night with the winners receiving a gold-framed award to take home while the top four groups from the senior performances will be announced on Saturday night.
The top group will go on to the Scottish final with other winning groups from schools across the country.
Involving more than 320 schools across the country, this year's UK Rock Challenge and J Rock tour is expected to reach 20,000 young people between the ages of seven and 18 years old and upwards of 38,000 audience members.
The junior evening J Rock will take place at the BHGE Arena in Aberdeen on Friday, March 23, and the senior evening will be on Saturday, March 24. For both events, tickets are available through www.ticketmaster.co.uk