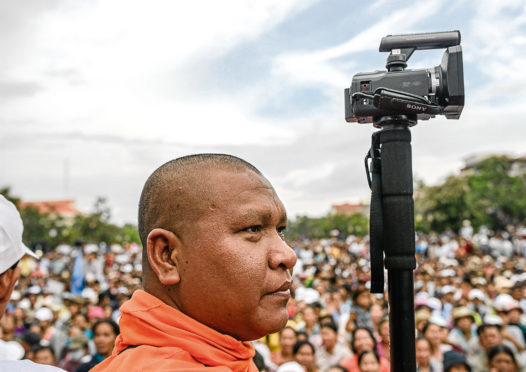 It's always nice to go to the cinema and see a movie that allows you to escape into a world of fantasy and fun, but where cinema really comes into its own is when it opens the door to an aspect of life you may have known little about.
Such is the case with the Right Now Film Festival, which has selected Eden Court as its only Scottish venue for its return to independent cinemas across the UK. The festival started yesterday and runs until Tuesday, March 27.
The programme features six feature-length documentaries that take a deeper look at global power structures and inequalities – three of these documentaries are being screened in Inverness.
Festival director Tom Vaughan said: "The broad theme of the festival is films which tackle inequality, showing that it still exists and what needs to happen in order to improve that in the world. We believe in the power film has in educating and raising awareness, and that the best films can be an informative facilitator of social change.
"We were compelled to create a programme that brings together some of today's biggest talking points, from the beginning of vital movements such as Black Lives Matter to the future of welfare and, of course, the UK's very own Brexit.
"We're also thrilled to feature more young filmmaking talent than ever, with half of the directors in the programme under 35.
"Two of the three films being shown at Eden Court are set in America. For Ahkeem follows a young teenager and shows how tough it is to be black and poor in America where you may grow up with very poor opportunities.
"That has similar themes to the movie Rat Film, which is set in Baltimore. It's a brilliantly imaginative exploration of town planning, pest control and racial segregation and shows how power lies in the hands of certain individuals and how often segregation has prevented social mobility from occurring," said Tom.
"The final film is a bit different as it is set in Cambodia and deals with land rights. Again it does cover themes of how people in power don't tend to think too much about poorer people in their society, and how corruption and big business are able to run roughshod some of the time."
The film, A Cambodian Spring, offers a unique portrait of three people caught up in the chaotic, corrupt development that is shaping modern day Cambodia. For Ahkeem is an unflinching look at the Ferguson uprising, while Rat Film presents a powerful historical overview of the severe inequality in Baltimore.
"We think they are really exciting films so are really pleased to be showing them in Inverness," said Tom.
While these issues are ones you'd not expect to encounter in the Highlands, Tom said north audiences would be able to relate to them.
"Inequality is something that can be found in most small communities and across societies in Britain. The aim really of these films, overall, is to challenge people's perceptions and to think about whether we should put up with the various inequalities or whether we should do something about them."
The Right Now Film Festival is on at Eden Court. For Akheem is screened on Saturday, March 24; A Cambodian Spring can be seen on Sunday, March 25, and Rat Film is on Tuesday, March 27.
Contact the box office on 014632 34234 or visit www.rightnowfilmfestival.org