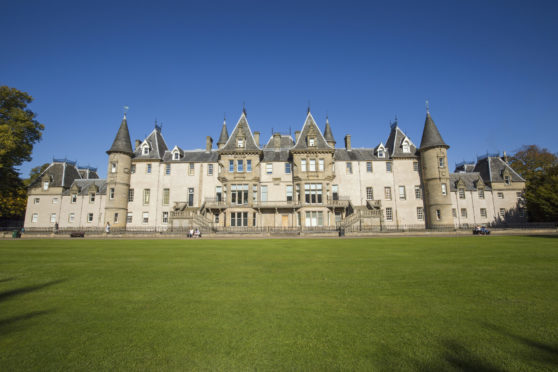 Despite having criss-crossed the length and breadth of Scotland numerous times, I have to confess that until recently, I'd never heard of Callendar House in Falkirk. But having found this hidden gem, I've now added it to my list of favourite places to visit.
We were in Falkirk to visit the Kelpies, sculptor Andy Scott's magnificent creations in the town's superb Helix Park. We'd pre-booked a guided tour of the sculptures but our journey from Inverness had been quicker than expected, so we had a bit of time to kill.
We could have gone to see one of Scotland's other big attractions, the Falkirk Wheel, which is also well worth visiting, but we've been there several times already. Instead, we decided to follow the brown tourist signs for Callendar House
What a marvellous find…
Set in spectacular landscaped grounds, the house, which dates from the 14th century, looks rather like a grand French chateau. Over the years, many notable figures from history have visited it including Oliver Cromwell, Bonnie Prince Charlie and Mary Queen of Scots.
Unlike many historic buildings, Callendar House is free to visit and is owned by a community trust. At the main reception area we were warmly welcomed into the house by a member of staff, handed a complimentary leaflet telling us a little of its history and told the tearoom, which had recently been restored, was well worth a visit.
Situated on the first floor, we found ourselves in what has to be one of the most beautiful tearooms in Scotland. With huge windows overlooking the gardens, a stunning ornate and gold ceiling, wood-panelled walls, a beautifully carved enormous fireplace and elaborate chandelier, it oozed style and class.
There's a mixture of tables and chairs including some lovely seats by the window.
Although advance booking is recommended, we were lucky enough to get a table straight away and our friendly waitress kept us right about the choices of Scottish produce and daily-made scones and cakes available. We eventually plumped for the soup and sandwich deal at £6.50 each and enjoyed a delicious, thick and filling bowl of mushroom soup and very high-quality, well-filled sandwiches on thick-cut brown bread.
What made our lunch all the more enjoyable was learning that all the profits from the tearoom go back to the Falkirk Community Trust to allow it to develop and support culture and sports activity across the Falkirk area.
Although we didn't have enough time to fully explore the house on this visit, we managed to see some of the permanent displays.
These included the story of the house from the 11th to 19th century and a display about the time when the Romans were here. Part of the Antonine Wall, Rome's northern frontier, can be found in the grounds.
Story boards show how the region fared during the industrial revolution. There was also an interesting exhibition entitled Fe Iron, which looks at the iron industry in the area and its impact on the wider world.
One of our favourite parts was found on the ground floor where there's a superb restored kitchen dating from 1825. As we stepped into the room an old-fashioned bell rang out and as if by magic, a woman in period costume appeared to tell us stories of what life was like in the kitchens. She'd been baking and offered us tasty pieces of homemade ginger biscuits fresh from the oven.
As well as being host to a wealth of period recipes, bowls, pans and gadgets it was fascinating to soak up the atmosphere of the kitchen which was used for filming dramatic scenes for the popular TV series Outlander.
The house sits in more than 170 acres of land to be enjoyed including seeing sections of the aforementioned Antonine Wall, an ornamental garden and an arboretum.
Callendar Park is also home to a nine-hole golf course, a superb large children's play park, a boating lake and pitch and putt. Between April and September further attractions include kiddies' go-karts, swan pedaloes, a giant inflatable slide and crazy golf.
Callendar House in Callendar Park, Falkirk, is open every day of the week, bar Tuesdays. Opening times are 10am-5pm and admission is free of charge. Contact: 01324 503772 or visit www.falkirkcommunitytrust.org