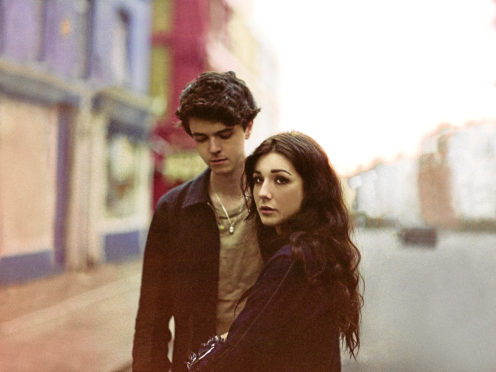 Shaun Canning and Julie Knox were brought together by their shared love for music and are embarking on their first ever tour together, taking their music around the north of Scotland.
Shaun, 28, from Glasgow, and 26-year-old Julie, from Stirling, have been playing together since the end of last September as Love Sick and have been writing their own music, including their debut track Bullet.
Shaun, how did you and Julie meet?
We basically met randomly through our insurance job but we were in separate offices. We had spoken on the phone and then when we met at the Christmas party we got chatting about how we both like some kind of music. After Christmas we didn't speak until we bumped into each other. Julie sings and I do bedroom producing so we started jamming and writing songs.
Where does the name of the group, Love Sick, come from?
It's not an interesting story. Julie had a list of 10 names and we were trying to pick one. This one wasn't even on the list. We really liked the sound of it – it reminds me of when you hear a band name and then the sound takes you by surprise, like Vampire Weekend.
Do you both play instruments?
Before we met I was writing songs but I couldn't sing. Julie sings and writes but has never been in a band whereas I have been trying to find my feet in music for a while and been in bands. She mainly sings with a little guitar and is trying to pick up the keyboard. And I'm trying to get her to teach me how to sing. I bought my first keyboard at 12 or 13 and started messing around, trying to make shapes with my fingers. I also play the drums, guitar and bass, so a fair few instruments. When you are producing you tend to use whatever instrument the track needs for a certain song. I've also been learning the violin recently and terrorising people with sounds.
Do you play all of your own stuff or covers as well?
It is all our own stuff. We did a cover a couple of months ago but we are always writing songs. During a set the audience will probably only have heard half of the songs and never heard the rest. We like to stick to our own music.
Is it just the two of you going on tour?
Yes, it is just us two going up north. I'm going to be like an octopus trying to play all of these parts. It will be a bit of a test spending five days in a small car, with all our gear on the back seat. Hopefully we don't want to kill each other. The plan is to get up early, stock up on snacks at a garage and blast music on the road. It is the first tour for the both of us and it is both scary and exciting.
Love Sick will be in Aberdeen on Wednesday, April 25, playing at Drummonds, then at Madhatters in Inverness on April 26; The Drouthy Cobbler in Elgin on April 27; and The Arch Inn in Ullapool on April 28. See www.beyondpresents.co.uk