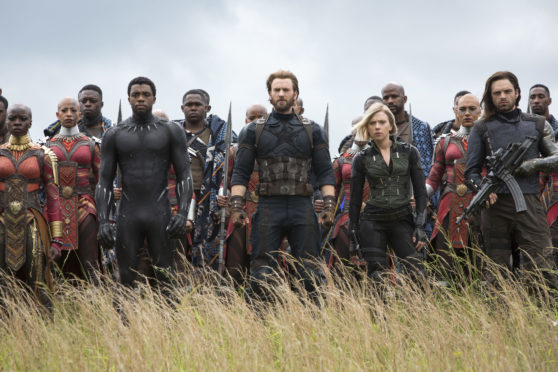 Avengers: Infinity War  ****
War demands sacrifices: civility, morality, responsibility, compassion and, ultimately, torn flesh and innocent blood.
There are many heart-breaking sacrifices – far more than expected – in Avengers: Infinity War, a blockbuster battle royale choreographed at dizzying speed by directors Joe and Anthony Russo to unite characters from across the sprawling and sinewy Marvel Comics franchises.
The head-on collision of The Avengers with protagonists from Black Panther, Captain America, Doctor Strange, Guardians Of The Galaxy, The Incredible Hulk, Iron Man, Spider-Man and Thor promises an eye-popping spectacle.
A small army of special effects wizards conjures some truly jaw-dropping set pieces, razing New York, Edinburgh and otherworldly realms in the process.
They bring to life a hulking supervillain in Thanos (Josh Brolin), who continues his quest to claim the six Infinity Stones, which will allow him to exterminate half of all living organisms in the universe with a single snap of his digitally-rendered fingers.
Scriptwriters Christopher Markus and Stephen McFeely bolt together the outlandish action sequences with comical interludes peppered with snarky humour, pop culture references and an obligatory Stan Lee cameo to the thunderous beat of composer Alan Silvestri's score.
Their method is crude but largely effective, propelling the linear narrative to a point of
supposed no return.
An additional scene, languishing at the end of the credits, teases the identity of one superhero who may shift the balance of power before the sun sets on the superhero dream team.
It has been two years since Steve Rogers, aka Captain America (Chris Evans), went toe-to-toe with billionaire inventor Tony Stark, aka Iron Man (Robert Downey jun). "The Avengers broke up, we're toast," Stark informs Bruce Banner, aka Hulk (Mark Ruffalo).
"Like the Beatles?" responds the scientist.
Thanos exploits these divisions to hunt the missing Infinity Stones including the Mind Stone embedded in Vision (Paul Bettany), the Time Stone concealed within an amulet worn by Doctor Strange (Benedict Cumberbatch) and the Space Stone inside the Tesseract stolen by Loki (Tom Hiddleston).
To defeat Thanos, Stark and Rogers must put their ideological differences aside and pool resources with Wakandan king T'Challa, aka Black Panther (Chadwick Boseman), and Peter Quill, aka Starlord (Chris Pratt), and his wise-cracking posse.
Avengers: Infinity War would be a physically exhausting assault on the eyes and ears without welcome pauses for pithy banter, replete with knowing winks to Alien
and Footloose.