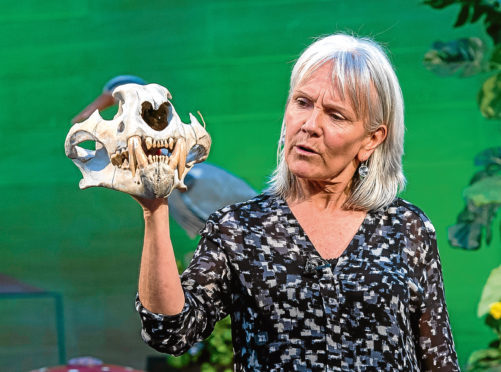 She has searched for chameleons in Madagascar and turtles in the Seychelles, and followed walruses across the Arctic Circle.
And yet Nicola Davies is certain in her assertion that the isles of South Uist and Benbecula are among her favourite places in the whole world.
This redoubtable woman, who has engaged in a peripatetic career, encompassing life as a zoologist, TV presenter, children's author and champion for reading, is about to embark on a whistle-stop tour of Argyll and Bute, the Highlands and the Western Isles to participate in a packed programme of school events in some of the country's remotest areas from May 7 to 11.
Nicola, 59, will be spreading her message that there is nothing to beat the power of books in inspiring youngsters, whether in providing them with an "interior movie" which is unique to every person, or encouraging them to seek out and pursue their own dreams and destinies – rather like the list of adventures on her own CV.
But she will also be savouring the refulgent ruggedness of the landscapes and prolific natural wonders as she journeys from Gigha and Islay to Oban and Lochaber and on to South Uist.
She told the Press and Journal: "There is something wonderful and magical about the north of Scotland, as I have discovered on previous visits.
"The Highlands and islands of the west of Scotland are some of my favourite places on Earth. South Uist has some fabulous beaches and it is one of the wildest places anywhere – and I mean anywhere – on the planet.
"I'm incredibly excited that I am going to be visiting them with the Scottish Book Trust and meeting readers who are living in places that I dream about – a land of sea and sky, full of stories.
"I can't wait and it is also a privilege to get the chance to meet so many young readers along the way. I will be talking to them, but I will also be listening – they are the next generation and they are hugely important."
Nicola's enthusiasm, expertise of nature, and effervescent personality has already struck a chord with the public in several different fields.
Prior to becoming a children's author, her love of animals took her all over the world and she also shared her passion for wildlife with viewers as a presenter on the popular BBC programme The Really Wild Show.
She has been writing since 1997 and is now an award-winning creator of children's fiction and non-fiction works, including The First Book of Nature, Tiny: The Invisible World of Microbes, and the Heroes of the Wild series.
During the Scottish Friendly Children's Book Tour, Nicola will do her best to transport pupils on an imaginary journey around the globe and guide them through the wondrous, weird and wacky world of animals.
The events will focus on her striking picture books, which she believes are relevant to readers of all ages.
And she intends to be the catalyst for pupils to forge a new interest in nature and their local environment.
Nicola added: "It is always a joy to meet and listen to children and I don't want to tell them what to do, but instead try to help them find their own voices as writers.
"There is nothing like a book to give everybody their own ideas and allow them to use their imaginations. For me, they are the ultimate interactive activity and they work in a way that video games and television can't.
"Whenever I have gone into schools, the ideas and the suggestions which the youngsters come up with are always surprising and refreshing and that is one of the joys of being involved in an enterprise like the Children's Book Tour.
"I have been to many different countries during my career, but there is still something exciting about walking into a school and hearing the pupils respond to you."
Nicola's tour will focus on her picture book, The Promise, which tells the story of a young thief who snatches an old woman's bag.
However, when she looks inside, she finds something more precious than money, something that changes her life and sets her on a new path.
As one critic wrote: "The beautiful words and pictures of The Promise carry a message of hope for humanity: that we can change ourselves and, through that change, we can transform our world for the better."
For her own part, Nicola prefers to keep throwing herself into new projects and pursuits to resting on her laurels.
She has boundless reserves of energy and a plethora of diverse activities on the go at the moment.
She said: "I am doing a drawing of a humpbacked whale as a bookmark for an organisation which promotes children's reading. I have just finished work on a play called Perfect, and I am about to publish a new book called Ariki and the Giant Shark. So there is lots happening and that is a very positive situation.
"I realise that I am fortunate to have the opportunity to go to such beautiful places as the Highlands and South Uist. And this tour is very special because it is the event's 20th anniversary.
"Just think how many youngsters have taken their first steps to learning to love nature and the environment during that period. It is humbling."
One suspects many others will join the crusade when Nicola steps into their classroom.
Further information is available at www.nicola-davies.com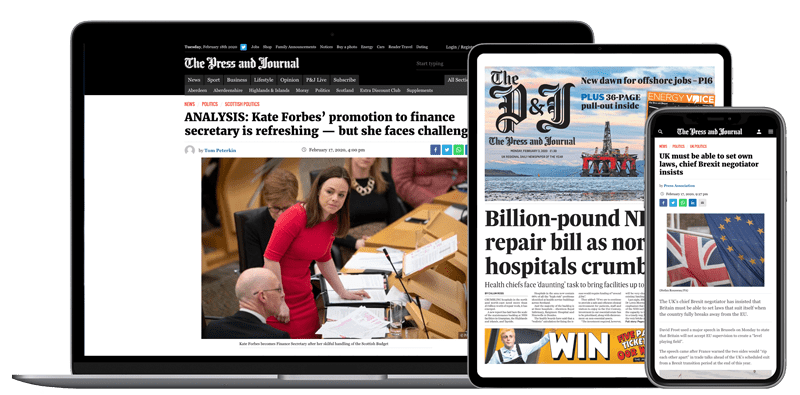 Help support quality local journalism … become a digital subscriber to The Press and Journal
For as little as £5.99 a month you can access all of our content, including Premium articles.
Subscribe