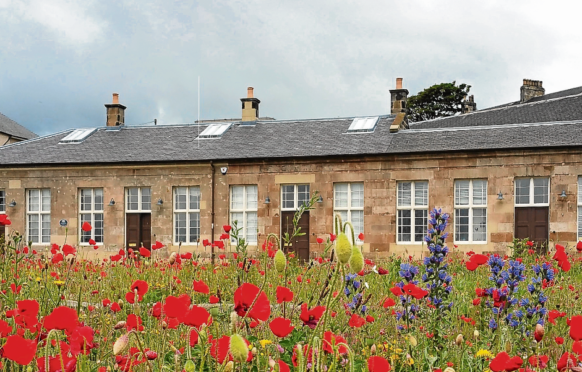 The Artline Open Doors event this weekend is opening the way to some truly special spaces along Fife's East Coast Railway line.
The 11 venues include refurbished and re-purposed railway buildings, from Victorian waiting rooms and a stationmaster's house, to a studio in what was once an old signal box.
Now home to a flourishing group of artists, poets, jewellers and heritage centres, this weekend is a celebration of creativity and provides an opportunity to take a closer look at some strikingly refurbished architectural gems.
Connected by the famously scenic main railway line linking London, Edinburgh and the south to Aberdeen and the north, the venues will display painting, craft, poetry, jewellery and local history, with some work available for sale to visitors.
The journey starts at Cupar Heritage Centre, at the town's railway station, which will be showing a new exhibition, Work and War Horses, 1914 to 1918. Just a few minutes down the line, Ladybank's picturesque railway station is home to two venues – from the award-winning floral artist Kirsty Lorenz's studio on platform two, to the group of local artists based at the Ladybank Off the Rails Arthouse – a light-filled Victorian stationmaster's house.
The next stop on the Artline is just a short walk from Kirkcaldy Railway Station. The renowned Kirkcaldy Galleries houses an impressive permanent collection. The galleries will also be showing Nexus: Meetings At The Edge, an exhibition centred on jewellery and featuring artists from across Britain.
As the line starts to run along the coast, Artline visitors should disembark at the quiet station of Kinghorn. This is the base for Kinghorn Studios and Gallery, which make use of previously empty station rooms to provide a home for Lynette and Douglas Gray's work. This year's Artline exhibition is Hill Fever, Paintings from the Scottish Hills by Douglas Gray.
Known for its stunning sandy beach, Burntisland is home to two Artline venues. The restored 19th Century Old Station House at Burntisland harbour is now a creative space for textile artist Susy Kirk and her dazzling, hand-painted and stitched silk chiffon pieces.
The Burntisland Platform Studios were once station waiting rooms, but they're now converted into artists' studios for jewellers, painters, ceramicists and textile artists, including Susie Redman, whose homewares and wearables are woven on site on her traditional Swedish floor loom.
Just a few minutes further south on the Artline is Aberdour, with a new heritage centre focusing on this pretty town's rich heritage, including a children's corner and a state-of-the-art electronic touch table. Down the platform is the innovatively refurbished Aberdour Signal Box, a private studio in a traditional signal box, with views up and down the line. Two guest artists, painter and illustrator Catherine Lindow and creative woodworker Paul Neal, will be showing their work in this striking venue over weekend.
As the Artline approaches its end, Inverkeithing Station's waiting room provides a venue showing rail art, poetry and posters by Sheena Berry and Maureen Sangster. Circle Line – ConverStations comprises 22 posters of artwork, poems and fictional historical conversations depicting stations, iconic buildings, historical events and people such as Dunfermline's St Margaret, the riggers who built the Railway Bridge, and Adam Smith. North Queensferry Forth Bridge Heritage Centre is the last stop on the Artline and the last stop before the iconic Forth Bridge.
The station here has recently been refurbished, with careful attention to its 1890 Victorian heritage. The Kingdoms in Crisis exhibition will tell the story of the Battle of Inverkeithing in 1651.
The station's waiting room will also host an exhibition from two local artists.
The Artline Open Doors Weekend is accessible through the regular Scotrail services, with venues free to visit and open on Saturday May 5, and Sunday May 6 from 10am-4pm, with the exception of Kirkcaldy Galleries, which is open Saturday 9.30am-4pm and Sunday noon-4pm.
www.theartline.co.uk
www.scotrail.co.uk
There is parking available for those travelling by car.