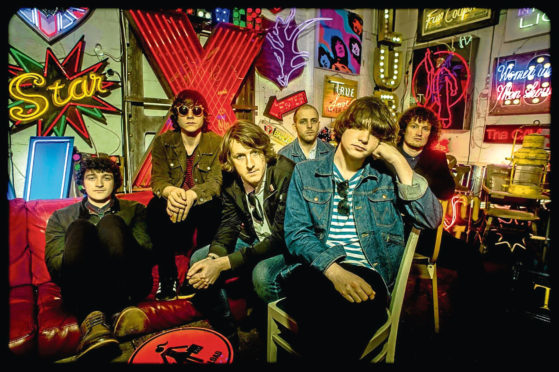 Not many acts travel south for shows in Inverness, but Caithness indie stars Neon Waltz are one of them and they play their biggest headline gig in the city next weekend.
Lead singer Jordan Shearer, drummer Darren Coghill, guitarists and brothers Kevin and Jamie Swanson, bassist Calvin Wilson, and keyboardist Liam Whittles will take their songs from the top of northern Britain to The Ironworks on the city's Academy Street next Saturday, after dates in Dundee and Glasgow.
The band are no strangers to Inverness, having sold out Mad Hatters in 2015 and 2016. Jordan says their appearances in the city have become like homecomings.
"Our previous shows there were brilliant, such a good atmosphere," he said.
"Living where we do, our mates don't get many chances to see us play live so gigs like this one, which are easy for them to get to, are even more special."
It has already been a packed year for the John O'Groats and Wick six-piece band, who all attended Wick High School.
They've played to thousands while supporting The Sherlocks, who wowed fans across Britain with their own headline tour.
Their captivating debut album, Strange Hymns, which features numbers such as Dreamers and Perfect Frame, was released in August, but it had been a long time coming, as Jordan explained.
"We'd tried a lot of producers, but we soon realised what we were looking for – especially on songs like Sombre Fayre and Veiled Clock – was already captured on our demos which only needed re-mixing," he said.
Ending their contract with Atlantic Records to join Ignition, the band finished the final four songs at Echo studios in Eastbourne.
"They were passionate about our sound and said they wouldn't charge us if it wasn't right," said Jordan.
Now, once again, new music is keeping the lads busy ahead of festival season.
"There's definitely been a natural progression in our writing, although because we live and breathe it every day, we don't always realise," said Jordan.
"It's only when you return to a demo after some time away that you notice what's changed."
Jordan says their new songs have a darker sound than Strange Hymns and that the band is well placed for producing their second album.
"We've all grown up a bit since we wrote our first record. We're confident to do things on own terms now and that freedom is coming through in our music" he said.
Everyone brings ideas to rehearsals, held either at a remote windswept dwelling called The Croft, owned by Darren's family, an arts centre in John O'Groats or at Freswick Castle, a place dear to the band's heart as that is where they shot the video for their beautifully haunting single, Schoolhouse.
"Writing can get stale if you're in the same place all the time, so we like a change of scenery," said Jordan.
The group are good pals with Blossoms' Tom Ogden and Joe Donovan, who braved snow to watch their headline show in London in February.
A week later Tom wore one of the band's' T-shirts while appearing on Soccer AM.
"We haven't checked yet, but we're hoping that Tom's endorsement led to a spike in our merchandise sales," said Jordan, "though he may have to promote it a few more times."
Neon Waltz play The Ironworks, Inverness, next Saturday. Doors open at 7.30pm and to over 14s only. Under 16s must be joined by an adult. Contact 0871 789 4173 for details.