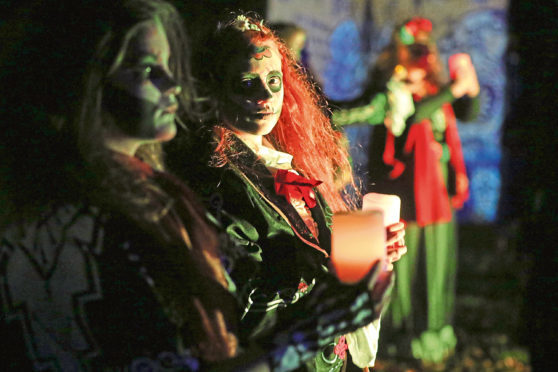 ZombiTransylvania may have Count Dracula and Salem its witches, but Scotland is arguably the home of Halloween – or Samhain as it was originally known.
Halloween originates from the ancient Celts' celebrations and is based on their Feast of Samhain.
The eve became known as All Saints' Eve, All Hallows' Eve, or Hallowe'en, while All Saints' Day, 1 November, is said to be the day when souls walked the Earth.
From ghost tours and history walks, to magic schools, light shows and zombie jogs (yes, really), as well as a month-long celebration of Halloween at the Edinburgh Dungeon, there is something for everyone this month in Scotland.
Peterhead Museum Halloween Tours
Have you ever wondered what goes on inside the old Peterhead Prison walls at night when the museum staff go home?
This is your opportunity to experience some spine-chilling moments as you walk through the darkened corridors and halls.
Screams in the night and fleeting images of former inmates now long gone are only part of what awaits you. Come dressed in your finest Halloween attire and at the end of the tour enjoy a burger and drink (all included in the price of the tickets). October 25-31.
The Haunted Outlander
Come to House of Schivas at Ythanbank near Ellon, and hear tales about haunted outlander Mary Gray.
An evening of local myths and legend awaits; stories of how local witches met their fate.
Visit the graveyard and hear of cursed ground – you'll need your wits about you.
The fact-filled tour is in Schivas outside Ellon. October 27-28.
Mains of Leask Pumpkin Patch
More than 300 pumpkins are waiting to be picked at Mains of Leask Farm, Hatton, near Ellon.
Visitors can get lost in the Kale Maze, meet farm animals and take part in various activities around the pumpkin patch. Contact: 07818 878910. October 28.
Ghost Tour at Fyvie Castle
Fyvie Castle in Aberdeenshire is often ranked among the most haunted castles in Britain and as well as being cursed, three ghosts are said to haunt its halls: the Green Lady, the Grey Lady and a ghostly trumpeter. Join the hunt for them on this night-time tour. October 26, 27 and 31.
Murder Mystery at Drum Castle
Drum Castle is a hotspot of supernatural activities. Join Graeme Reaper for an evening of grim stories and a murder mystery as you enjoy a three-course meal.
Prizes will be awarded for best costumes.
Starts at 6.30pm. October 27.
Creepy Trail at Pitmedden Garden
The garden will be dressed for Halloween with spiders, scarecrows, pumpkins and mystical creatures. Visitors can take part in a creepy garden trail and discover hidden secrets and surprising facts. Until October 28.
Crime Pays
Discover the darker side of Aberdeen's history with Scot Free Tours, from kidnapping and witchcraft to murder.
Led by a costumed guide, the tour will explore stories of crime and punishment from the last 500 years. Tours start at 7.15pm at the Castlegate, Aberdeen. Telephone 07851039597. October 26, 27 and 31.
Family fun day
Elgin town centre will be filled with spooky fun for all the family for one day only.
Halloween games include bite the doughnut, and there is spooky street magic from 11am-3pm.
A kids' fancy dress parade offers prizes for the winner of each age group, and all who enter will get a gruesome goody bag. October 27.
Halloween fright night
Highland whisky distillery Tomatin is hosting a spook-tacular fright night with two ghostly distillery tours and tastings starting at 6.30pm and 7.30pm. October 26.
Stoats Creepy Crawl
Get set for a weekend of family fun with the Stoats Creepy Crawl taking place at 15 spine-chilling sites in Scotland.
Put on your bravest face as you follow spooky trails, solve the puzzles and try out tasks including apple dooking, grave grabbing and the enormous Neep Heap before you 'guise' to claim your prize!
From 11am at Brodie Castle; and from 10am at Castle Fraser, Fyvie Castle and Crathes Castle. October 27, 28.
Movie night
An outdoor cinema will screen two classic films at Crathes Castle on the night of Halloween.
The first is ET The Extra Terrestrial. Suitable for families, it starts at 6pm. This is followed by a screening of the horror film, It. Suitable for adults only, it starts at 9.30pm. October 31.
The Rocky Horror Picture Show & Halloween Party
Grab those fishnets, smear on your lipstick and don't dream it, be it – The Rocky Horror Picture Show is screened at Aberdeen Arts Centre.
Starting at 7pm, there are pre-film cocktails, Halloween goodies and a chance to learn a thing or two about when to pull out those important props and yell those call backs.
Halloween costumes are encouraged and you're invited to stay after the film for a fun-packed halloween party in the bar. October 31.
ZombieNess
Making a welcome return from the grave is ZombieNess, the family friendly game of hide and seek around the streets of Inverness.
The event is free to enter, and the only way to avoid being ZombieFood is to arrive dressed as a Zombie.
There will be prizes for the best-dressed Zombie, and the Zombies will be filmed at 9pm.
Lots of surprises to be had in the Victorian Market and Inverness city centre: 6pm for a 7pm start on October 26; noon for 1pm on October 27.
Nights of the Living Dead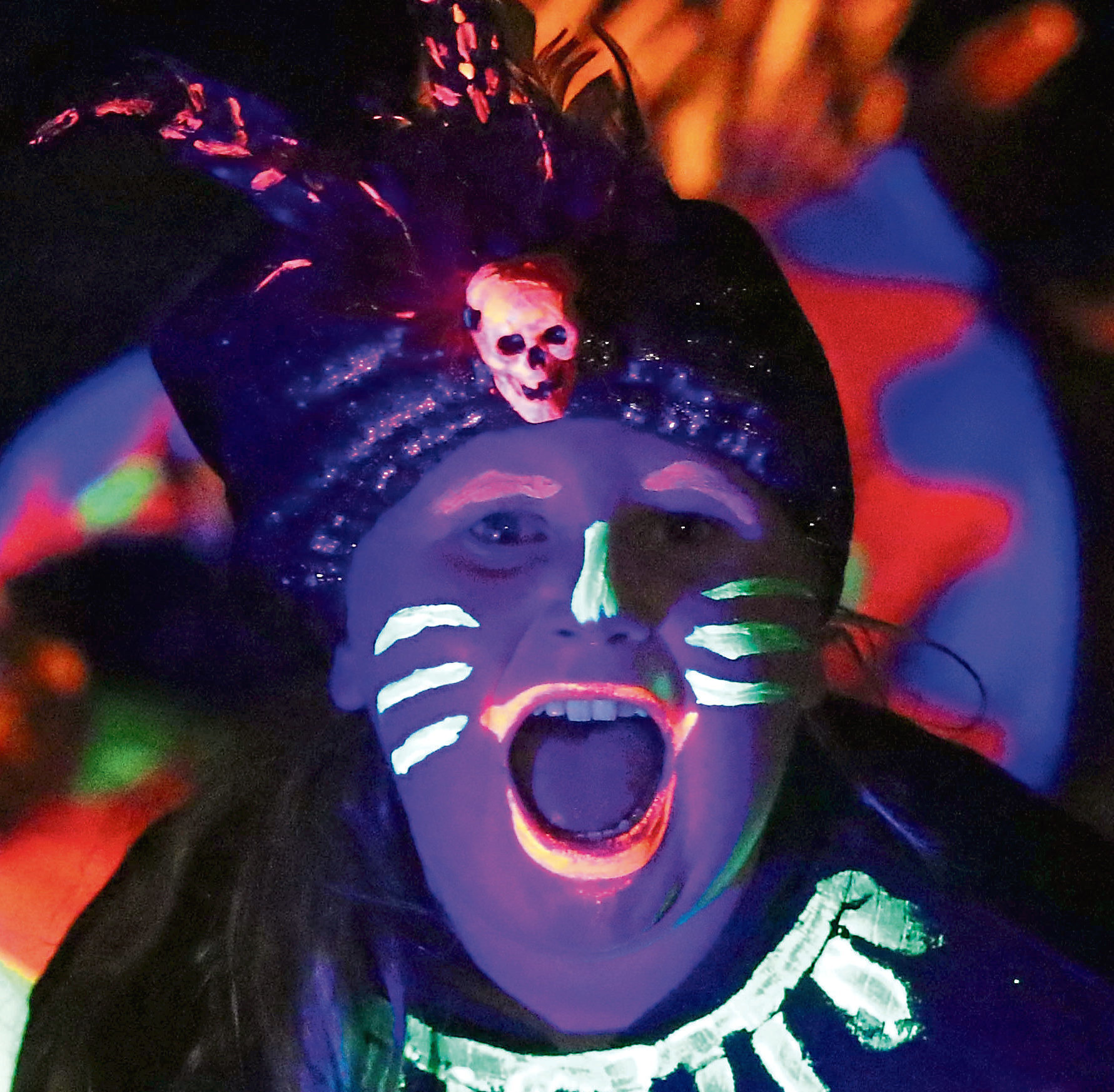 One of the most spook-tacular Halloween shows you will find in Scotland with thousands of locals and visitors dressing up to discover what is lying in wait in the Ness Islands, Inverness.
This year's theme is Nights of the Living Dead. Highlights include the kids from Scooby Doo investigating a mystery; a skeletal aerobics group and a visit from the Ghostbusters crew.
Get dressed up and bring a torch to shine a light on some of the mysterious goings on. Saturday, October 27 from 6.30-8.30pm and October 28 from 5.30-7.30pm. Admission is free and you can enter the islands from either side of the River Ness.
Spirits of Scone
Why not round up your most fearless of friends and make your way to the Spirits of Scone.
Scone Palace grounds will be transformed into a truly terrifying playground for menacing ghouls and horror film freaks. They're lurking in the woods and hiding in the maze; this is where your nightmares come to life! October 25-31.
Spooktacular Halloween Fun
Head for Scone Palace for a day of fun and games with resident witch Heather Cackle, who can be found in her cavern where she and her grisly friends will be casting spells. There will be broomstick racing, incy wincy spider skittles, spooky face-painting, ghostly glitter tattoos, Halloween wooden mask painting and more. Visitors are invited to don fancy dress. October 27 and 28.