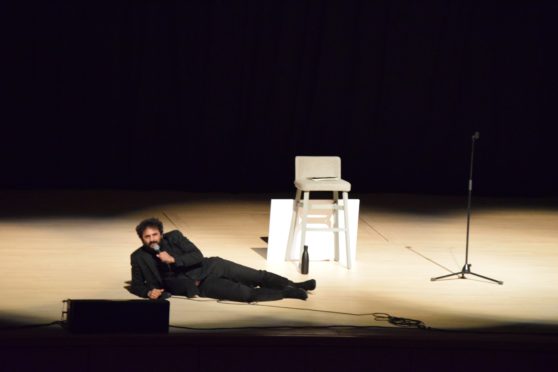 In Nish Kumar's eyes we are destroying ourselves and, during the politically fuelled hilarity of his show, I truly was killing myself laughing.
The comedian who hosts BBC2's The Mash Report brought his It's In Your Nature to Destroy Yourselves tour to Aberdeen Music Hall last night.
From bashing Brexit to eloquent rants at how many white men have played Jesus, Kumar had the audience in hoots of laughter.
The evening began with a great set by Sara Barron.
Starting off with an "I'm not that type of American…" she launched into a wondrous exploration of her friendships and those types of women – Christmas lovers, the single friend and women who class their husbands as "the other piece in their puzzle".
She pointed out it's only a two-part puzzle – leaving everyone in the audience in 1,000 pieces.
Then Kumar began with an awe-struck comment on the beauty of the Music Hall before asking audience members about the recent media coverage of MP Ross Thomson.
Kumar, a regular guest on Have I Got News for You, Mock the Week and QI, unleashed his unbridled fury at Brexiteers and ranted until he literally ran out of breath and words.
His left-wing wit may be hard for some to stomach but his jokes on the increasingly white male supremacy arising from Brexit debates had much of the audience in stitches.
The 33-year-old comedian, after accidentally finding a 12-year-old to chat to, did a hilarious sketch on dial-up, shrugging when he found the young girl was clueless as to what that was.
My favourite gag of the night was Kumar's gag on accepting all the jobs Romesh Ranganathan turns down – I was howling with laughter.
When he claimed his mum calls his appearance "terroristy" I could barely hold myself together.
And, in the way only a truly gifted comedian can do, he made that hour-and-a-half of humour fly past and had me giggling in the car home – his aim was to make Aberdeen laugh and he certainly succeeded, leaving with the stage strewn with posters of white actors who played Jesus.