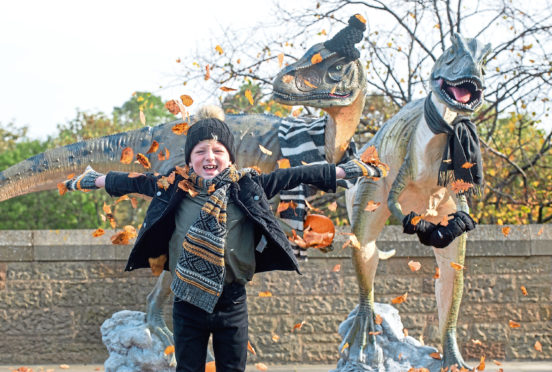 After the roaring success of Designosaur last year, Dynamic Earth is bringing the prehistoric world back into the digital age for this month's half-term school holidays.
As part of Fabulous Fossil February, visitors to the venue in Edinburgh can design their own dinosaur, choosing everything from colour to camouflage, and snap a selfie with it before quickly running for cover.
The unique activity allows youngsters to build their personalised dino using an iPad, and then enables them to interact with their monstrous creation using mixed reality technology.
Families will also have the chance to dig up some ancient bones from the prehistoric sand boxes, discover real fossils that are more than 65 million years old, and get hands-on by making their own dinosaur using craft materials which they can then take home.
Special guests from the Scottish Mineral and Lapidary Club will also be on hand with stunning rocks, minerals and crystals that will mesmerise visitors old and young.
As well as the February activities, regular Dynamic Earth features include Scotland's only permanent 4D cinema, the ever-popular real iceberg, a bone-shaking earthquake and the Deep Time Machine which takes visitors billions of years back in time.
Activities run until Sunday and are available from 10am to 4pm daily.
Contact: dynamicearth.co.uk/
What a goil!
Argyll Holidays has opened the doors of its new Drimsynie Estate Hotel situated within Drimsynie Estate Holiday Village, which overlooks Loch Goil in the Loch Lomond and Trossachs National Park.
A total of £6.5 million was invested in the new 19-room hotel, which doubled the size of the existing hotel.
Situated on the picturesque banks of Loch Goil, it has been designed to make the most of the breathtaking scenery on its doorstep, with guests able to enjoy panoramic views of the Argyll Forest all year round.
With floor-to-ceiling windows overlooking the water, the aptly named View restaurant serves up a host of comforting classics and family favourites.
The outdoor terrace, called the Lookout, is ideal for alfresco dining in the summer months.
There is also a separate area for intimate dining and private parties, a fun, family dining room complete with a nautical boat and jetty seating area, and a luxury spa and gym.
All aboard!
A former bus that has been turned into a cafe, which sits on Aberdeen beachfront, has received a Taste Our Best award from VisitScotland.
Family-owned business the Highland Cafe Bus serves up a delicious blend of Scottish and Romanian dishes.
They are made using produce from local suppliers.
However, sauerkraut hot dogs, Aberdeenshire beef steak burgers and aromatic bean-to-cup coffee are not the only driving force of the Highlander. Here, fresh food is prepared daily.
Instead of throwing away excess produce, the Highlander has collaborated with Aberdeen Help the Homeless as well as giving away vouchers for free meals to children and adults at Fersands and Fountain Community Project.
Each day, any used buckets and spades left behind on the beach are gathered up and offered to locals to use to try to help keep Aberdeen's beach clean and plastic free.
See thehighlandercafebus.co.uk
Junior off-road driving school
Gleneagles has launched a junior off-road driving school to help younger guests and their families make the most of the 850-acre Perthshire estate.
Currently running and available until February 24, having received expert tuition from friendly instructors, children aged four to nine can drive a fleet of mini Land Rover Series One replicas on the estate.
As soon as junior drivers have mastered the mini Land Rover controls on level ground they can complete a circuit of off-road obstacles, including log piles, sleeping policemen and a water splash on the purpose-built junior course – leading to an off-road skills certificate.
Until April, Gleneagles is running a kids go free offer.
This is priced from £360 until the end of March and from £410 in April, based on two adults and two children sharing a Sovereign Room.
Contact: Gleneagles.com