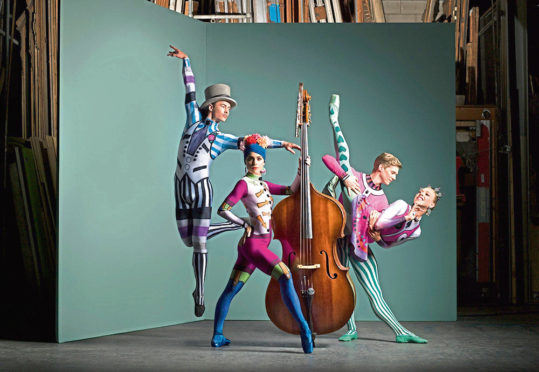 Ever since I saw Cinderella performed by Scottish Ballet as a little girl, I was hooked.
While I myself have never been a dancer, I have always appreciated the skill needed to convey such beauty in the carefully choreographed moves played out on stage.
And last night was no different when the same company took to His Majesty's Theatre with Spring! to celebrate 50 years together.
The evening was made up of two somewhat unconventional parts. The first, the world premiere of Sophie Laplane's Dextra.
As Scottish Ballet's resident choreographer and former dancer, her fifth work for the company is said to be her biggest creation to date.
And it's certainly her largest and longest with 20 dancers on stage for 45 minutes.
Set to Mozart and played out by a live orchestra, the contemporary dance starts with a single red glove falling from the sky before one male dancer puts it on and finds himself enchanted by its power.
It is said to be an ode to creators and their hands, paying tribute to artistic vision which often involves hard physical graft.
Of everyone I spoke to last night, each person interpreted it differently, but that's the beauty of modern dance.
The choreography was executed to perfection and with such fluidity which made the partners look like a well-oiled machine rather than two individual dancers.
That, coupled with the moves which derived humour, wit and surprises, it was an absolute delight to watch.
Being keen to please both the modern and classical, the second act was Elite Syncopations, choreographed by Sir Kenneth MacMillan.
The carnival of colour portrayed an array of charming and charismatic characters dancing to a live ragtime band playing the music of Scott Joplin.
Of the two, I preferred the first act as it was thought provoking, moving and brilliantly funny. If Laplane is only at the start of her career, I can't wait to see what comes next.