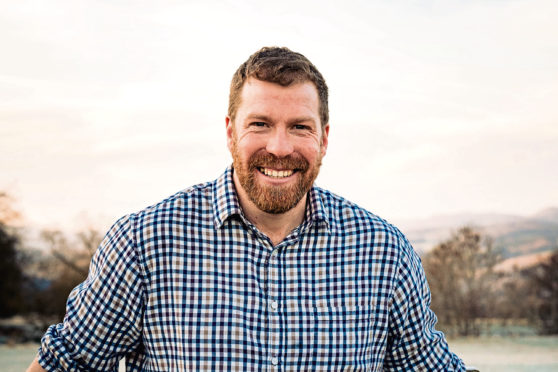 It's May, but there is a cold wind whistling through Stralochy Farm, just outside Perth.
Wrapped up in a thick coat and green Wellingtons, Jim Smith braves the chill regardless, as he has done all winter.
There are livestock relying on him; the ears of prize cows perking up as they hear the rustle of heavy buckets of feed coming their way.
At 40, Jim has worked on these very fields all his life.
He is a tenant farmer, living on the land on which he grew up with his two sisters.
The tenancy has been in his family since 1949, making Jim the third generation to work the paths well-trodden by both his father and grandfather before him.
With the sun low in the sky and the animals grazing contentedly, it's all very nostalgic.
But times are hard on small-time farms, and across the country, farmers are being forced to diversify in order to make ends meet.
Most turn old farm buildings into cosy B&B businesses, or start selling agricultural farm machinery.
The more unusual ones offer activities such as cheese-making or llama-riding, but Jim has gone one step further.
"First and foremost I'm a farmer," he said, grinning.
"I just happen to do stand-up comedy on the side."
Standing ankle deep in dubs certainly feels a million miles away from the 28-date comedy tour Jim is about to embark upon.
But after making a name for himself at smaller stand-up shows around Scotland, this funny farmer has found his niche.
"I've always loved watching comedy, but never imagined being on the stage myself," he said.
"When I was a member of the Young Farmers I got roped into writing jokes for the pantomime, but still, it wasn't me on the stage saying them all.
"Then at one point I took part in a cabaret challenge, where I used my slot to tell jokes, but after I left the Young Farmers I sort of fell away from it all."
It wasn't until 2012 when the idea of getting up on stage revived itself.
Seeing the ever-popular Edinburgh Fringe grow and grow in popularity, Jim toyed with the idea of putting on a show there.
"I wanted to do it, but to be honest, the thought was quite overwhelming," he said.
"Then I saw The Stand Comedy Club in Glasgow offering beginners nights, which seemed like a good place to start.
"I signed myself up no problem, but when the time came, I was actually really nervous.
"I'd driven over from Perth and was more than an hour early to the gig so I sat in my car writing notes on my hand so I wouldn't forget them.
"Luckily it was all right on the night, as they say."
It went more than all right.
Jim was invited back by the manager to fill a couple of other slots over the next few weeks, before he began to seek out other comedy clubs around Scotland.
When it came to preparing material, they say "write what you know" and Jim did just that.
"Mainly I talk about what growing up in rural Scotland is like," he said.
"About what we think of the city and city folk, things like that.
"I play up the stereotype that we teuchters are a bit backwards, which gets a lot of laughs.
"We're not, of course," he clarifies: "it's an exaggeration but it is funny."
Before Jim came along, there wasn't much in the way of rural comedy.
He cites his own influences as being Scotland The What and much-loved Highland comedian Colin Campbell, but still Jim worried his brand of couthy country humour would alienate the toonsers.
"I'll tell you what it was that made me go for it," he said. "It was Desperate Fishwives, a sketch show born and bred in the north-east.
"I'd never heard anything like it on a national stage and just thought it was brilliant."
It was the inspiration Jim needed and there was no stopping him.
Ever since, he has been gigging up and down the country, as well as churning out a series of comedy farm diary videos for BBC's The Social and playing a small role in the sitcom Scot Squad.
This week, the start of his tour takes him to Elgin for three sold-out shows, before spending a few weeks touring the central belt, then returning north to Aberdeen and Inverness.
Meanwhile, the farm doesn't run itself.
Unlike most comedians who simply follow the laughs, Jim's schedule is dictated by the farming calendar.
"I can't just drop everything and go," he said. "I've got a farm to run and livestock who rely on me.
"I've met comics on the road who are a bit disillusioned just going to gig after gig; I guess it gets a bit boring after a while, if that's all you do. But I love being a farmer – it's my bread and butter and something I'll never give up.
"Comedy is just my way of diversifying," he smiled.
It's just as well he can make audiences laugh 'til the cows come home.
Jim's show, Back to the Teuchter, is in Elgin from May 17 to 19, Banchory on June 14, Inverness on September 4, Aberdeen on September 5 and Skye on October 5. For tickets and full details, visit seetickets.com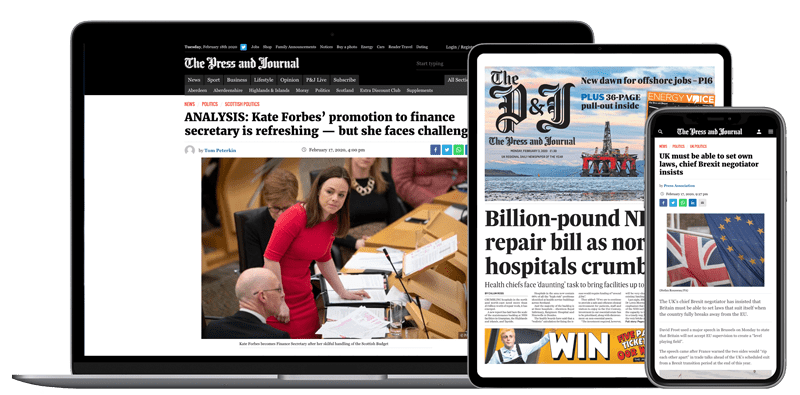 Help support quality local journalism … become a digital subscriber to The Press and Journal
For as little as £5.99 a month you can access all of our content, including Premium articles.
Subscribe