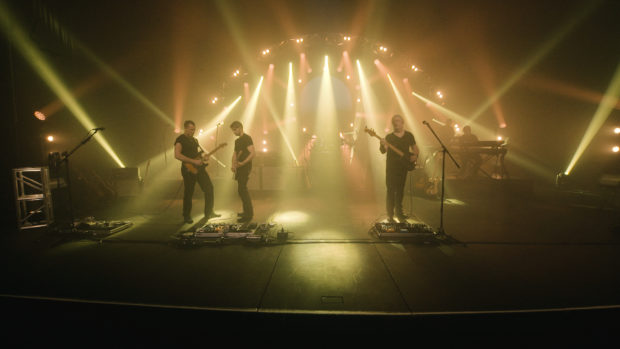 A large and expectant audience gathered to pay homage to the music of one of Britain's most celebrated rock bands at Eden Court Theatre, in Inverness, on Saturday night.
Almost three hours later, bathed in specks of light scattered by a spinning glitter ball as the last chords of Comfortably Numb echoed round the auditorium, they rose in a sincere standing ovation for a mesmerising performance by The UK Pink Floyd Experience.
Along the way, the  tribute act, formed and led by vocalist, guitarist, show producer and life-long Floyd fan, David Power, had treated the crowd to impeccable renditions of two of the band's classic albums, 1977's Animals and 1973's Dark side of the Moon, along with a selection some of their other classic songs.
The skills of the musicians and their obvious love of the material they were delivering was augmented throughout the show by a bold and clever light show and continuously rolling, often sinister, projections featuring a mix of Pink Floyd's original films and other material.
Showcasing the abilities of vocalists and guitarists Bobby Harrison and Mike Bollard, the evening opened with rousing and emotional delivery of Shine on You Crazy Diamond, written by David Gilmour, Roger Waters and Rick Wright, in tribute to their fellow funding band member, Syd Barrett.
Welcome to the Machine and Learning to Fly followed before the rest of the first half of the set was devoted to Animals.
The second half began with the much-loved Wish You Were Here and, delighting Floyd aficionados, was followed by a huge production of One of These Days, from the Meddle Album.  After two tracks form A Momentary Lapse of Reason, Sorrow and Speak to Me, it was on to Dark Side of the Moon, with backing singer Raceheal Willment earning whoops of appreciation for her soaring vocals on Great Gig in the Sky.
Not much of Pink Floyd's back catalogue could be described as "dance-along," but as the first part of a two-song encore, Happiest Days/Another Brick in the Wall proved the exception.
All, in all most of the audience would probably have been happy to stay for another three hours.