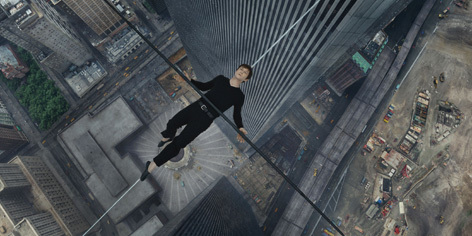 Twelve people have walked on the moon. Only one has walked the immense void between the World Trade Center towers – and he's the only one who ever will.
That person is Philippe Petit, whose 2002 book, To Reach The Clouds, is the inspiration behind The Walk, the new film from director Robert Zemeckis, which tells the impossible – but true – story of the French aerialist's attempt to walk between the iconic New York towers on August 7, 1974.
Four decades on and struck by this dream, Zemeckis, who also helmed Forrest Gump, Cast Away and Back To The Future, is putting moviegoers in Petit's shoes – 110 stories and 1,350ft high – with a 3D and IMAX visual experience like no other.
A "consummate showman", as described by Zemeckis, Inception star Joseph Gordon-Levitt plays a memorable lead, admitting himself that while taking on the role of Petit was a "serious challenge", he felt it was "particularly tailored to my desires and individual talents".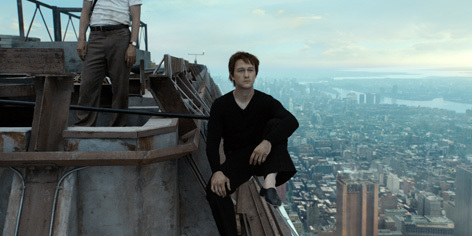 The actor, who spent eight days in a one-to-one workshop with Petit, now 66, in order to master the wire, goes all out to incorporate a sense of physicality in his performance.
"There's nothing like a close-up in a movie, but what you can convey to the audience with your body is part of what makes the whole thing fun," says the 34-year-old actor, whose credits also include 500 Days Of Summer and The Dark Knight Rises.
"Philippe insisted he be the one to teach me to walk on the wire, and he's such an optimist that he convinced me that I could do it. His optimism is a big part of why he can achieve these incredible things."
That training began on a wire set 2ft off the ground, so the actor could simply step off should he lose his balance. But the film was shot with a wire set at 12ft, which Gordon-Levitt admits "was scary".
"My body did seize up with tension, but that only dissipates over time. It's a matter of getting used to it," says the star, who also wrote and directed his 2013 film Don Jon, and has hinted that fatherhood (he welcomed a son with wife Tasha McCauley this August) could influence future projects.
Comparing wire-walking to his day job, he continues: "The first step is difficult, because you're confronted with doubts. It reminds me of acting. You can think, 'Oh my God, they're rolling film; I can't mess this up', but you have to be able to set all of those thoughts aside and focus. I felt a very parallel experience walking on the wire.
"For Philippe, his balance on the wire is a metaphor for his whole life and creativity."
But, the actor insists, his wire-walking days won't traverse into a party trick ("Not unless I want to carry a 400lb steel cable around with me!").
With a driving plot of near misses and almost-catastrophes, audiences – despite knowing that the ragtag team pulls off the deed in the end – are left on edge, thanks to Zemeckis' brilliant direction. Even Petit, who is incredibly proud of the biopic, which also stars Ben Kingsley, Charlotte Le Bon and James Badge Dale, confesses he was left willing on his pursuit: "It's my story and yet I was secretly thinking, 'I hope these guys make it'," the Frenchman discloses.
The Walk not only transports viewers to a poetic 1970s New York for the unauthorised stunt, it gives an insight into who Petit was and the events that led to his life-endangering ambition, his early life growing up in Nemours, Seine-et-Marne, and his surrogate father.
Creating realistic depictions of the towers was a combination of an extremely large set in Montreal and months of digital recreation.
"We weren't able to shoot between the towers, but we were able to replicate them in a way that is an enormously loving homage," says Gordon-Levitt, who believes it's good to celebrate the World Trade Center's buildings, rather than its tragic loss.
For the first time, there's also moving images of the walk itself – giving a unique perspective from both the observer and Petit's point of view.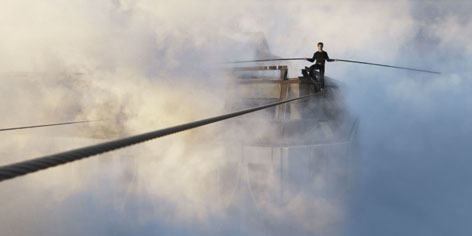 "The only recorded evidence of the walk is still photos," explains Gordon-Levitt. "The photos are incredible, but it's different to seeing it unfold. Making a movie, where you get to be inside the character of Philippe when he lives that moment, and all the hopes, fears and imperfections that led up to it, is unique."
The actor says that, for him, it was more important to capture the nature of Petit – his mannerisms and character – than to attempt an outright impersonation. "The best way for me to honour a real person is to take them into my own self. Rather than slavishly imitate, I absorbed what I loved and admired about Philippe, and played my version of that," he explains. "The most important thing was to tell the story that Philippe was telling by walking on this wire: you can create the impossible."
Part of this required working with language and dialect coaches, to master his French lines and pull off a Parisian twang.
"Philippe still has a thick French accent, and he'll openly admit that he keeps it on purpose. It's his character," notes the actor.
His story's universal interest isn't a mystery to Petit, who puts it down to being about an artist that "pours his heart and soul into his work". Much like the efforts of the team behind The Walk.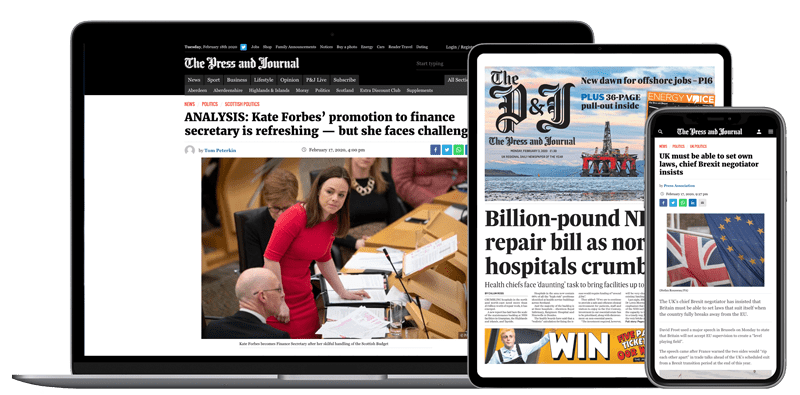 Help support quality local journalism … become a digital subscriber to The Press and Journal
For as little as £5.99 a month you can access all of our content, including Premium articles.
Subscribe