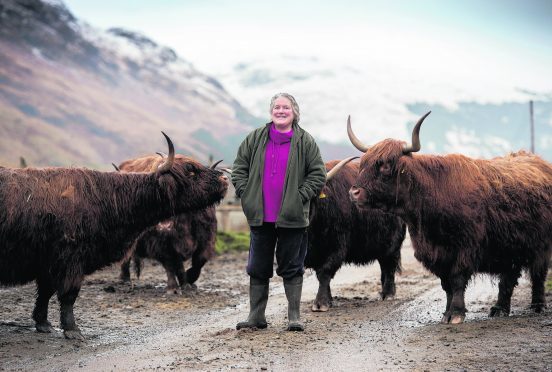 "I'm the honourable but you don't need to put that. Tuggy does fine."
This was Tuggy Delap's answer – punctuated with a hearty laugh – when I asked what her title would be as "lady laird" of Achadunan Estate in Cairndow, Argyll.
Her down-to-earth, relaxed attitude was not what I expected – and I suspect I'll find out many more things I didn't know when I watch BBC's new programme.
Made by Friel Kean Films, the two-part documentary Lady Lairds follows four women now in charge of Highland estates as they tackle the trials of managing their age-old homes in the 21st century.
Tuggy said when she heard about it, she thought it was "an amusing idea".
Speaking of herself as a lady laird, she said the latter part is a bit of an "unfortunate title".
"The laird has connotations in people's minds about rich absentee landowners which they are not," she said.
"I'm very glad that the programme is putting out a side that I think everyone can see that actually we don't do things for fun around here.
"We are actually working farmers and we have to do other things on the side in order to try and fill the hole in the ground with money which is what it requires."
Tuggy's estate has been owned by her family since 1905 when her great-grandfather bought it as part of a dream to build his own home. It was once around 40,000 acres but has been broken up over the years – with Tuggy's part reaching around 4,500 acres.
She explained that a female head of an estate was not a new concept, highlighting that Mary Queen of Scots was one of the first.
She said: "There has always been quite a lot of women as the heads of estates. People do think of it as a man's job and I must say it was much easier when my husband Jonny was alive. When he was here, we shared everything and we were used to bouncing ideas off each other."
The mother-of-two spent many years on the estate as a child but later moved down south when her father – Michael Noble – became an MP.
She said they would spend their term time in Kent when her father was at Westminster and her holidays back at the Argyll estate.
She said it was much easier for the families of politicians back then, unlike now when the "entire family is under the spotlight".
Although she did admit that they weren't entirely safe from some coverage.
She told me about a time when the family helped her distribute leaflets in the Gorbals in Glasgow encouraging people to vote Conservative.
"We did that all evening and I said something like it was a 'bloody good thing' or something cheery like that.
"Not a huge swear word. It was blazoned across the paper the next day – MP's Daughter Swears. I just thought 'oh my God, jolly good I didn't say anything worse'."
Tuggy's father died in 1984 and in 1992 the estate was split between Tuggy and her sisters. It was always her and husband Jonny's intention to return to the farm some day.
This year the family hope to introduce a deer farm to the estate, which will join their already established brewery, Fyne Ales.
It was launched in 2001 after an idea from Tuggy.
She explained the family were standing by the fire, the men with pints in their hands, discussing what to do with one of the barns which had planning permission to be turned into a food producing area.
"I said we could always open a brewery," she said laughing.
And what was the response, I asked?
"Mum is having a funny 10 minutes, just humour her."
But it seems they quickly warmed to the idea and the family spent the next two and a half years doing market research before opening their new business.
Tuggy said: "People kept asking us why we didn't open a distillery but Johnny and I said we are far too old and you have to wait too long for whisky. You can drink the beer within a couple of weeks.
"It worked really well, it was an extraordinary idea. We found a consultant who helped us find the plant and install and build the whole thing. It's gone from strength to strength."
There's a lot going on at the estate and it seems like Tuggy is a far cry from the perception she believes people have of the absentee landlord.
So will she be joining me to watch her appearance at 9pm on BBC1 on Monday?
"Well do you know I just might," she said.
"I have been on the telly before. We got Ben Fogle to open the brewery and he brought the cameras up for CountryFile and then we had James Martin come cook here. We're very lucky."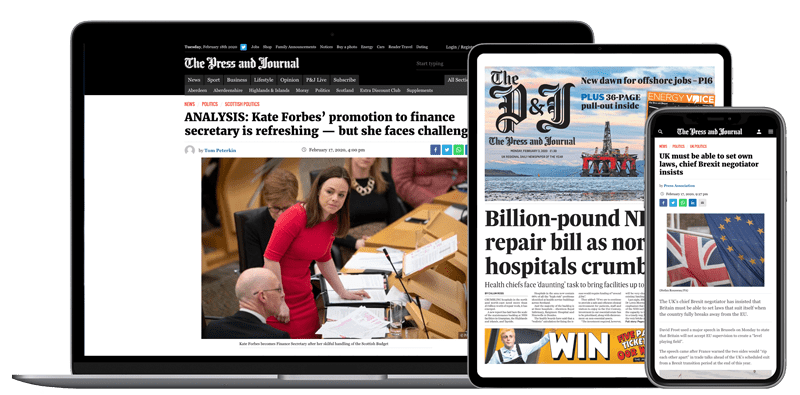 Help support quality local journalism … become a digital subscriber to The Press and Journal
For as little as £5.99 a month you can access all of our content, including Premium articles.
Subscribe