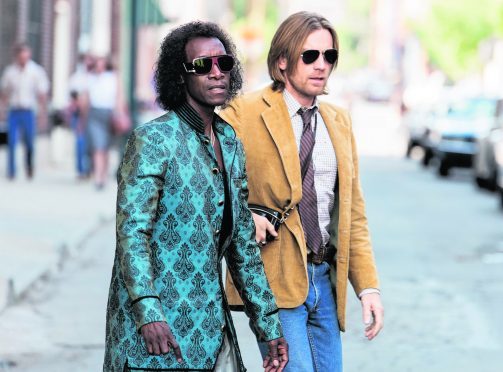 Protegee. Pioneer. Heroin addict. That there were many shades to musician Miles Davis's life is a given. But what's not is that a memorable life lived means a memorable biopic made.
Happily, then, Hotel Rwanda and Boogie Nights actor Don Cheadle does a sterling job – or numerous jobs – as the co-writer, leading man and co-producer in Miles Ahead, his directorial debut about the late jazz trumpeter's 65 years.
Like Davis's music and the mythology surrounding him, Miles Ahead follows its own rules, swerving the standard cradle-to-grave structure and instead offering up an elegant snapshot of Davis's life in the late 1970s.
Set five years on from his self-induced exit from public life – and his subsequent pause in releasing new music – Miles Ahead sees him drug-addled and in pain from a chronic hip complaint.
Living alone in a chemically induced stupor, he is taunted by memories of the breakdown of his marriage to muse and dancer Frances Taylor (Emayatzy Corinealdi) some years before. That the relationship was marred with his infidelity and abuse is not glossed over and, consequently, the portrayal is all the better for it.
Equally plaguing his thoughts are demands from his record label, who are desperate to bring the world another recording.
When wily – and fictional – Rolling Stone magazine journalist Dave Braden (Ewan McGregor) forces his way into Davis's house to get the scoop on a rumoured tape of his latest compositions, the mercurial musician is seething and angrily accompanies him to the record label which, according to Braden, arranged the chat.
There they meet unscrupulous music executive Harper Hamilton (Michael Stuhlbarg), who sneakily gets his mitts on the recording.
Hamilton is hell-bent on delivering a new Miles Davis record to his fans and, in doing so, netting a handsome profit for the company.
He's also eager to secure Miles's support for his new jazz wonder-kid Junior (Lakeith Lee Stanfield), which would also create a healthy and lucrative buzz around him.
Unfortunately for Hamilton, Miles couldn't give a fiddle about sales and ingenues and stops at nothing to take back what is his, taking Dave with him to write up his adventure.
United though they are in the pursuit, buddy movie this ain't. If anything, the distance and cold resentment – though there are occasional flashes of camaraderie – between Miles and Dave adds a pitch-perfect humour to the already whip-smart script.
Told through flashbacks, which are more free flowing than formulaic, and sharp performances, Miles Ahead is a stylish and instructive sideways glance at the late legend's life that, like all good things, leaves you wanting more.